max goes mad
Max Homa's 'zoning' at Olympia Fields leads to 10 birdies and a course-record 62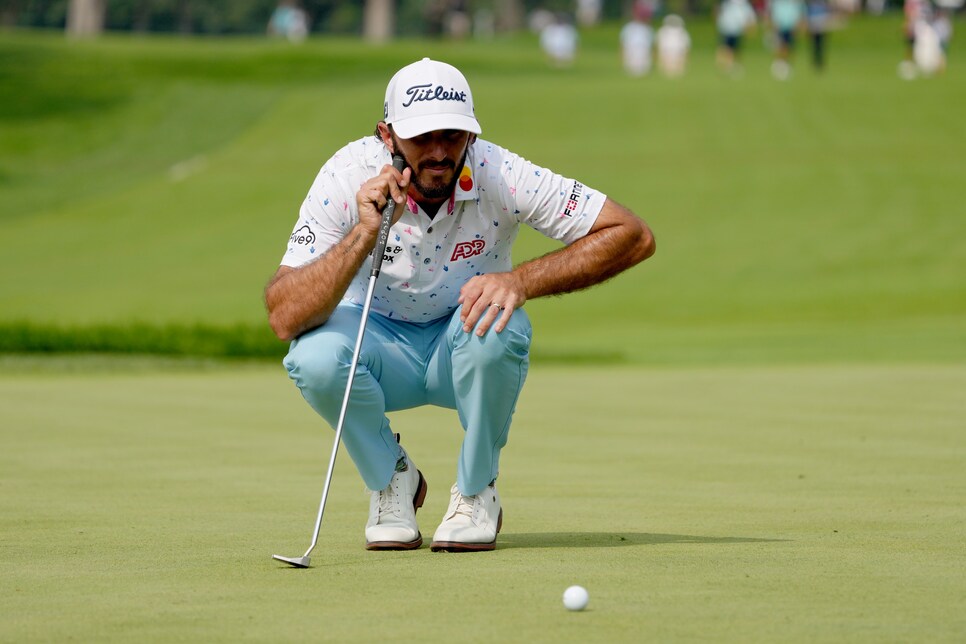 OLYMPIA FIELDS, Ill. — The greens on the North Course at Olympia Fields Country Club are tricky. Or so we hear. In fact, they are so diabolical that Max Homa said that they remind him of the greens at Augusta National, which we all know is the place where three putts hold a convention.
We ain't buying it. Because what Homa did on Friday in the second round of the BMW Championship just couldn't be done if the greens are as difficult as he and his PGA Tour brethren claim. Homa collected 10 birdies and posted a course-record 62 to seize the lead in the second FedEx Cup playoff event.
You have to be unconscious to make 10 birdies at Olympia Fields. You also have to be very good. Homa was both. It might not have been the best putting day of his life, but it ranked up there as the best he's ever had on greens that induce vertigo.
"I don't know. I'd like to think I've been better before," he said, pondering, "but probably not. I can't think of where that might be."
At 10-under 130, Homa holds a two-stroke lead over Chris Kirk and is three ahead of Matt Fitzpatrick and British Open champion Brian Harman. He built that lead by making 135 feet of putts on 26 whacks. He gained 4.314 strokes on the greens, which, of course, was tops in the field.
Impressive stuff. But to understand how he did it, you have to pull back the camera lens to take in the full picture. Homa hit 10 fairways, which was a huge key, he said. That set up hitting 16 greens in regulation, and it mattered more where he put the ball in relation to the hole as opposed to simply how close. (To wit: he ranked 34th out of 49 players in proximity.)
What Homa did was execute in a way his opponents attempted but failed. He gave himself manageable looks. And then he managed to make a bunch of them.
As World No. 1 Scottie Scheffler said after a one-under 69: "It's just hard to put the ball in the right spots to get the uphill putts."
Homa had no such issues. Even when he left himself 10-20 feet, he was seeing good lines. He converted six putts outside 10 feet. Not that he could entirely avoid the "odd" and "awkward" little ones, but the California native ranks ninth on tour this season in strokes gained/putting, so he cleaned those up, too.
"I've been putting great all year, but it was helpful, like I said, I was in the fairway a lot, so I was able to be a bit more particular of where I was leaving it," he said. "When you're in the rough, you're just trying to hack it on to the green or somewhere near it, so I think that helped a lot because I made a couple sidewinders, of course, but for the most part I did feel like I had a lot easier putts than I had yesterday."
Homa was aware that he was on the way to breaking the course record, but he had a pretty good idea from another source just how well he was rolling it.
"Yeah, sometimes you're just zoning, but I knew I was making a lot," Homa said. "I heard the standard bearer say something about how he's getting tired because he had to change the numbers on our thing so much because Pat [Cantlay] was making a lot, too. It was just a crazy day."