The whole truth
Max Homa came up with a hilarious example for why he's no Tiger Woods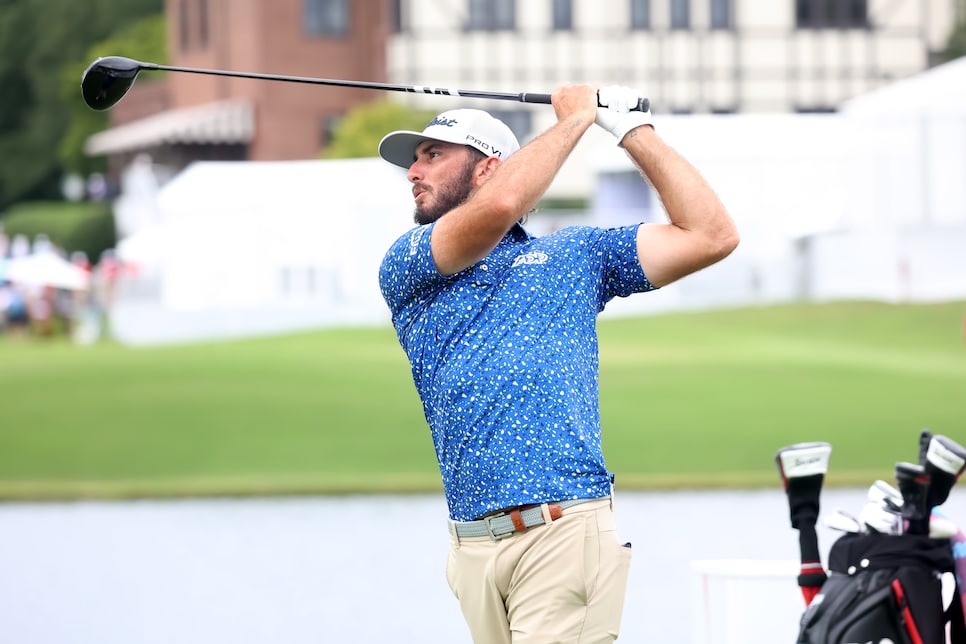 Max Homa during the first round of the 2022 Tour Championship.
Icon Sportswire
ATLANTA — On the eve of the Tour Championship, the PGA Tour announced several changes to its Player Impact Program. The PIP, created last year to financially reward the game's biggest stars, was expanded from 10 to 20 players and from $50 million to $100 million. That was in direct response to the growing threat of LIV Golf luring away players.
The PIP's criteria was also adjusted—such as removing the Q-Score and social media criteria—while also expanding "awareness criteria" to capture the awareness from casual and core fan base.
Max Homa has become almost a household name in golf, thanks to his four PGA Tour victories and a hilarious social media presence. But he knows he's not beating out Tiger Woods, the inaugural PIP winner, anytime soon.
"I will say this: I would win this PIP if it was about who gets yelled at in the weirdest ways possible," Homa said through laughter on Friday at East Lake Golf Club following a sizzling eight-under 62.
The 31-year-old Californian was asked about his thoughts on the changes to the PIP and provided a brilliant anecdote on why the overall concept was long overdue—even if he didn't agree on all the criteria.
"I think the tour is doing their best to be creative and provide a different stream of income to the 20 guys now who are driving the revenue for the tour, " he said. "Part of it's silly in my opinion, but also part of it makes a ton of sense [and] I always use this example: I tied Tiger Woods [for ninth place] two years ago at [the Farmers Insurance Open] at Torrey Pines. I realized we got paid the exact same amount of money and I provided zero dollars to that event and he provided I can't even come up with a number."
While Homa may not top the PIP, he's looking at a bigger FedEx Cup payday after his 62. It was the lowest score at the PGA Tour's season finale since Zach Johnson shot a third-round 60 in 2007, the first year of the FedEx Cup Playoffs.
It also catapulted him up the leaderboard to eight under, although still 11 shots back of 36-leader Scottie Scheffler.