PGA Tour
Max Homa's strategy for a successful Genesis Invitational defense? Lying to himself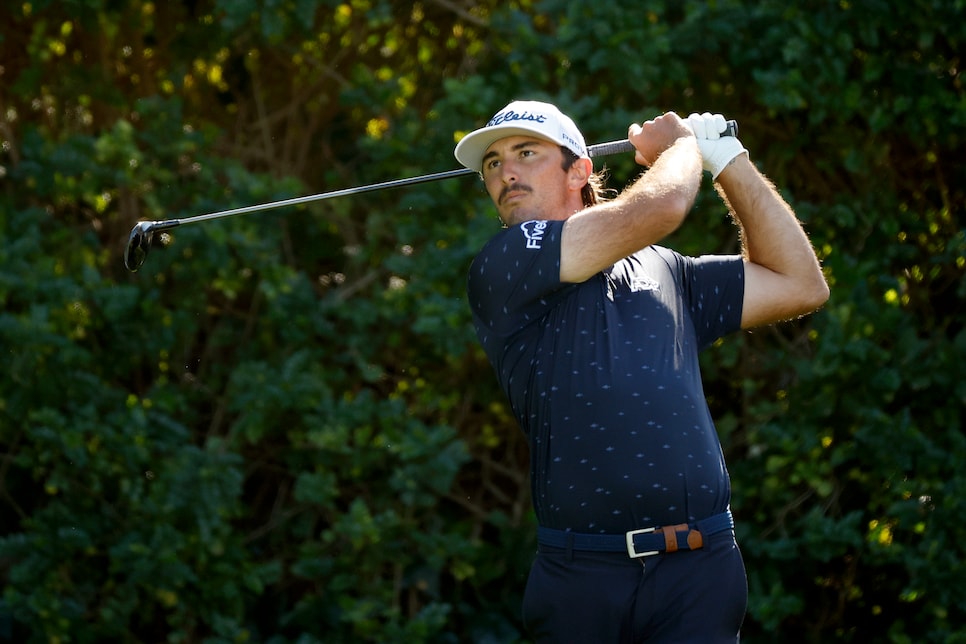 PACIFIC PALISADES, Calif. — The strategy for Max Homa was simply. It had to be to deal with the jitters that made him uneasy from the second he woke up Thursday morning. He knew he'd be introduced on Riviera's iconic first tee as the defending champion of the Genesis Invitational, a reminder of the dream he completed last year, winning the tournament he grew up coming to as a child.
How, then, do you keep your expectations low at your favorite course on earth, in a tournament where you beat everybody a year ago, and when you already have a win on the wraparound season?
"I guess you lie to yourself, say you don't care what happens," Homa said after opening his title defense with a five-under 66, three shots off the lead of Joaquin Niemann. "I mean, I care what happens, but it did help just talking to [coach] Mark [Blackburn] yesterday and to [caddie] Joe Greiner. I have nothing to prove at this event."
Homa acknowledged this week and this event is a big deal, for better or worse. "It's kind of a lot of pressure just because it just means a lot and I have family and friends here," he said. "But I've been playing a lot of good golf and I told Mark, I said I could shoot 100 over this week and I still won last year. So I'm just trying to convince myself that that was going to get me through the low expectations of the day. You know, I really tried to just go out there and have some fun and I thought I did, and I had a great group to do it with, so that's the trick."
Homa grew up in Valencia, 30 miles up the I-5 from Riviera, and remains a diehard Lakers and Dodgers fan despite living now near Scottsdale. His victory last year bordered on Hallmark territory: Hometown kid wins at a tournament hosted by his hero, Tiger Woods. It was his second victory on tour and saw him graduate from being known mostly as the Twitter guy. Since the win, he's been in the top 50 of the World Rankings. He's also spoken candidly about the difficulty he's had trying to enjoy the success he's worked for while remaining hungry for more of it.
"It's the hardest thing I found in learning about all this stuff, or reading about all this stuff, about happiness and gratitude, … I can only speak for my life, but in this life it's competitive, and I'm raised to step on someone's throat and win at all costs and whatever," he said Wednesday. "Now it's also like I'm just supposed to be happy for the opportunity. So there's a blend, but I think it comes from—there's a great book called The Seven Spiritual Laws of Success and one of them is the law of detachment—when you are kind of … when you pretty much are OK with whatever happens and you can only just put in what you can put in and you control what you can control. If you can get peace through that, then the rest of it just becomes its own competition and its own fun."
Which explains the whole not-caring attitude: You do your best, and whatever happens, happens. But good attitudes don't shoot low scores. Good golf does, and Homa ranked 36th or better in each of the key strokes-gained statistics on Thursday. The highlight of the day came at the devilish par-4 10th, where he holed a 78-footer for eagle.
Earlier in the week, Homa said he wasn't sure if it's the best hole in the world or if it's the worst, but it's his favorite. On the first hole of his playoff last year against Tony Finau, Homa's ball nestled behind a tree and forced him to play a miraculous second to save par and extend proceedings. Homa and 10, they have history.
"That [putt] was a big boost, that was fun. As Joe said, I think that hole likes me. Hooked it around a tree last year and then somehow made a 2 this year. So that's not usually what I expect to happen on that hole, but I will take it."
Homa loves his surroundings, loves this tournament, loves the host, loves where his game is, loves this golf course. A man with such a full heart, and who doesn't care about his results, is a dangerous man indeed. Even if the not-caring part's only half-true.