News
Maverick McNealy signs endorsement deal with Callaway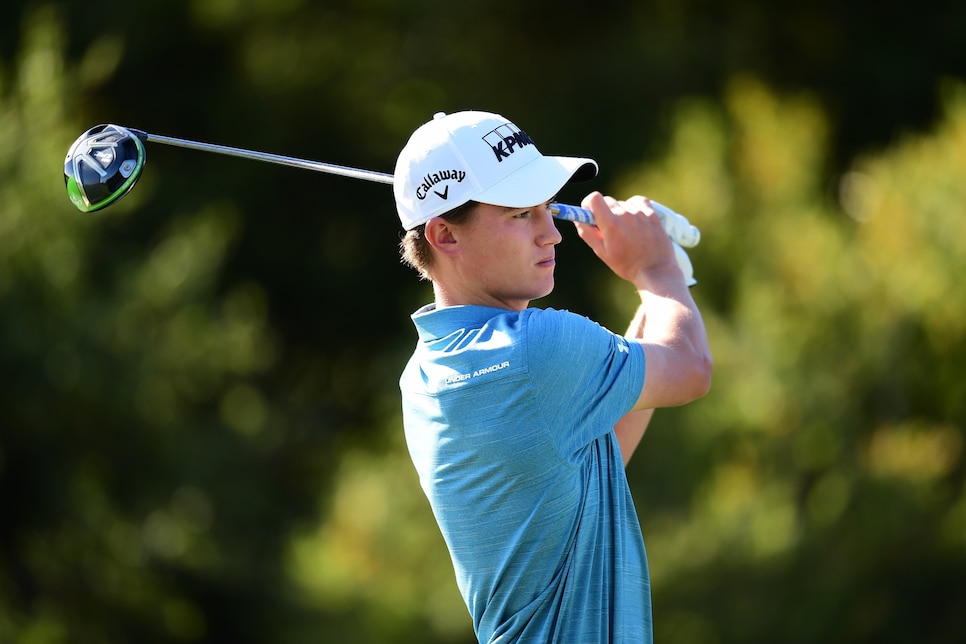 Maverick McNealy is one of the more intriguing young professionals in some time. The 21-year-old Stanford graduate won the 2015 Haskins Award as the best collegiate player in the country. He also is the son of Sun Microsystems co-founder Scott McNealy, and considered eschewing turning pro for a career in business. McNealy eventually decided to play golf for a living and just signed an equipment deal with Callaway. McNealy spoke with Golf World's Senior Editor, Equipment, E. Michael Johnson about signing with the company and his equipment as he makes his pro debut this week at the PGA Tour's Safeway Open.
You could have had your choice of a number of companies. What was it about Callaway that intrigued you?
When I first visited there last winter, I fell in love with their approach to making golf clubs. How it felt like they were a team of engineers working very hard to nitpick everything as much as possible to make everything as good as possible. I really liked that. It seems like they are making significant improvements in all areas in recent years, and I feel it starts with that approach they have. That made an impression. I studied management science and engineering in school, so I really enjoyed the process behind their R&D and getting some of the background on the equipment. That was fun.
You played in some tour events as an amateur. Did you take that opportunity to pick any players' brains about what it would be like to be on Callaway's staff?
I did. I spoke with a lot of ex Nike equipment players. At the U.S. Open I was paired with Kevin Chappell, who did not do a full bag deal. I spoke with Russell Henley and talked with Patrick Rodgers a lot as he also went through the Nike to Callaway transition. I wanted to know what was the easiest for them, what were the struggles and how did they figure out what worked best.
What is your approach to testing equipment?
I'm probably one of those guys that people think is a pain to work with, because if it doesn't look or feel just right, I'm not going to like it. So it has to pass that test first. It needs to look slightly open and slightly flat, especially with the driver. With irons, the weighting and weight distribution must be exactly where I want it. Because of that, I'm still using the same irons I've had since my sophomore year in college, Nike's Vapor Pro. It takes a while for me to change. I once got a replacement set that was half a swingweight lighter and it just drove me nuts. It needs to be just right. After that, I make sure the numbers check out. But that is secondary.
We're close with the Callaway irons and I feel like I could probably play with them tomorrow, but I'm starting tournament season and these next couple of months are extremely important for me as far as a tour card. Because of that, I'm not in equipment testing mode. I'm in tournament mode so I'll go with what I have right now. I did a little bit of testing this summer and increased my ball speed with the Epic driver by 3 miles per hour. I couldn't get my old driver to meet those numbers. My driver has an adjustable cog that makes it 2 degrees flatter. I need something that looks flat and open and this helps take care of that. It's also 44 inches. I added some lead tape slightly off the heel. The flattening adds a bit of right bias and the extra weight of the tape in the heel offsets that.
I also love the Callaway Mack Daddy Forged wedges. I love wedges with weight out on the toe as it helps me work the club on the plane better, as opposed to shut on the way back. I'm also using the Chrome Soft X ball, so in a short amount of time we've got a lot done. I went about it in a very poor way a year ago when Nike announced they were getting out of the club business. I kind of freaked out and thought I had to change everything right away. I threw a bunch of stuff in the bag that wasn't quite right for me. Then I went back to the Nike equipment midway through my senior year and started playing much better. So I learned my lesson there. I go piece by piece so I started with wedge and golf ball, because I think the feel and performance around the greens is important to get down, and how it performs throughout the bag is critical.
A funny story about the ball. When the Stanford team aligned with Callaway they changed out the range balls to the Chrome Soft X and I loved them. So when I started ball testing with Callaway they sent me a bunch of options and I settled on what I thought was the Chrome Soft Plus, but they told me it really was the Chrome Soft X, which made a lot of sense since I loved the range ball.
Are you an equipment geek or on the periphery of that?
I'm a geek in that I like understanding how stuff works. When I'm playing I don't get overly technical, but I do appreciate understanding why stuff does what it does and why it's better. That said, I don't tinker or try things just for the sake of trying. Too often it doesn't feel right or look quite right and it drives me crazy. It's not easy for me to change equipment, and honestly, I'm pleasantly surprised at how much Callaway equipment I've transitioned into already. I'm into way more than I thought I would be at this point.
OK, final question and most important one: Has your dad started asking for free clubs yet?
Yeah, except mine are way too stiff for him now. They have right trees written all over it for him. But we'll work on that.