The Loop
Maurice Jones-Drew makes TPC's 17th look easy
PONTE VEDRA BEACH, Fla. -- The untucked t-shirt and unbalanced follow through were a quick giveaway that the shot didn't come from a PGA Tour pro. The result, however, was one that any golfer with a name on his bag this week would have paid handsomely for.
Maurice Jones-Drew, the face of the Jacksonville Jaguars for the past seven seasons, riled up his hometown fans, but this time, without wearing pads. The three-time Pro Bowl running back borrowed a 9-iron from Jonathan Byrd during Wednesday's practice round at TPC Sawgrass and stuck a shot to about 10 feet on the famed island-green, par-3 17th hole.
"I was sweating," said Jones-Drew of the shot that was playing about 150 yards to a back pin. "I literally dropped about five pounds when I got over the ball. And I almost swung out of my shoes."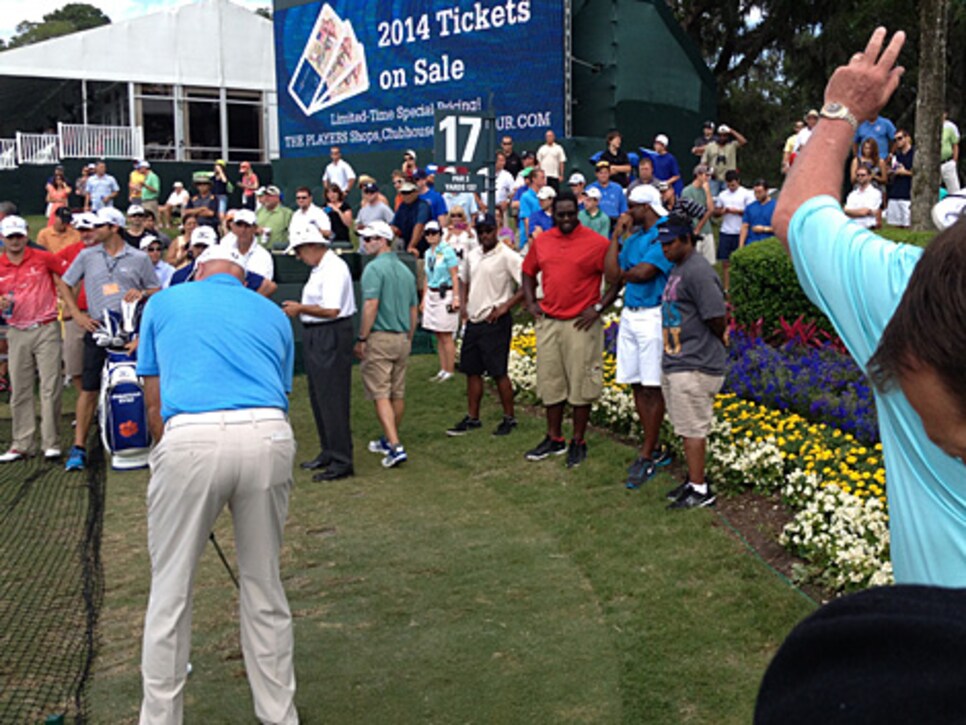 Maurice Jones-Drew, right, wearing grey t-shirt, watches Stewart Cink.
Jones-Drew said he tries to play golf as much as possible in the NFL's off-season, but it's been tough with him rehabbing a left foot injury that caused him to miss most of the 2012 campaign. He doesn't have an official handicap, but says he usually shoots in the high 80s to low 90s.
Byrd, playing with Stewart Cink and Zach Johnson, was impressed by Jones-Drew's shot, telling him, "You can borrow my clubs anytime." Byrd followed the football star by hitting his shot inside of Jones-Drew, but Cink and Johnson didn't come close in their attempts. Neither did more than half of the field's caddies, who found the water with their attempts -- a Wednesday tradition at the Players.
Jones-Drew said he frequently attends the Players and enjoys following golfers from his alma mater, UCLA, as well as watching the action on No. 17 in particular. Now, he'll have his own memory of the hole to share with his fellow Bruins.
"I was very nervous," Jones-Drew said. "But hopefully, that shows everyone how easy it is."