Celebrity Golfers
We're even bigger Matthew Stafford fans after learning he skipped a Kylie Jenner party to watch golf on TV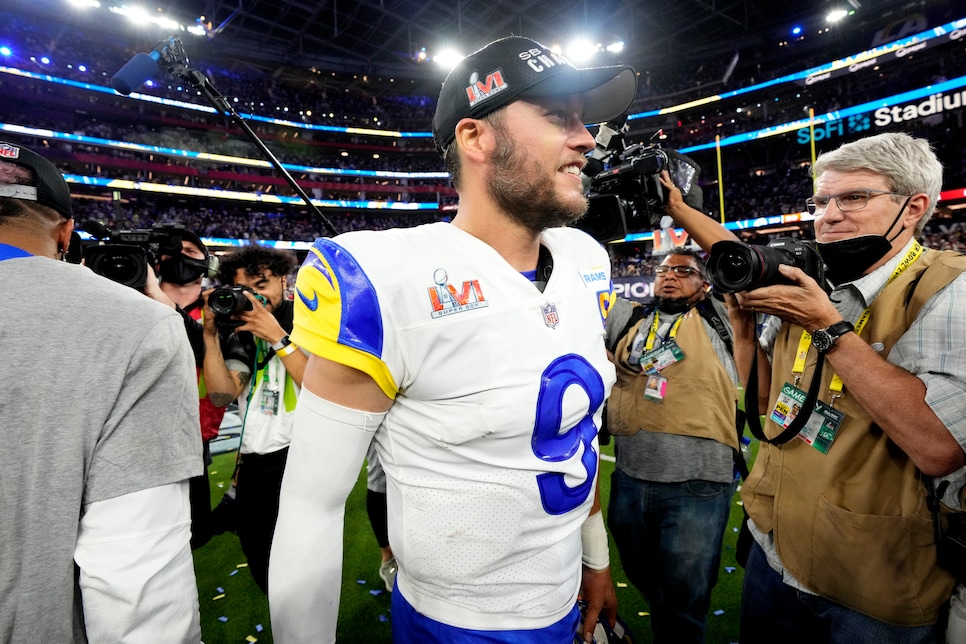 MediaNews Group/Pasadena Star-News via Getty Images
We loved seeing the dude at the Super Bowl glued to his phone to see the finish of the WM Phoenix Open, but it turns out there may have been an even bigger golf fan inside SoFi Stadium on Sunday. And he happened to be playing QB for the Rams.
That's right, football guy Matthew Stafford is also a golf guy. A big golf guy. We knew Stafford played the game, but apparently he also enjoys watching. To the point that he recently skipped a party hosted by neighbor Kylie Jenner (NBD) to watch some golf on TV.
Here's Stafford's wife, Kelly, telling the story on Barstool's KFC Radio last week:
"He was like, 'Yeah, I was going to come by, but you know, the golf,' some golf thing was on," Kelly said.
Good for you, Matt. Although, you did kind of leave your wife hanging. . .
"Oh, so you could have walked your ass across the street and helped me," Kelly continues in the clip, "but meanwhile you're just sitting at the house watching golf. He's like, 'Yeah, you know it's Saturday.'"
Again, good for you, Matt. It's a long, grueling season, especially now that you're finally on a good team. Besides, it was a four-year-old's birthday party. Have you ever been to a four-year-old's birthday party? Gimme some third-round golf coverage any day of the week.
After a quick Google search showed Stormi Jenner's birthday being Feb. 1, that means the Saturday in question was either during the Farmers Insurance Open or the AT&T Pebble Beach Pro-Am. And if it was the latter, that was the Jordan Spieth death-defying 63 round. You know, this one:
Good choice, Matt. Enjoy being a world champ—and watching the Genesis Invitational this week. Hey, with it being in L.A., maybe you'll even walk his ass over to the course.