News
Matthew Fitzpatrick's NSFW solution for staying in contention is something we can all get behind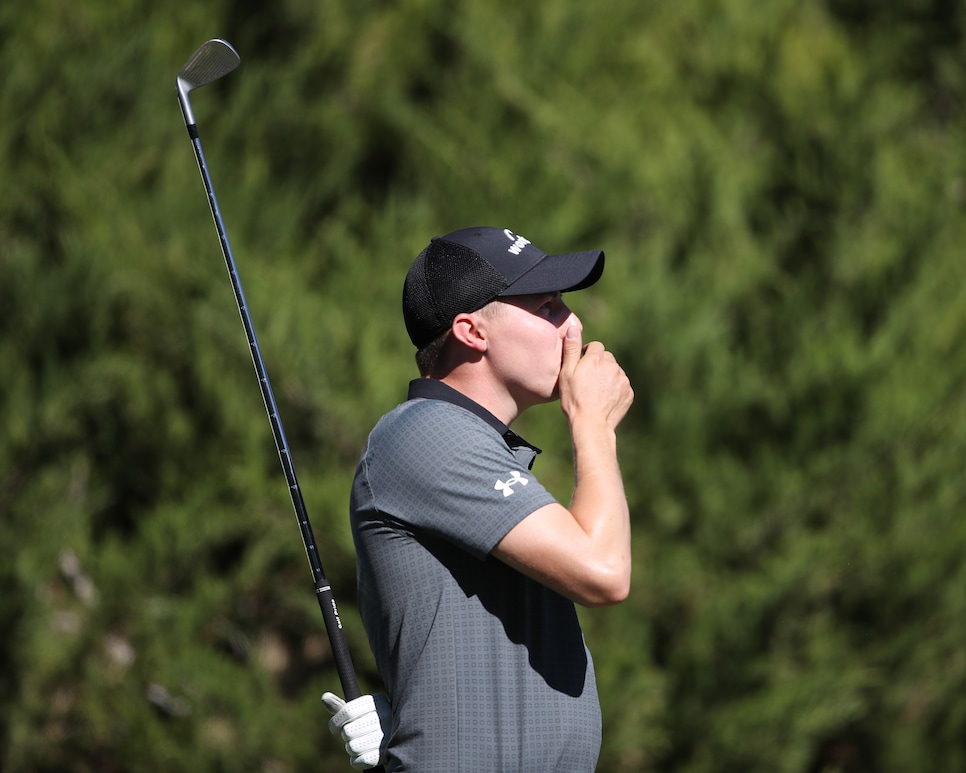 Matthew Fitzpatrick reacts to his shot from the fifth tee during the second round of the CJ Cup.
Christian Petersen
Like fellow Englishman Tommy Fleetwood, Matthew Fitzpatrick has found himself in the "how does he not have a PGA Tour win?" zone. With five European Tour victories and three top-12s in major championships to his name, he's proven he has what it takes to close the deal on the biggest tour in the sport. He just hasn't done it ... yet.
Fitzpatrick, 26, has certainly come close, especially over the last two seasons. Since the beginning of 2019 he has six top-7 finishes in PGA Tour events, three of those coming in the last three months. He's come even closer on the European Tour, with four top-4s since the start of 2019.
But his last victory came at the 2018 Omega European Masters, a full two years ago. This week at the CJ Cup at Shadow Creek, Fitzpatrick once again has put himself in position to get a another W. Through two rounds he's at seven under, seven back of leader Xander Schauffele. A large deficit to erase, surely, but not an insurmountable one. Had Fitzpatrick not stumbled down the stretch Friday (he played his final five holes in three over and still shot 68), he'd be in serious striking distance.
"It was great for 14 holes really," Fitzpatrick said afterward. "Just sort of frustrating just because I've done a lot this year, just got myself into good positions and then just pissed it away, to be honest. You know, just simple hole, like no trouble and somehow just finding myself making rubbish bogeys or doubles even. Yeah, just frustrating given at one point I was 10 under and now I'm 7."
The most "rubbish" bogey of all came at the par-4 sixth, Fitzpatrick's 15th hole, where he split the fairway with a 297-yard drive and had 196 yards to the hole. He came up short with his second, then chipped his third 50 feet past the hole and three-putted for double. It's the kind of hole that cannot happen if you want to win on tour. In order to avoid the blowup, Fitzpatrick has a very simple solution.
"Just stop hitting sh-t shots. Excuse the language. Just rubbish. Middle of the fairway, standard iron to the middle of the green, just get out with par. You know, missing the green, misstrike, leave myself short-sided. Yeah, it's just very difficult, it just kills all your momentum, particularly when you've got a good round going."
Amen to that, Fitzy. Stop hitting sh-t shots is a strategy we can all get behind.