News
Matt Parziale's week in Xanadu: A Mercedes courtesy car, practice rounds with Tiger and Rory and crystal goblets for an eagle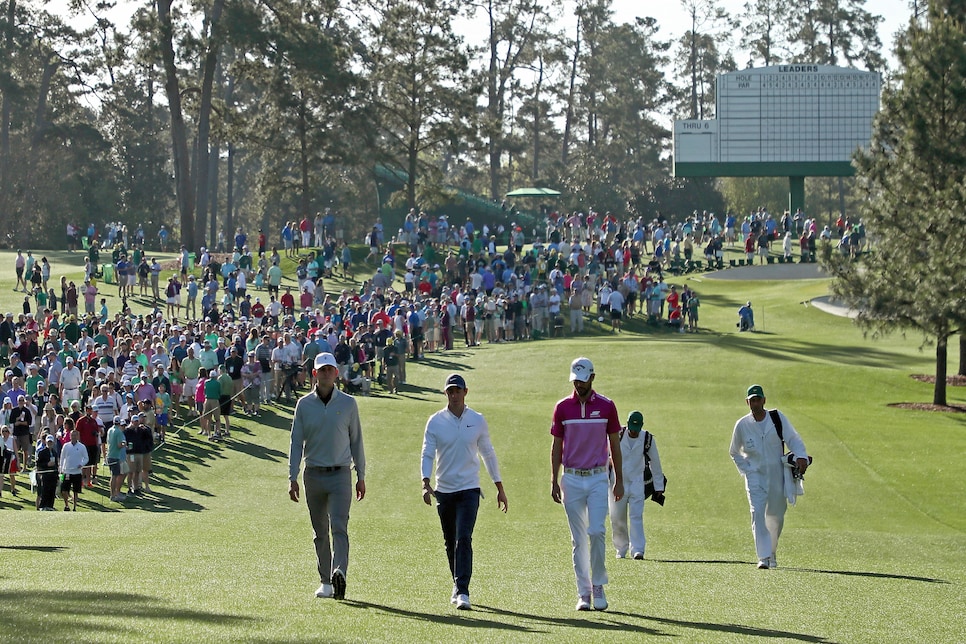 Matt Parziale was living out his own dream last week, but he was living out others' dreams, too, a working-class hero given the keys to golf's Xanadu.
A firefighter, who by definition is tougher than the front nine on Sunday at Augusta National, played in the Masters while his compatriots in the real world vicariously lived the experience with him.
"It seemed like hundreds of firefighters were out there yelling," Parziale said on Wednesday. "They were great. The support was incredible. Everyone was yelling 'Thorny Lea.'" Thorny Lea is the club at which he plays in Brockton, Mass. "No way we have this many members down there.
"It was a great environment. Playing with Tiger, so many people were watching. He doesn't hit a shot at one of these events without the people being seven or eight deep. It's crazy to think he goes through that every day. Just so fun."
Parziale played nine holes with Woods and Fred Couples on Wednesday. "Great conversation, telling jokes, everyone excited to be out there. It was so cool to play with those guys. Freddie, I've watched him so much over the years. He plays that course so well."
The Saturday before, he played with three Augusta National members. On Sunday, he joined Louis Oosthuizen, Charl Schwartzel, Pat Perez and Matt Rollins, the latter the director of tournament player relations for PXG, for a practice round.
On Monday, it was 18 holes with Rory McIlroy and Wesley Bryan. "It was a great day," he said. "When you get out there, all these guys are just golfers. They're just getting ready to play the tournament. Everyone was great."
Helpful, too, to a Masters rookie attempting to learn Augusta National's nuances and mysteries in only a few days. "Golf is strange in that sense. The Patriots aren't helping the Eagles get ready for the Super Bowl. That's why our sport is so great. They were so great helping me around the course and showing spots where I might not want to hit it. Everyone is helpful."
He enjoyed the perks to which every player in the field is entitled, the Mercedes-Benz courtesy car, for instance. "Probably the nicest car I've ever driven," he said. There were the eight tickets a day he was provided and a few extras that he bought. "The toughest thing was getting tickets for everyone," he said. "But the guys I couldn't get tickets for found their own."
He attended the Amateur Dinner on Monday night, hosted by Augusta National member John Carr. "That was a full room, the USGA, the R&A, Augusta members and the six amateurs," he said. "They showed a video of how we got there and Jim Nantz was narrating that. They're so excited for the amateurs. They love that part of it. They want you to play so well."
Parziale, who won the U.S. Mid-Amateur Championship to earn his Masters invitation, stayed that night in the Crow's Nest, where the amateurs typically stay. "We watched a little of the national championship [basketball] game," he said. "It's like living in the fire station, although it's a lot nicer than the fire station, for sure. It was a great time."
The rest of the time, he, his fiance Alison Hubbard, and his father Victor, who also caddied for him, stayed at the rental home of Paul Finn, a Thorny Lea member who has volunteered at the Masters for 16 years.
Parziale's week ended after posting scores of 81-79 and missing the cut. "But I've shot 160 on courses a lot easier," he said. "It's just golf. The thing I'm most happy about is that I felt great out there."
The highlight of his two rounds was his eagle at the par-5 13th hole on Friday that earned him a pair of crystal goblets that Augusta National awards for every eagle.
"I didn't even know about that," he said. "That was pretty cool. Mike Weir said something when I was picking the ball up, but I didn't quite hear him. Then Brendan Steele said, 'dude, you got some crystal for making an eagle.' That was pretty cool to know I was taking something away from that."
The entire experience, from first practice round to the last holed putt on Friday, "was incredible. I think everyone has every high expectations for Augusta, but usually things like that don't meet your expectations. Augusta exceeded them."
It even impressed his fiance. "She was excited," he said. "She didn't know what to expect. We got home on Saturday afternoon and the Masters was in the middle of its [television] coverage. She said, 'do you want to watch the Masters?' That was the first time she ever wanted to watch golf."