The Loop
Matt Kuchar and Lee Westwood's coincidental timing, Margot Robbie's deleted golf photos, and a sad goodbye (to a putting green)
Welcome to another edition of The Grind, where we begin on a somber note. The Golf Digest office is getting renovated and I'm sorry to report not everyone is going to make it. OK, so technically, an office putting green isn't a person, but she has sure become a vital part of our family with her subtle curves (Except for that one infuriating knob) designed by Jack Nicklaus and that welcoming green gaze you couldn't stay away from after a meeting. Or before a meeting. Or on the way to the bathroom. Or, well, you get the point.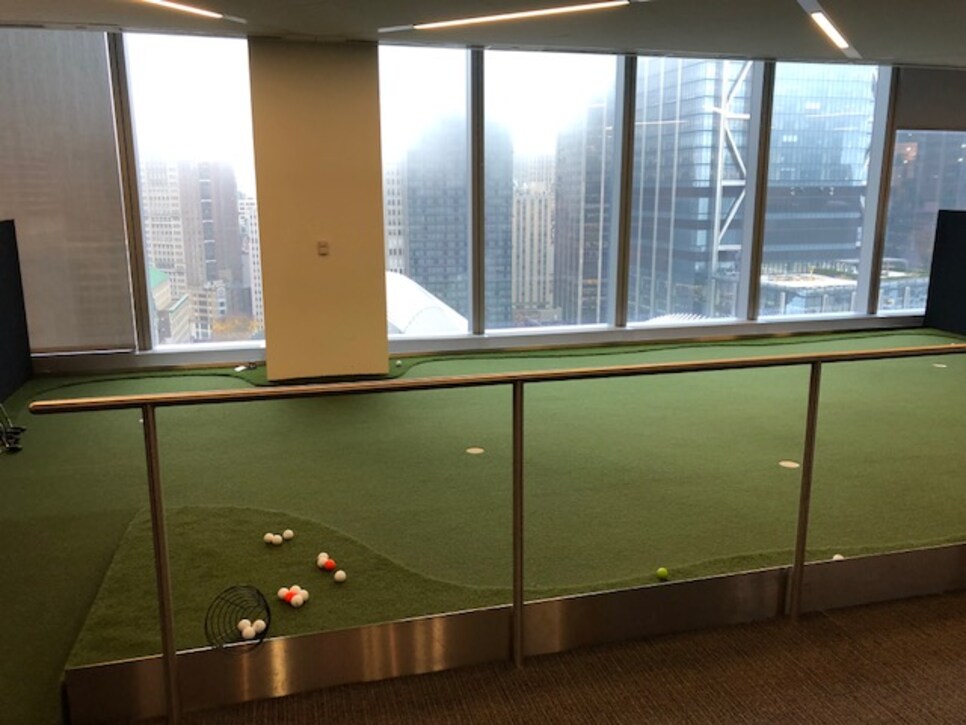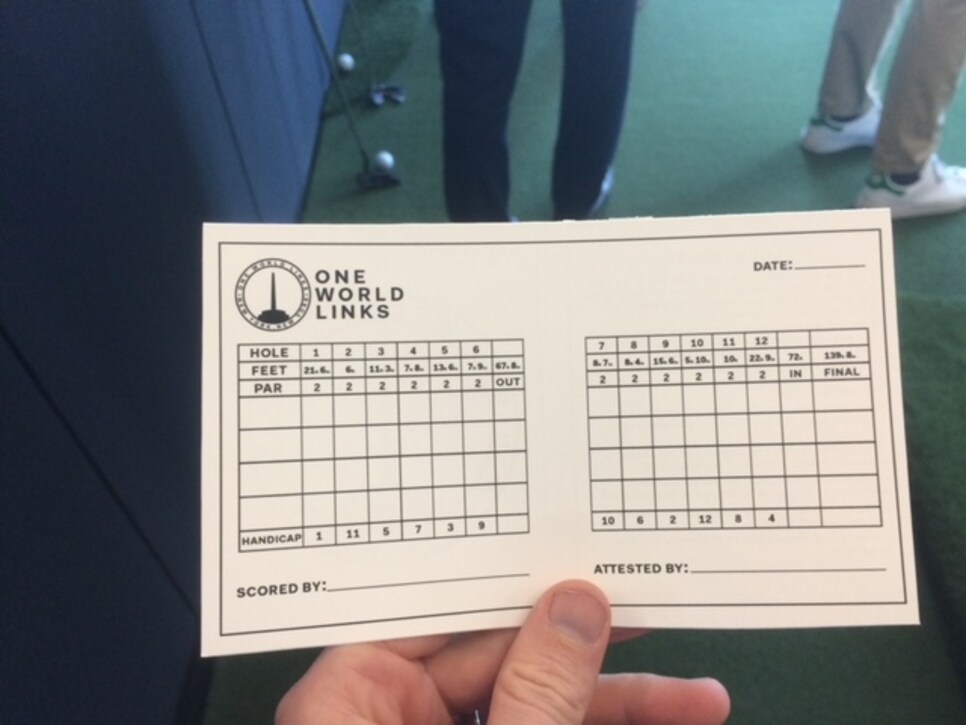 But what makes this especially sad is that this is the second office putting green we've had to say goodbye to in three years. How much must one person have to endure?! To be honest, despite a better layout and view, I never quite loved 1 World Links like I loved Royal Wilton. I think that's because I didn't want to get completely heartbroken again (Although, admittedly, it could also have to do with me never mastering this beautiful beast). But as a crew gets ready to demolish this popular piece of artificial piece of turf, it's impossible not to be sad about the end of another era. Don't worry, though, we will press on. And while we're at it, here's what else is happening in golf. Please keep reading while I go squeeze in another round.
Matt Kuchar: Golly gee willikers, folks! Matt Kuchar is a PGA Tour winner again! Everyone's favorite goofball hung on for a one-shot victory at the Mayakoba Golf Classic, his first tour title in four-and-a-half years. Cue the "Team USA could have used Kuchar in France" takes, and perhaps, it could have. Regardless, after seeing up close Kuchar's heartbreak after he lost to Jordan Spieth at the 2017 British Open, it was great to see him celebrate another win with his family on the 18th green.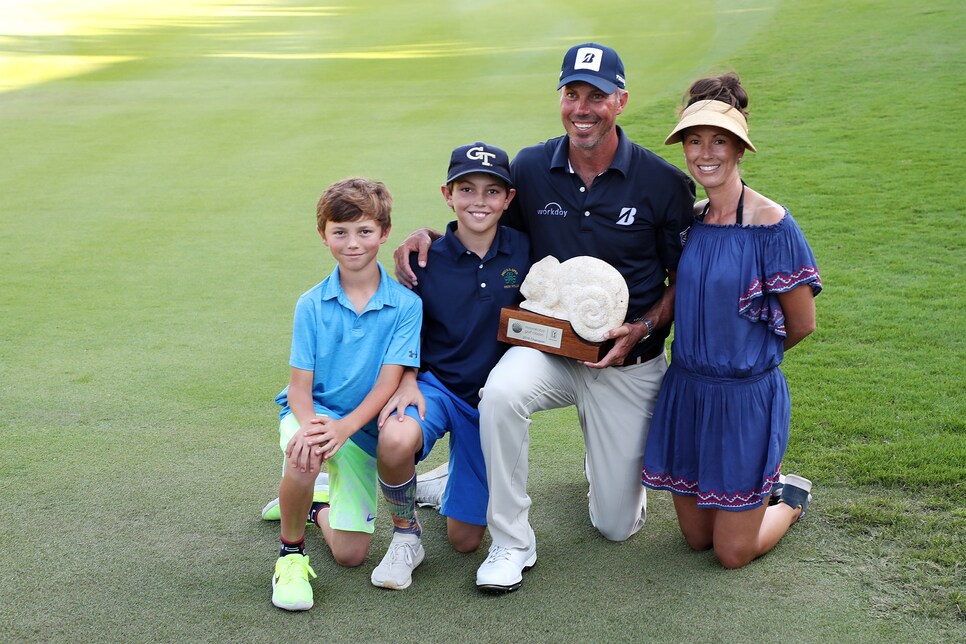 Lee Westwood: In one of the all-time coincidences/pranks by the golf gods, Westwood and Kuchar both returned to the winner's circle for the first time since April 20, 2014. Pretty freaky stuff by this pair of Ryder Cup vice captains. Although, it would be even freakier at this point if either finally wins a major. Seriously, what a cool moment, especially Westwood's emotional interview following his Nedbank Golf Challenge triumph, the 24th European Tour title of his career:
I'm not crying, you're crying. Props to Westwood for hanging in there through some struggles—and for bringing the victory party onto the plane!
Jack Bartlett: The world of golf impersonations found a new star last week in this guy, who went viral thanks to his takes on Dustin Johnson:
Keep 'em coming, Jack. Also, if you could swing exactly like Dustin Johnson, wouldn't you just do that all the time? Just a thought. . .
Caddies: Look, if you're a caddie on a major tour, you're obviously great at what you do. As we saw this past week, however, you are also very replaceable. Matt Kuchar hired a local caddie and promptly ended a long winless drought. Lee Westwood parted ways with longtime looper Billy Foster in favor of his girlfriend and ended his winless drought as well, prompting this PDA-filled celebration:
Heck, even Kuchar's wife, carried Zach Johnson's bag for four successful holes while he made eagle to salvage a round. If Kuchar is looking to save some money, it seems he doesn't have to look far for a permanent replacement caddie. . .
Ridiculous DQs: Two brutal ones to report from European Q School. First, Marco Petrozzi was disqualified from the second stage for walking through (and raking) a bunker when pacing off a shot. Then, Tom Murray, who appeared on his way to earning a European Tour card in the finals, was DQ'd for signing a wrong scorecard. We've seen that before, but here's the twist: His final score was correct, but two holes (one higher, one lower) were inaccurate. What a dagger. And what an absurd outcome.
Tiger-Phil golf pong: Let's just say, this was a bogey. A video to promote THE MATCH featuring Tiger Woods and Phil Mickelson playing golf pong? In separate locations? Welcome to Contrivedville:
HOWEVAH, days later, this hype video was released and the marketing people behind THE MATCH totally redeemed themselves like Lloyd Christmas when he swapped the Shaggin' Wagon for the scooter in Dumb and Dumber:
Man, that's good stuff. THE MATCH! BACK!
The PGA Tour heads to Sea Island for the RSM Classic, AKA the final official event of the year. Meanwhile, the seasons conclude on both the European (Dubai) and LPGA (Naples) Tours. And yes, the Golf Digest Farewell Cup wraps up on 1 World Links. OK, now I'm getting sad again. . .
Random tournament fact: Heath Slocum won the inaugural RSM Classic in 2010. Did you know Heath Slocum actually has four PGA Tour wins? I bet you didn't know that.
RANDOM PROP BETS OF THE WEEK
— Matt Kuchar and Lee Westwood will win on the same day again: 1 MILLION-to-1 odds
— Matt Kuchar and Lee Westwood will win again: 2-to-1 odds
— Matt Kuchar ate the heck out of a victory banana-split sundae: LOCK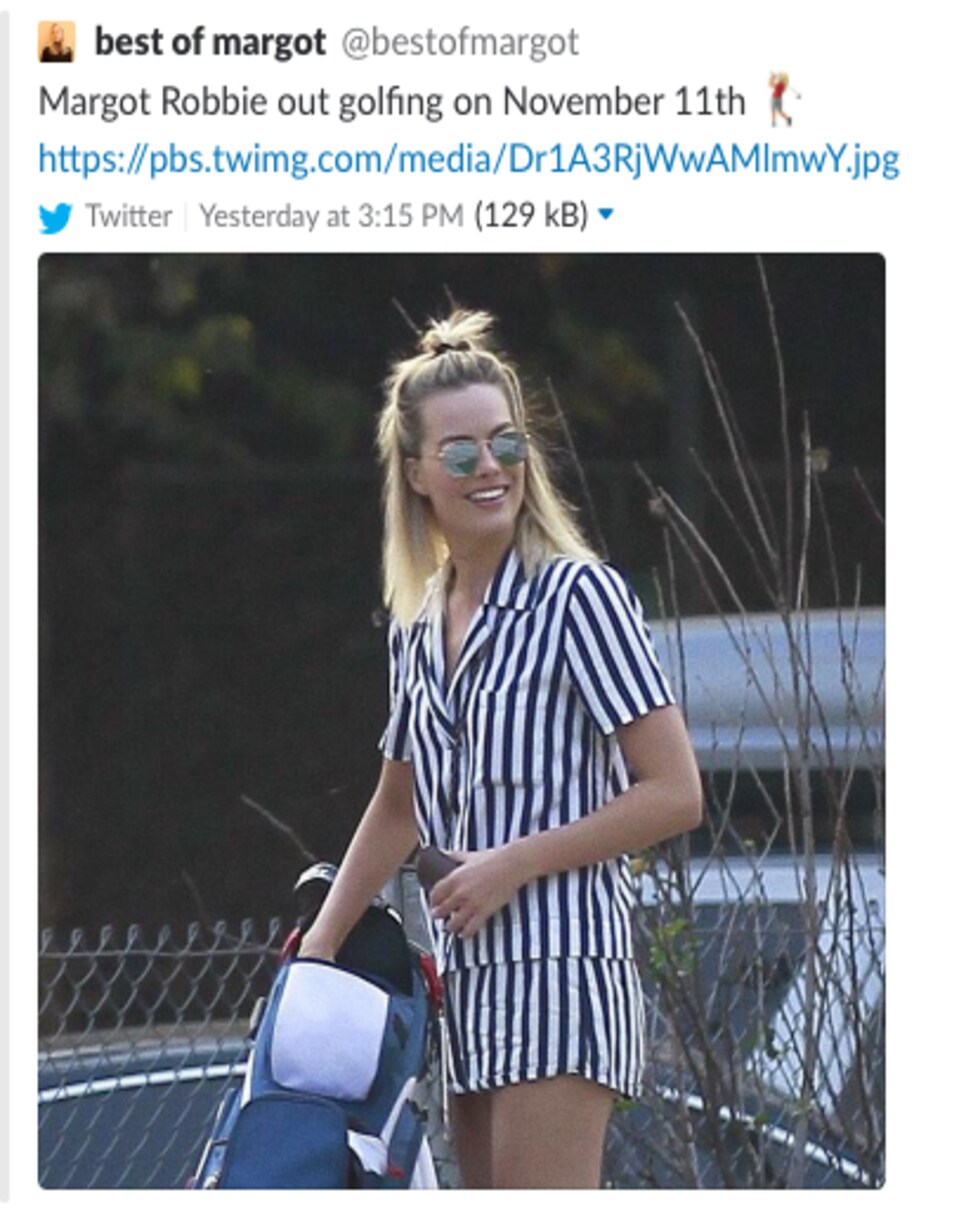 Maybe the Aussie has already begun preparations? If you notice, that's a screenshot, because the original tweet was taken down. Hmm. . . Get the rumor mill CRANKING! Here she is working on her "How am I going to play this shot?" pose:
Very convincing. And based on her incredible skating in I, Tonya, I suspect Margot will be a scratch golfer within a month.
THIS WEEK IN CELEBRITY GOLFERS (NOT NAMED MARGOT ROBBIE)
Soccer star Harry Kane shot under par for the first time:
Congrats, Harry. I'm just glad it wasn't another hole-in-one video.
VIRAL VIDEO OF THE WEEK (NON TIGER-PHIL HYPE DIVISION)
This might be the best player-caddie exchange of the year:
Well done by caddie James Nelson. But again, I'm pretty sure Wu's wife or girlfriend would have no problem telling him to "Stop being crazy!"
THIS WEEK IN DUSTIN JOHNSON-PAULINA GRETZKY SERGIO GARCIA-ANGELA AKINS PUBLIC DISPLAYS OF AFFECTION
Sergio came up just short at the Nedbank Golf Challenge, but he and Angela had a great time on a safari: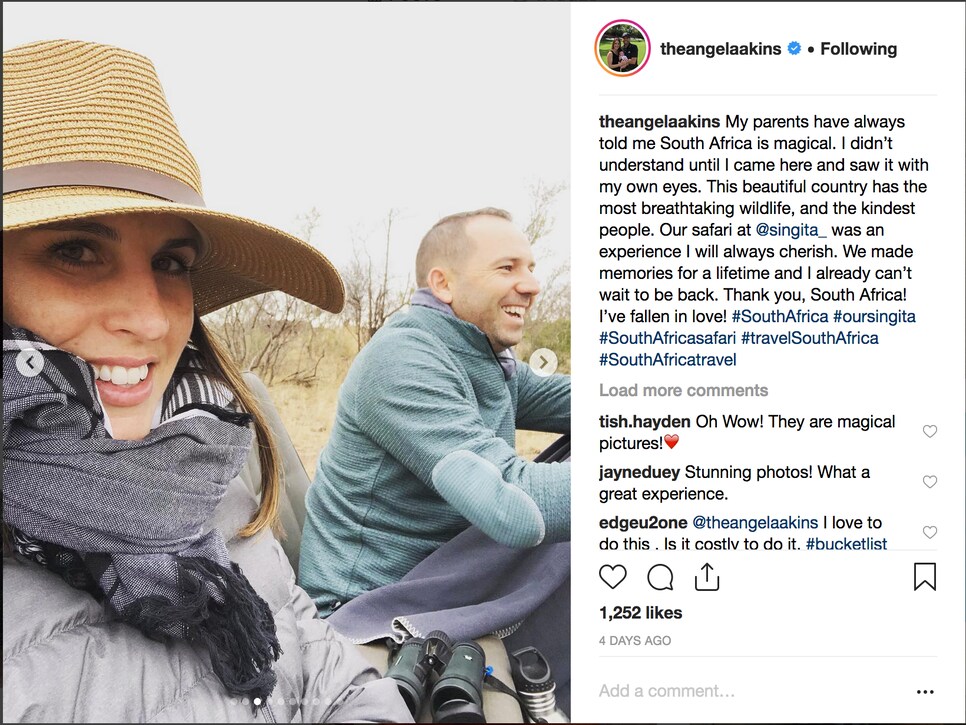 "I can only wish him good luck moving forward, although I do feel he could have waited more than a week before winning a million dollars." — Billy Foster, Lee Westwood's former caddie. Tough break, Billy.
Wesley Bryan's clubs didn't arrive in Mexico on time, but instead of complaining and taking the airline to task, he took a spa day:
Well played, Wes. . . . Gaby Lopez picked up her maiden LPGA Tour title and became the first Mexican winner on that tour since her idol, Lorena Ochoa. "That's why I wear green, white, and red on Sundays, because I've been dreaming of this moment my whole life," Lopez said. Very cool. . . . Bernhard Langer won the season-long Charles Schwab Cup on the PGA Tour Champions. Again. We're only going to mention it from now on if he doesn't win. . . . And finally, congrats to the Golf Digest geezers on winning the 2018 Seitz Cup.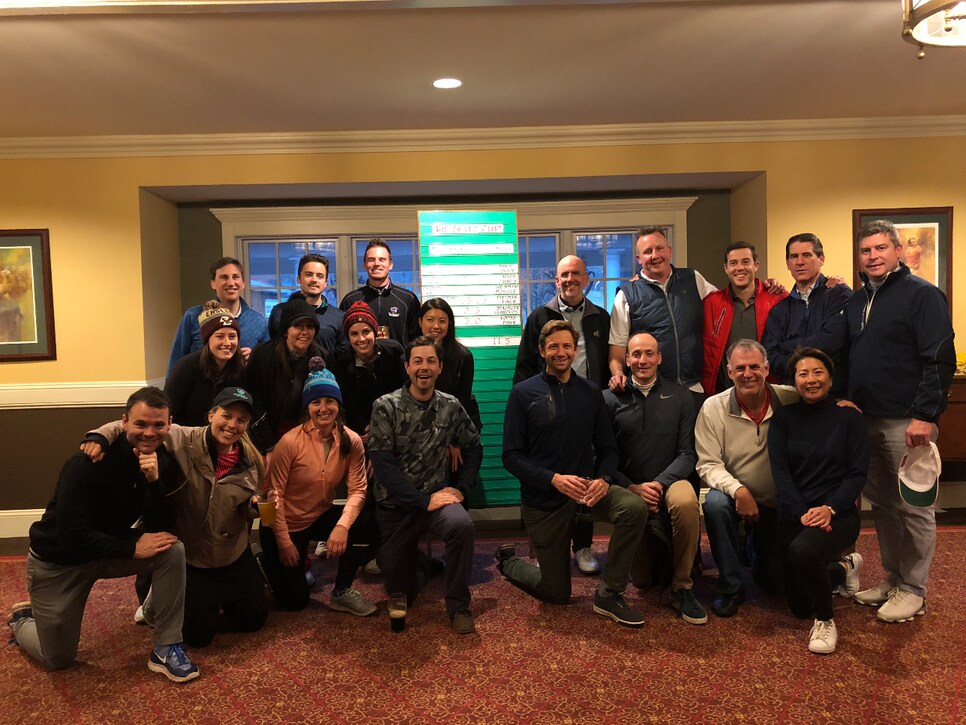 But I'm happy to report us millennials (I was the oldest person on the young squad) hung tough in the frosty conditions. Kidding. We are softer than avocado butter.
RANDOM QUESTIONS TO PONDER
Will I be on the (gulp) old team next year?
Will we get another office putting green?
How will I use all my new free time?