The Loop
An unauthorized history of Royal Wilton, the most hotly contested office putting green in the world
You're probably not aware, but Dec. 17, 2015 marked the end of an era. After more than 12 years in Wilton, Conn., Golf Digest's headquarters officially moved to 1 World Trade Center. Aside from the obvious, the relocation had two profound effects:
1) No more "Pasta Day" Wednesdays in the office cafeteria.
2) No more putting on the office's fantastic putting green.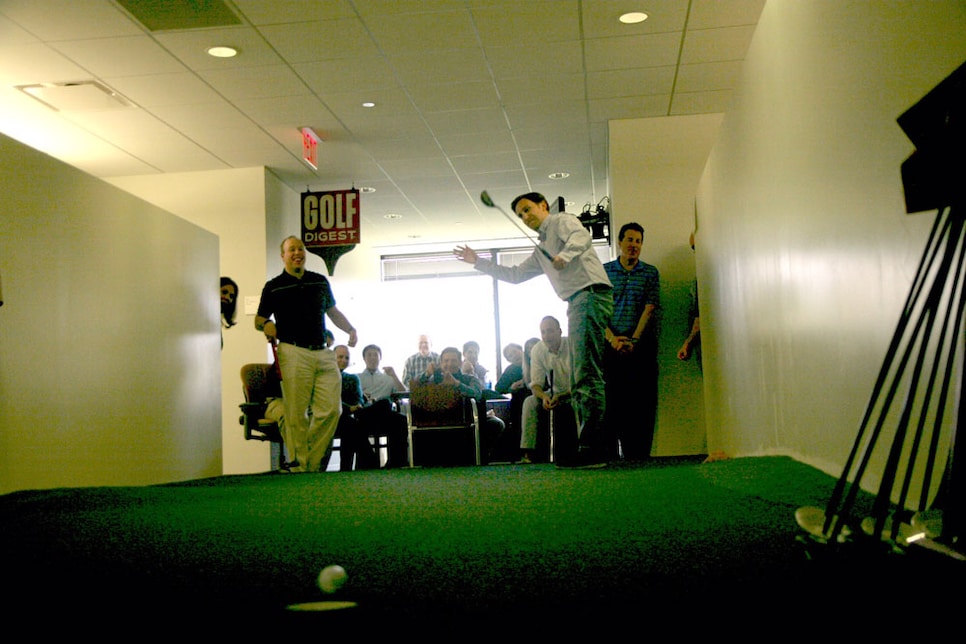 I could spend a lot of time on the first one (like about how mixing the red sauce with the cream sauce produced the best results), but I'm going to stick to No. 2. Why am I qualified to lead the discussion of Royal Wilton? (Yes, we referred to it as Royal Wilton.) Because, I'll admit, no one spent more time on that green than I did.
When I first started working at Golf Digest, my desk was conveniently located a few feet away from the green. It was impossible not to stop to hit a few putts on my way back from the bathroom. Or on my way to the bathroom. Or on my way to or from Pasta Day (Mmm, Pasta Day). Plus, my boss at the time practically mandated daily putting contests.
Naturally, I began keeping a tally of who was winning and recording memorable moments from these contests on a gigantic white board that we kept in our area. When we moved to a different part of the office, the "Big Board" came with us, staying on a shelf for years after we stopped using it. Whoever moves into our office will think we got NOTHING done.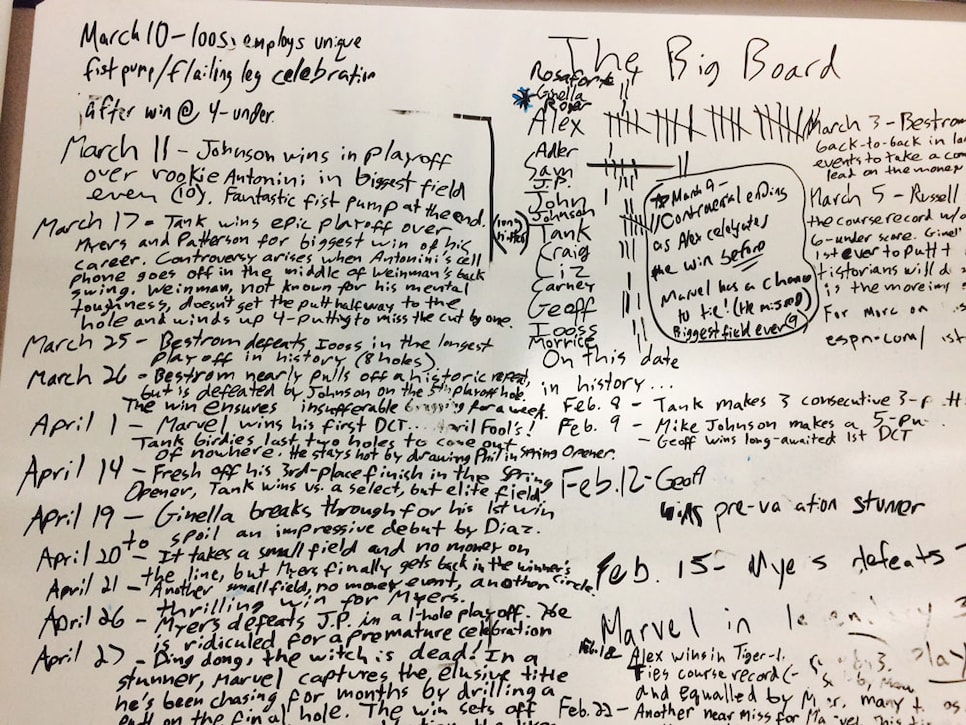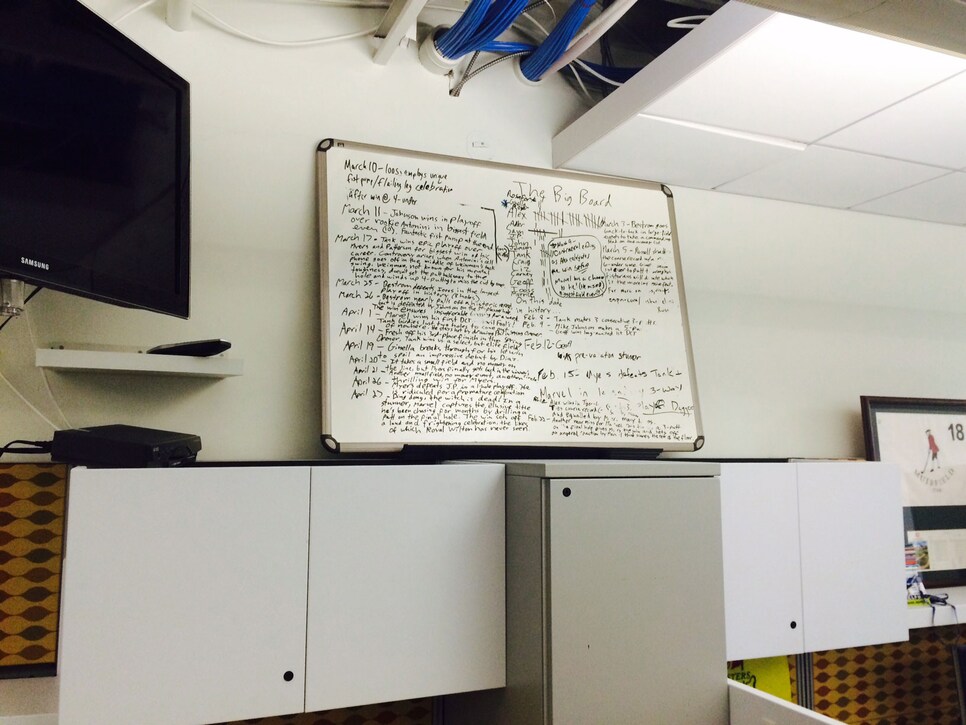 Ah, those were good times. I remember we also implemented "Well-dressed Wednesdays" during that period, which was fun as long as you were careful not to splatter any pasta sauce from Pasta Day on your nice clothes. Of course, "well-dressed" for us meant my co-worker at the time (Luke Kerr-Dineen) would wear his least-wrinkled collared shirt and my boss, Sam Weinman, would wear his sweater that only had one hole in it.
But it wasn't just the misfits working over in web land who took advantage of Royal Wilton's four holes, fast turf and subtle contours. The entire company got involved with two annual "major championships": The Spring Opener and the Turkey Putt.
The Spring Opener was a stroke-play format played over six holes. The Turkey Putt involved three "long" putts (about 15 feet) to each of the four holes for a total of 12 putts. For each competition, there would be a week of qualifying in which employees posted their scores. Don't worry, USGA, you couldn't post the scores by yourself, but needed an official playing marker to accompany you during your qualifying round.
Only three people would make it to the finals, which would be contested in front of the entire company. Everyone would gather around Royal Wilton to cheer on their fellow employees. Or to heckle them. It was a fine line. Here's Christian Iooss donning the Turkey Putt winner's turkey hat and holding the victor's turkey: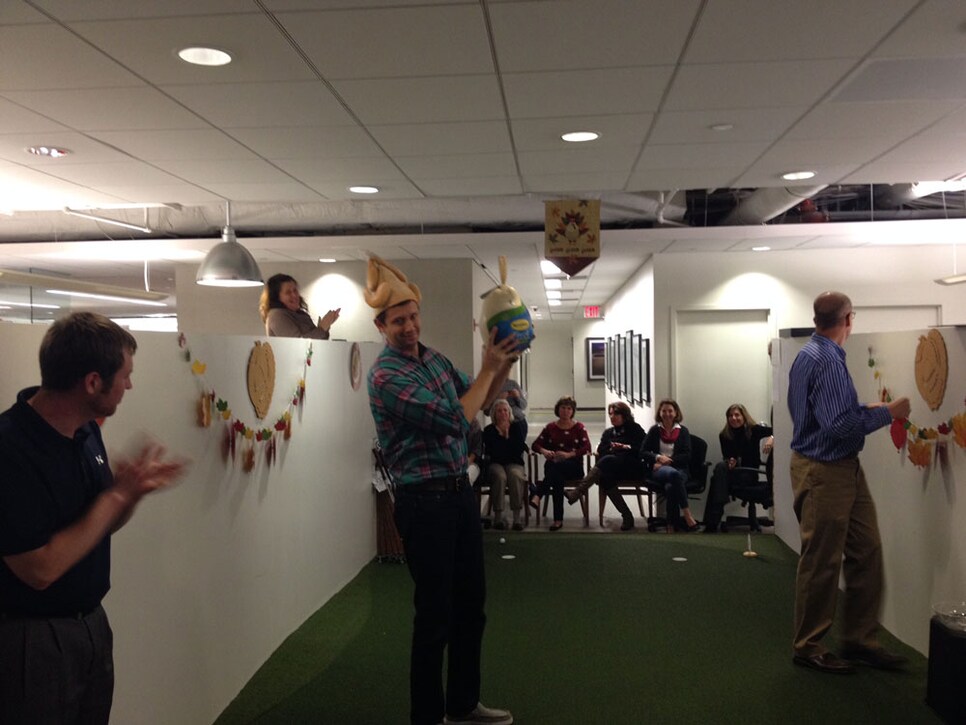 I'm happy to say I joined Iooss among the green's greats when I broke through for my first major at the 2015 Spring Opener to claim the coveted "Founder's Jacket." Little did anyone know it would be the last major ever contested at Royal Wilton, making me the answer to a trivia question that will probably never be asked.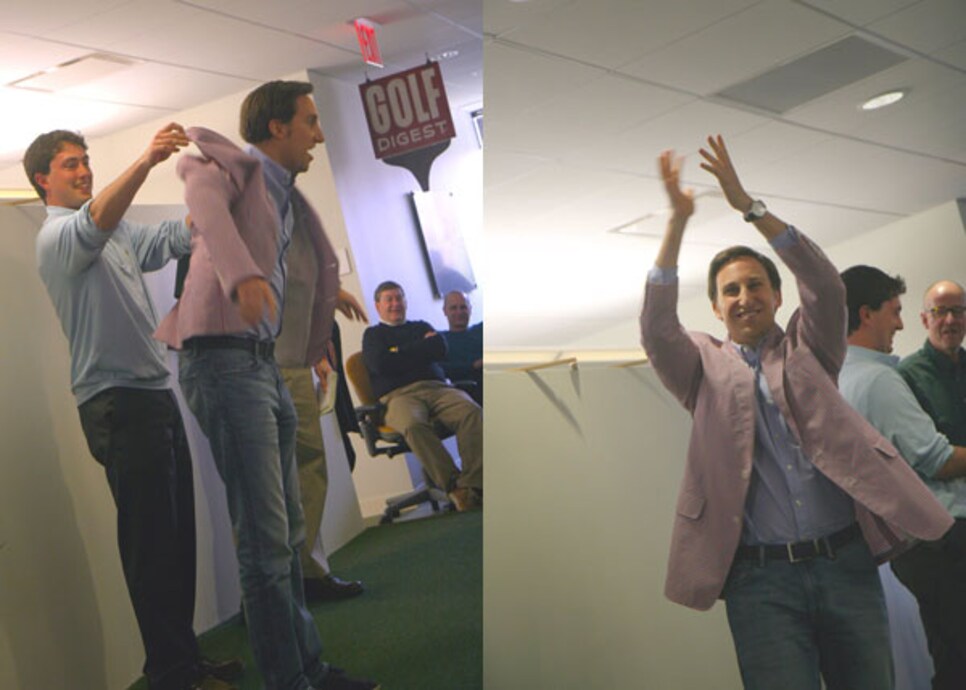 The other legends of this storied course? How about former Golf World Editor in Chief Geoff Russell, the only man to go six for six in our standard afternoon contest. Golf's closest thing to a perfect game. Then there's Steve Hennessey, the only player to win back-to-back majors (but not in the same calendar year) to claim the "Stevie Slam." And finally, Cliff Schrock, who always played host to the annual majors, and whose game stories off the main events, which included quotes from the participants, were always a must-read -- even if you lost. The headline when I won this year? "Myers finally wins Spring Opener, doing what his man Tiger can't anymore."
As far as I know, Royal Wilton is still intact, quite a selling point for a company looking for office space. The green that provided Golf Digest's staff with countless hours of enjoyment is just waiting to be discovered by a new group of employees.
To those fortunate people, I have one message: Enjoy. Oh, and I guess it's OK to take the Big Board down now.