Contending at Scottish Open
Matt Fitzpatrick's 'best form of my life' continues with a second-round 66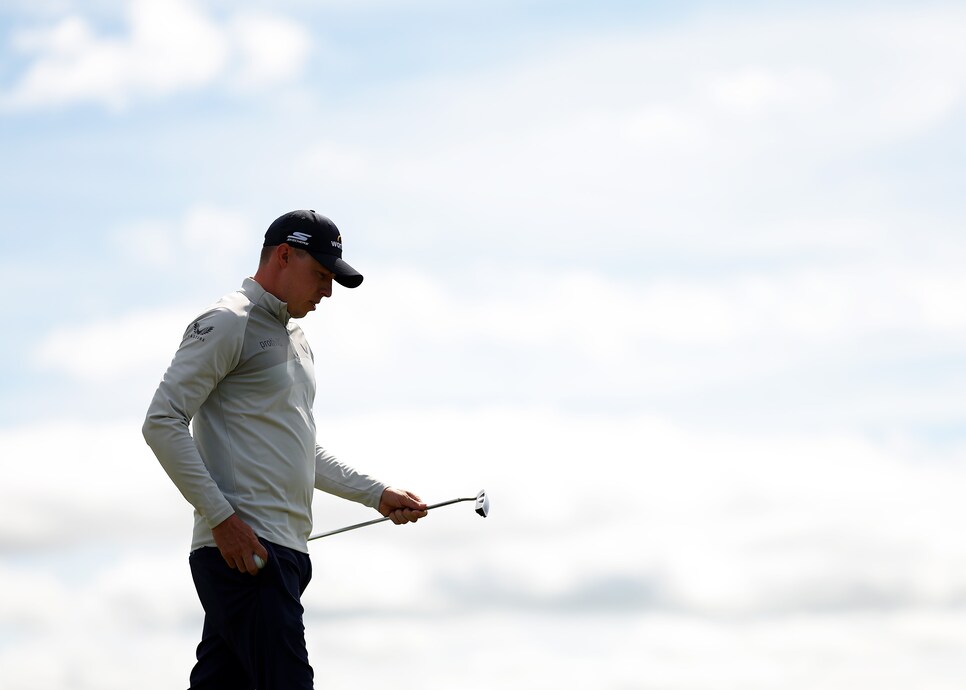 GULLANE, Scotland — He isn't leading at the halfway stage of the Genesis Scottish Open, but it's a safe bet that those around him on the leaderboard are paying close attention to Matt Fitzpatrick's prominent presence. Despite being saddled with the wind-blown "wrong" side of the draw—late/early—the U.S. Open champion is three under par after 36 holes and well placed to add a second national title to his already burgeoning curriculum vitae.
That position could and perhaps should have been even better. Bogeys at each of his last two holes reduced Fitzpatrick's profile on a Renaissance course where he has already enjoyed some (near) success. A year ago the 27-year-old Englishman was part of a three-way (and one-hole) playoff for this title alongside eventual champion Min Woo Lee of Australia and Belgian Thomas Detry.
No matter. Understandably confident and assured on even the most prestigious stages, Fitzpatrick is surely and already the man to beat this week. Many of the spectators gathered on the Tom Doak-designed links clearly think so. More and more—and in more ways than one—Fitzpatrick is a man to watch. Which is something he clearly appreciates.
"It's been amazing," he said in the wake of a six-birdie, two-bogey effort that went a long way toward rectifying his one-over opening round. "I've had so much support with people saying 'congrats' and 'keep it going' as I was walking onto tees and greens. It's been really nice to be out there."
Ominously for his rivals over the next two days, the fact that Fitzpatrick has made the cut at all augurs well for his prospects of victory. His lowest finish over 72 holes this year is a tie for 13th.
"It's kind of been s--- or bust really," he said with a smile. "It's either been top 15 or missing the cut. But if that's the case the rest of the year I'd happily take it. Missed cuts hurt, no matter how well you're playing. But if I can keep doing what I've been doing and having a good plan there is no reason why I can't maintain the level I'm at or just below it.
"It's been a really, really good year," he continued. "The changes we made in the off-season have paid off and it's just about trying to keep on top of everything and keep trying to improve. I've proved to myself that I can win a major. Going forward, any time I'm in this sort of position, whether it's in majors, or on the DP World Tour, or the PGA Tour, I have the belief that I've done it before and I can do it again. I've been in the best form of my life since January really."
Perhaps the only factor not in Fitzpatrick's favor is the potential for mental fatigue. Although he hasn't played competitively since winning his first major championship at The Country Club last month, the former World No. 1 amateur has been going at "100 mph" since.
"I feel like I've not had time to sit down and do nothing," he said. "I had three days at the back end of the first week where I had that but since then there's been a lot going on. I've been in the car a lot driving places and flying as well. It's just been busy with all sorts of stuff so I'm looking forward to getting back into regular scheduling."
Still, being busier and more in demand off the course is something Fitzpatrick is going to have to get used to. He seems ready though.
"Particularly if I want to win more [majors], it's all just part of it," he said. "But I am getting used to it, even if it is very new. There's been more demand on my time. It's just trying to find the balance of everything. I need to make sure that I've got enough time to practice and enough time off and enough time to give to sponsors and media and all that sort of stuff."
All of which will only accelerate and increase should he be successful next week at St. Andrews, a course where he has enjoyed success. But the Open Championship is more than a little different from the St. Andrews Junior Open, one of many titles on the Fitzpatrick mantelpiece.
"That was when I was like 14 or something," he said. "Playing that week is probably my strongest memory of the place to be honest. It was literally like sideways rain and blowing an absolute gale. I had the two rain gloves on and the mittens and three layers of waterproofs."
Hopefully, that won't be necessary next week at the 150th Open Championship. But you get the feeling it wouldn't bother Matt Fitzpatrick even if it was. He's in that kind of place.