Spread The Wealth
Matt Araiza is so good at punting that he got San Diego State's offensive coordinator a bonus. Wait, what?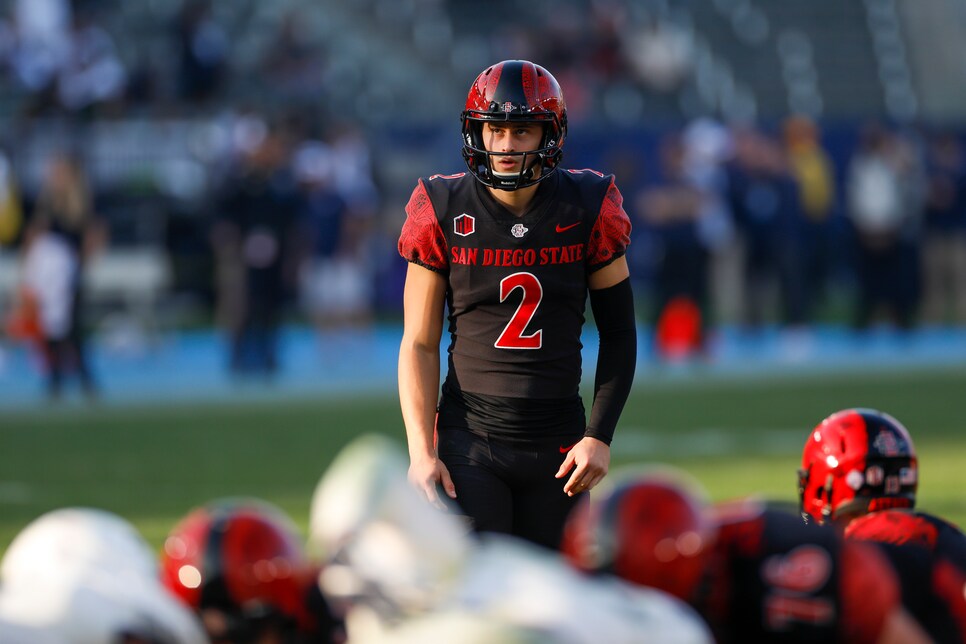 If you popped on the Heisman Tropy presentation on Saturday night, you may have noticed there was somebody missing. And no, it was not Michigan State running back Kenneth Walker III or Ole Miss quarterback Matt Corral. It was San Diego State punter Matt Araiza.
No, never in a million years would a punter win the Heisman or even be invited to the ceremony, but if there ever were a punter deserving of either honor it would have been Araiza, who wowed college football fans all season with his booming, 80-plus yard punts. When head coach Brady Hoke called him the team's "best weapon" in a College Gameday interview last week, he really meant it.
Now that the season is over, Araiza is finally getting the recognition he deserves. Last week, he made school history, winning the Ray Guy Award for being the nation's top punter, which made him the first Aztec to win a major postseason award in program history. On Monday, Araiza was selected first-team, All America by the AP, which in turn earned Hoke a $10,000 bonus. It also earned a number of other coaches bonuses, too, including .... offensive coordinator Jeff Hecklinski?
That's right, Hecklinski earned the bonus as OC because of how often his punter was on the field and because of how good Araiza is at, ya know, punting. Somehow, that doesn't add up:
Make no mistake, these Aztec coaches deserve a bonus after the year they had, posting 11 wins for the first time since 2016. But there's still something sneaky hilarious about the team's OC getting paid because the punter punted the ball to the other team's offense really well. Hey, Hecklinski definitely isn't complaining, nor should he. Like Hoke said, he's the team's best weapon, and him earning the staff some extra coin serves as all the proof you need of that fact.