PGA Tour
After soaking up praise for his Masters win, Hideki Matsuyama goes back to work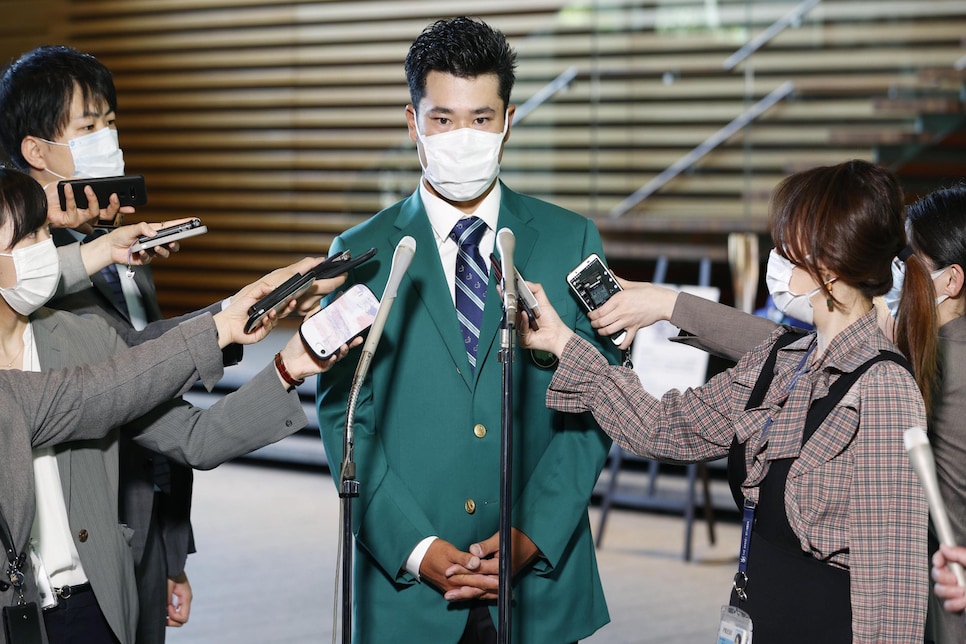 Hideki Matsuyama speaks to reporters at the premier's office in Tokyo on April 30, 2021, after receiving the Prime Minister's Award from Prime Minister Yoshihide Suga.
Kyodo News
Only a month removed from his historic Masters victory, Hideki Matsuyama already has an idea of what he'll serve at his Champions dinner next April.
"Sushi does come to mind," he said Tuesday through his interpreter. "I'm a little worried. I don't know if everyone will really like sushi or not, but I'm going to check with some people and get their advice and what they think. There's a lot of really good food from Japan, some of the best beef in the world, so I'm thinking about that and looking forward to it next year."
This week's AT&T Byron Nelson marks Matsuyama's first start since his victory at Augusta National, where the 29-year-old became the first player from Japan to win a men's major championship. He also arrives at TPC Craig Ranch admittedly a bit rusty after what has been a whirlwind four weeks without much time for practice.
Following the one-stroke win, his first in a major, Matsuyama headed back to Japan, where he had to quarantine for 14 days after arriving. Along the way, he watched some of the highlights from the final round and found himself feeling the same nerves again. He also read what he said was just about every newspaper article and magazine article about his victory.
Once out of quarantine, he was able to show off his green jacket to his parents and the rest of his family and friends. There was also a press conference and a meeting with Japanese Prime Minister Yoshihide Suga, who honored the newly minted champion with the Prime Minister's Award.
"Seeing how the Masters win was portrayed in Japan was great, really unforgettable, and that really stands out for my trip back to Japan," Matsuyama said. "I'm not used to all that attention, but grateful that people took notice."
As for the current state of his game, Matsuyama said that he hardly practiced while he was in Japan and isn't sure how he'll fare at TPC Craig Ranch. His main goal, he said, is to find his form again and prepare for next week's PGA Championship at Kiawah Island.
He also doesn't look at himself any differently now that he's major champion.
"It was a relief, really, to win the Masters," he said. "It has been a while and now moving forward and looking forward, I still have the drive to want to win more on the PGA Tour and hopefully the confidence. It's kind of an unusual combination of the two feelings of how I look at myself, and hopefully I'll be successful in the future."