The Loop
Dustin Johnson's injury, Par-3 rainout and Peter Alliss possibly calling it quits: Thursday morning Masters roundup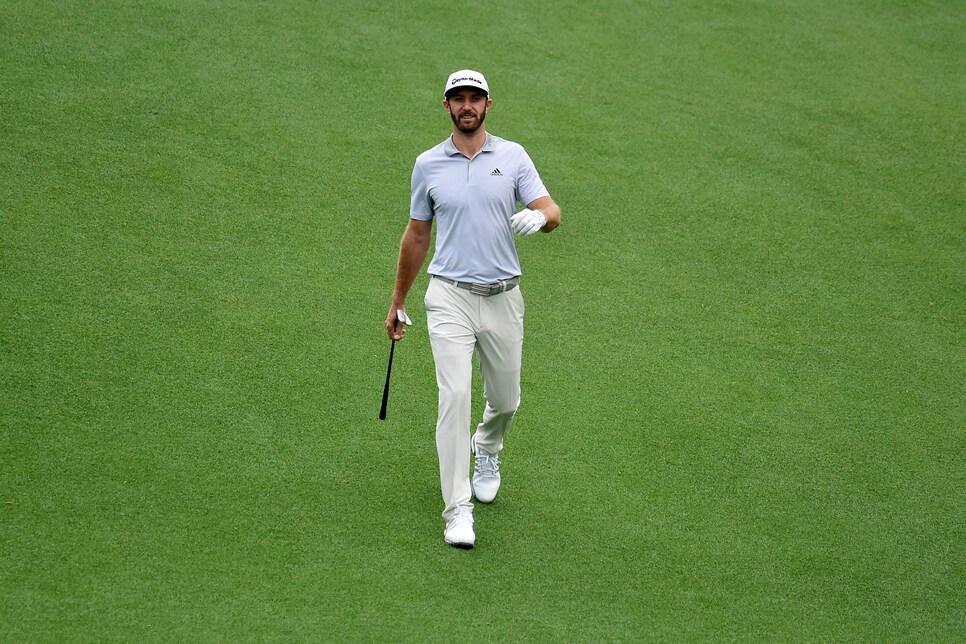 Welcome to the Dew Sweeper, your one-stop shop to catch up on the action from the golf world. From the professional tours, trending news, social media headlines and upcoming events, here's every golf-related thing you need to know for the morning of April 6th.
Dustin hurt, questionable to play in Masters
Perhaps the story of the season, Dustin Johnson suffered a freak accident Wednesday afternoon, falling down a staircase at his Augusta rental home and injuring his back. According to his agent David Winkle, Johnson was advised to remain immobile throughout the afternoon and night, and will head to the PGA Tour medical trailer in the morning. His status is questionable to compete in the Masters.
"He's a warrior, and if he can play at all, he's going to play," said Winkle. "Right now it's such a freak thing, we just hope he's okay."
If there's a saving grace, Johnson will have time to recover and rest, teeing off in the final pairing on Thursday. Still, given his performance entering Augusta, it's a devastating blow to the proceedings, and your heart bleeds for Johnson, receiving a bad break on the precipice of history.
Odds adjust after DJ injury
Within the hour of the Johnson news, Westgate Superbook updated their Masters odds. Johnson, who entered as the overwhelming favorite, dropped to tri-favorite with Jordan Spieth and Rory McIlroy.
Amazingly, Danny Willett finishes at 125-to-1. Know he's had a tough go the past few months, but 125-to-1? He's the reigning champ! Do people know he's the reigning champ? (Actually, if Oakmont is any indication, probably not.)
For the second time this week, Augusta National closed the course due to inclement weather. Worse, it scrapped the Par-3 Contest, the first time the competition has been cancelled since its inception in 1960.
Luckily, the tournament forecast is rain-free (albeit a bit windy), and at least no player has to deal with the Par-3 Contest curse come Thursday. Glass half full, my friends.
Better yet, a few players got a handful of holes in, just enough time for Mike Weir to make a memory -- and more importantly, grab some crystal:
We knew Tiger Woods was in bad shape after aborting a range session last week within five minutes. But in an interview with the Golf Channel, Mark O'Meara confirmed the 14-time major winner continues to struggle with his back spasms.
"He said, 'Some days I have good days; some days I have bad days.' [The pain] is pretty much in the same area in his lower back that he's had the surgeries on," O'Meara told Lavner.
Woods and his team always play things close to the vest. However, based of these reports, it doesn't sound like the 41-year-old is close to returning between the ropes.
In an interview with Newsweek, beloved BBC commentator Peter Alliss said this season could be his last year behind the mic.
"When I get to the point where I see something and I can't respond, I'm interviewed and I have no words to say, and this is all getting fuddled," said Alliss. "I'll go before I'm pushed."
When that day comes, it will be a sad one, by Jove. Alliss' magnetic personality and witty observations were simply splendid. And though he occasionally offended with antiquated views or ran afoul with players, his knowledge and love of the game had no parallel. Majestic, indeed.