News
Masters Mementos Anybody Can Buy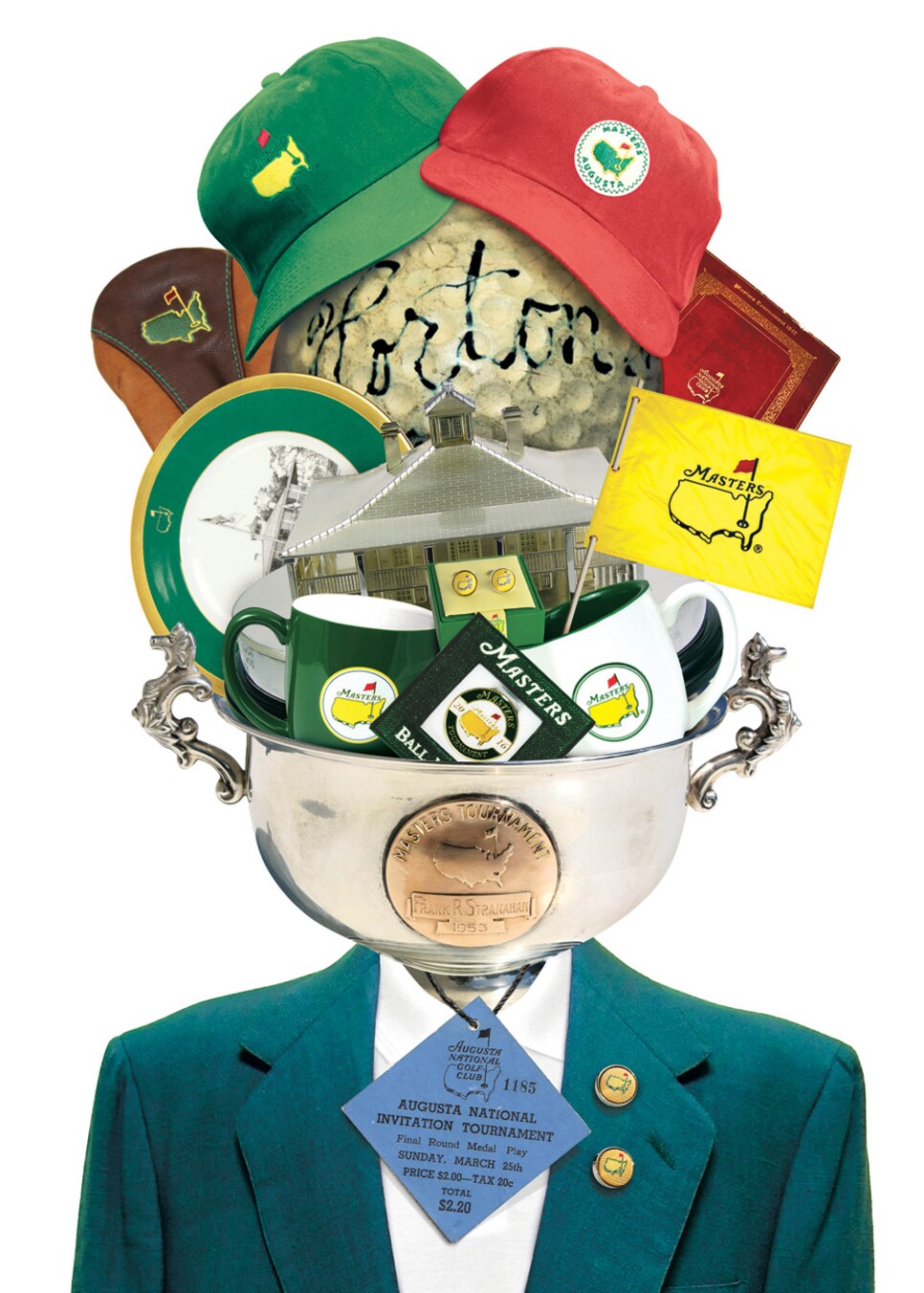 Illustration by Doug Chayka
Want to load up on Masters merchandise? It used to be you had to attend the tournament or ask a friend with tickets to shop for you. These days, you can find any number of Masters items online—including some that were only for competitors and club members.
BALL MARKER $9
Simple. Economical. Hey, it's better than a mouse pad (also $9).
COFFEE MUG $40
Say "Yes, Sir!"to the morning.
GREEN CAP $50
This is regulation caddie gear, along with those famous white jumpsuits.
BERCKMANS RED CAP $80
Berckmans Place is a VIP section, with its own VIP merchandise.
MASTERS PIN FLAG $120 This gets far more valuable when signed by winners.
CUFF LINKS $130
They change from year to year. Pictured here: 2015.
1934-STYLE HEADCOVER $130
Why 1934? That was the year of first tournament.
PERFORMANCE GOLF SHIRT $220
A Peter Millar shirt available only to members and Berckmans Place guests.
1996 MASTERS PLATE $500
Members and players used to get two plates a year as gifts.
1947 MASTERS SCRAPBOOK $2,400
A gift from the club to competitors.
MASTERS FLAG WITH 34 CHAMPIONS' SIGNATURES $10,500
Woods, Nicklaus, Palmer and Tom Watson in the center make it extra valuable.
HORTON SMITH SIGNED BALL $12,000
Autographs were rare in the 1930s, and more so on golf balls.
1953 LOW-AMATEUR TROPHY $16,000
Frank Stranahan won it the same year he was low am the British Open.
1934 MASTERS BADGE, FINAL ROUND $32,000
Paper badges (pre-1961) are the scarcest and most prized among collectors.
ARNOLD PALMER MASTERS TROPHY $444,000
A private investor sold it at auction in December 2016.
HORTON SMITH 1936 GREEN JACKET $682,000
The priciest piece of Masters memorabilia—so far—changed hands in 2013.
Pricing info: ebay.com, puregolfauctions.com, mmogolf.com thegolfauction.com, greenjacketauctions.com