News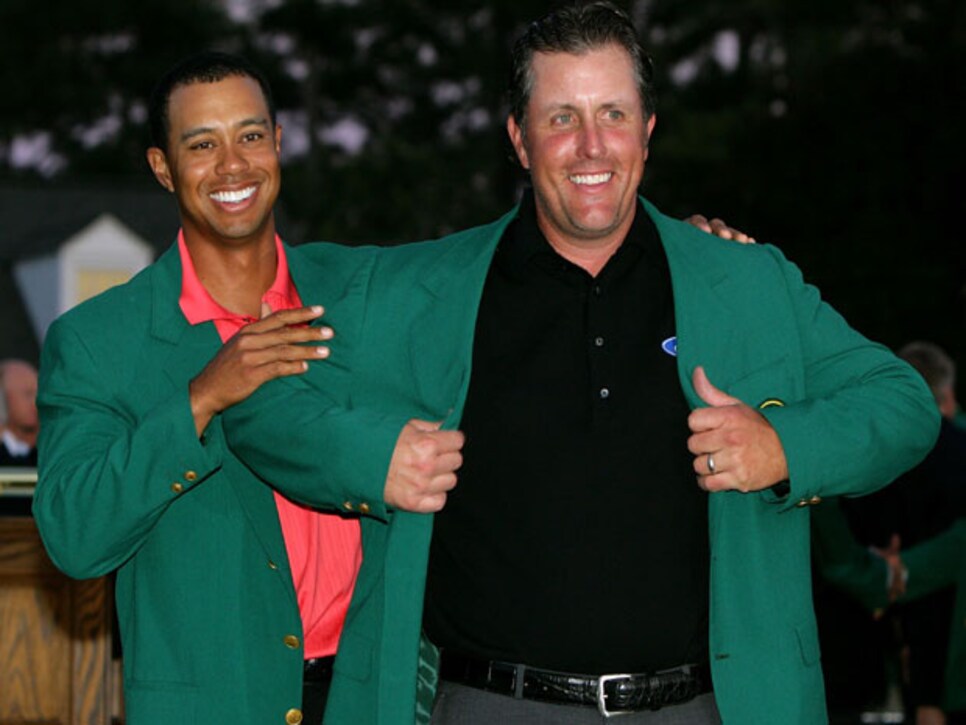 It's hard to imagine one of these guys, with seven green jackets between them, not factoring into the drama on Sunday.
*Welcome to GolfDigest.com's first-ever Masters draft. Our first-rate panel of contestants include Geoff Shackelford,
The goal is to put together five-man teams for a contest that will reward not only picking the winner, but the best collective performance. We hope our selections can also be of use to you, no matter what type of fantasy league or Masters pool you might be a part of. The draft order -- aka the Tiger Woods sweepstakes -- was determined by picking names out of a hat, and Ms. Mayo was the lucky lottery winner.
. Literally. He leads all other golfers in the all-important strokes gained putting statistic, and consider this: he made 35 putts of eight feet or longer in his last two starts, and on Saturday at Bay Hill, he made 17 out of 18 putts within 20 feet. At a venue that rewards not only length (which Tiger clearly has) but also precision on the greens, Tiger is undeniably the guy to beat.
2. Alex Myers: Nooooooo! You picked Tiger?! Sigh. OK, I'll take Augusta's No. 2 man of this generation, Phil Mickelson. Lefty showed he has as much firepower as ever when he torched TPC Scottsdale earlier this year for a 28-under total and has showed similar spurts since at Doral and in Houston. Mickelson always seems to play well at Augusta (nine top 5s in the past 12 years) and if not for a wayward tee shot on the par-3 fourth hole on Sunday last year, we'd probably be talking about him going for a fifth green jacket this year.
3. Sam Weinman: A four-time Masters champ and a three-time champ go 1 and 2. You guys are BOLD. I'm going with the mercurial Dustin Johnson, who when he's not off galavanting with Paulina Gretzky
, has proven to be capable of some stellar golf this year. Needless to say, he's plenty long to take advantage of Augusta's par 5s.
4. Geoff Shackelford: Mercurial? I suppose you could say that for Brandt Snedeker's rib, but his putter is anything but and if he's healthy enough, this former contender here has to be a top pick going in. Draw a line through the missed cuts at Bay Hill and Houston, his game is built for majors and he'll be ready.
5. Geoff (continued): As for my second pick, Justin Rose is not terribly daring because the World No. 3 seems to be everyone's second choice behind Tiger. Rose has been the most consistent golfer over the last year and though he seems to keep finishing second, he sports T-11 and T-8 finishes in his last two Masters and is must to include on your ticket.
6. Sam: You can have Justin Rose. From what I recall he starts out Masters great. Finishing them? Not so much. I will take Mr. Permagrin, Matt Kuchar, who has picked up two big wins in the past year, and made some noise at Augusta as well. A Masters win would hardly be a surprise.
7. Alex: Darn. I almost took Kuchar with my first pick. OK, I'll bite and take the world's No. 2 player, Rory McIlroy. It is the SEVENTH pick after all. Sure, he's off to a lackluster start to the 2013 season, but he's got the talent to turn things around in a hurry like he did last year at the PGA Championship. Besides, D.A. Points just won after not having finished better than T-63 in his first nine starts of the year.
8. Ashley: With a gaze like Keegan Bradley's, I've gotta go with him for my second pick. He started the year pretty poorly, but the in-your-face Ryder Cupper has clearly regained his game and his confidence. We know he can win a major, so if he can continue his steady play he'll have the wherewithal to stay cool on the back nine at Augusta on Sunday.
9. Ashley (continued): Next, I like Bill Haas. I'm picking him for three main reasons: One, Alex doesn't ever stop talking about him (man crush, I think); two, because he's lurked on the first page of the leader board for a few consecutive weeks now, recording three top-10 finishes in his last three starts; and three, because he's proven he knows how to handle pressure. A flop shot from a lake to save par and win 10 million bucks? NO PROBLEM.
10. Alex: I can't believe you took my man Haas! I hope he plays great the first three rounds because Sundays are not his forte. I'll continue my onslaught of overlooked, high-ranked players by picking Luke Donald. An erratic driver of the ball, but a wizard with the putter, Donald seems most suited to collect his first major championship at Augusta National.
11. Sam: Oh, I'm sorry. Am I up? I was just nodding off after your selection of Luke Donald. Me, I'm going with Louis Oosthuizen, since we all know the guy who loses in a playoff one year usually comes back to win the event the next. OK, so that NEVER happens. But I still like Louis...
12. Geoff: Wow. Dulled by Luke Donald and then playing the Oosthuizen card, the man in drab brown! I will counter your Louis with another South African who is playing much better, Charl Schwartzel. He cooled off a bit from his pre-Match Play streak but he's still landing in top 10s and appears to be in great form. I wasn't wild about him going halfway around the world to the same money grab as Luke Donald just two weeks before the Masters, but he's won at Augusta and Luke Donald hasn't.
13. Geoff (continued): My second pick goes against my instinct to select someone with an iffy short game or for sentimental reasons, but I love Lee Westwood's form of late and his approach to 2013. He's got the length, he has the Augusta track record and he says his short game is "brilliant" right now. He's moved to Florida this year with the Masters in mind and either he'll put too much pressure on himself or the improved route to Magnolia Lane will pay off.
14. Sam: From one major-less Englishman to another, I'm going with Ian Poulter. He's sniffed around in majors before -- including a seventh place finish at the Masters last year -- but I think it's Poulter's Ryder Cup success that has prepped him for the next step. Plus, he is the golfer most likely to wear tartan with the green jacket, which has got to count for something.
15. Alex: Love the Louis pick, but the memory of my close call last year (I had him at 90-to-1) was too painful to risk going through that again. I will take another guy with recent major scar tissue, though, and grab Adam Scott, who has been T-8 and T-2 at the Masters the past two years. The Aussie has apparently figured out Augusta's greens -- at least, until he isn't allowed to anchor his putter anymore.
16. Ashley: Alex, I hope you're right. I wouldn't mind seeing lots and lots of that dreamy Aussie on-air over the weekend. But, I digress. My fourth pick is Hunter Mahan. His missed cut at the Shell Houston Open aside, he's already finished in the top 10 twice this year. He and his putter are getting along well, which is important at the Masters. I just worry that those rap songs stuck in his head might not mesh well with Augusta's prim and proper fairways.
17. Ashley (continued): My final pick is the jaded Spaniard formerly known as El Nino. With a scoring average below 70, Sergio Garcia is having one of his best seasons, mostly because his putter is finally working. Combining that with his always-impressive iron game might make him the last man standing. So we've made almost all of our picks and none of us have chosen the current Masters Champion? That's, um, interesting.
18. Alex: Thanks for reminding me! I've based my entire draft on value picks, so why stop now? I'll take the pink driver-wielding, hovercraft-driving
lefty who became a legend with his hooked wedge from the pine straw last year. Bubba Watson has been relatively quiet this year, but his five top-20s in six starts indicates he's close to another breakthrough.
19. Sam: Well, SOMEONE has to pick a dark horse, so I'll take a flyer on Steve Stricker. He's supposedly tapering down his schedule, but that's all the more reason to think he might be in the right frame of mind to contend at Augusta -- especially given his prowess as a putter. More to the point, I'm looking for back-to-back prolific criers to don the green jacket. A Stricker win will produce more tears than the end of "Titanic."
20. Geoff: Who knew a top 10 player in the world is a dark horse? Stricker is a nice choice and I would have picked him if he averaged about twenty more yards off the tee, but in the post-Hootie era, the course is too much for non-bombers. I'll finish things off with a man whose game finally started to perk up on the Florida swing and says he's refreshed after a short break: Nicolas Colsaerts. The Belgian certainly qualifies as a long hitter and he contended at the U.S. Open last year.
OK, well that wraps it up for us -- hopefully, we didn't leave out the eventual winner! Good luck and enjoy the tournament.