Media
CBS officials outline approach to covering LIV Golf story during Masters broadcast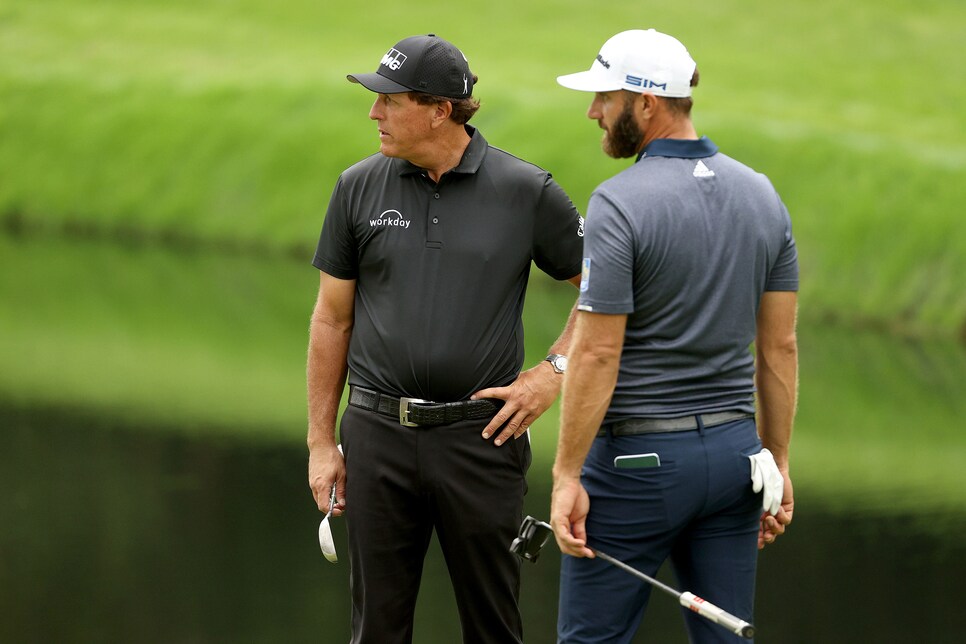 Phil Mickelson talks to Dustin Johnson during a practice round prior to the 2020 Masters. The duo are among 18 LIV golfers scheduled to compete this year at Augusta.
Patrick Smith
Not that we should expect intentions to the contrary, but CBS Sports officials said Monday that the network isn't planning to cover LIV Golf League members who compete in next week's Masters Tournament any differently than the rest of the field of competitors. At least that's the party line. What else would you expect them to say?
While the final two men's majors of 2022 had LIV golf participants, this will be the first Masters with members of the rival circuit to the PGA Tour competing at Augusta National Golf Club. That 18-player contingent might surely produce some legitimate contenders, including past champions Dustin Johnson, Patrick Reed and Sergio Garcia, four-time major winner Brooks Koepka, who tied for second behind Tiger Woods in 2019, and reigning Open champion Cameron Smith.
"The Masters Tournament and Augusta National is bigger than any player that has come before, any player that's around now and any player that will come in the years ahead," said Trevor Immelman, the 2008 champion Trevor who replaces Nick Faldo as the lead analyst in the 18th tower beside anchor Jim Nantz, during a zoom conference call on Monday. "That's what we are focused on is giving the tournament justice and crowning a great champion, putting a green jacket on a great champion that Sunday afternoon."
Augusta National chairman Fred Ridley announced in December that the Masters would invite LIV Golf members who are eligible "under our current criteria," including, of course, the tournament's past champions, who earn a lifetime exemption. LIV Golf naturally was a curiosity during Monday's 45-minute call that included reporter Dottie Pepper, producer Sellers Shy and CBS Sports chairman Sean McManus.
Nantz also was scheduled to participate in the call but opted out. He has a home in Nashville, where a fatal shooting at a private Christian school occurred earlier in the day.
"We're not gonna cover up or hide anything," McManus said. "As I've said so often, our job is to cover the golf tournament. We're not gonna show any different treatment for the golfers who have played on the LIV tour than we do the other golfers. And if there's a pertinent point or something that we need to, or we feel that we should bring up in our coverage on Saturday and Sunday, or on our other coverage throughout the week, you know, we're not gonna put our heads in the sand.
"Having said that, unless it really affects the story that's taking place on the golf course, we're not gonna go out of our way to cover it. I'm not sure there's anything that we could add to the story as it already exists. We'll cover it as, as is suitable."
"We're not cheerleaders here," Shy responded when asked if CBS might root for some LIV players to contend to juice ratings that already are annually the highest in golf broadcasting. "We just want to cover the golf tournament. So whoever is on that leaderboard, we're covering 'em because they're invited to the Masters."
CBS is broadcasting coverage of the Masters for the 68th consecutive year and will provide more than 100 hours across all its platforms. That coverage also includes the first two rounds on ESPN beginning next Thursday.
Another first for the network—and for the contestants, for that matter—is a new approach to the par-5 13th hole that features a new back tee that has lengthened the hole 35 yards to 545 yards. Shy wouldn't get into all the specifics of what CBS is planning, but viewers will notice a few new wrinkles.
"Without showing our hand, we have some enhancements around that tee box that I think the viewers will enjoy. One is we have a nice monopole in the back that's a little bit a higher to be able to show the shape of the shot. Other than that, I'll just tell you that we have hopefully tried to match the enhancements that the club put forward with lengthening the hole and we hope that the viewer enjoys it."
Immelman visited Augusta National last week and scored a par and a birdie at 13 in his two rounds, the second after reaching the front portion of the green in two with a 4-iron. He expects a wider dispersion of scoring there as players are faced with the option of going into the green with longer clubs if they eschew laying up.
Pepper added that the additional length might prevent players from hitting through the fairway, which led to numerous "forced layups" through the years. "I think it almost brings the true risk-reward back to have the players play off the natural elevation changes and sweeping turn of that hole," she added. "And it will, I think, bring back a lot of what [Bobby] Jones called that momentous decision that Chairman Ridley's talked so much about ... and now put into play. I think you're going to see some guys really have to think hard about what that second shot entails."