FIRE PIT COLLECTIVE
Masters 2022: The top 10 storylines for Masters Sunday
Editor's Note: This article first appeared in Fire Pit Collective, a Golf Digest content partner.
AUGUSTA, Ga. — Scottie Scheffler's job is to shoot good scores, not provide content. Scheffler did his job so efficiently for most of the third round that Masters Saturday began to feel a little, well, boring. A tidy front-nine 33 pushed Scheffler to 11 under, dashing the hopes of all but a few would-be contenders on a cold, blustery day. But a game Cam Smith kept making birdies, and after his sixth of the day, on the 15th hole, he had sliced Scheffler's six-stroke lead in half. The frigid fans began to cluck. Scheffler punched back with a birdie at 13 (after a prudent layup) and when Smith promptly missed a four-footer for par on the 16th hole, just like that the lead was back to a commanding five strokes.
But as Scheffler would find out, there is nothing quite like Masters pressure. Loose iron shots and tentative putts on 14 and 15 led to bogeys, eroding both his lead and air of inevitability. A stuffed approach shot on 17 gave Scheffler a birdie, and shot of confidence, when he desperately needed it. A scrambling bogey on the last hole allowed him to eke out a 1-under 71, a darned good score on a day when only eight other of the 52 players who made the cut went under par. He's at 9 under; his lead over Smith is down to three strokes, with Sungjae Im lurking five back.
Sunday's forecast calls for significantly warmer temperatures and a bit less wind. After the brutal third round, which featured a series of foreboding pin positions, expect the green jackets to offer a more user-friendly setup that promotes pyrotechnics. (The tees on the par-5 15th had better be on the very front of the new box or we riot.) The average winning score over the last decade has been 11.7 under, but few of those Masters experienced an extreme weather day like this third round. Let's say Scheffler wobbles a little more and 9 under gets it done. Here are the 10 best outcomes for what has already been an intriguing Masters.
Charl Schwartzel shoots 65 to win. The 2011 champ had the shot of the day during the third round, holing out a 7-iron on 10 for an eagle that evoked his Sunday charge 11 years earlier. Schwartzel, 37, arrived at Augusta National in an almighty slump: six straight missed cuts and languishing last among 209 players in total strokes gained. It would be an all-time resurrection if he can summon more Sunday magic, but his shaky finish to the third round (four bogeys over the last eight holes) doesn't bode well.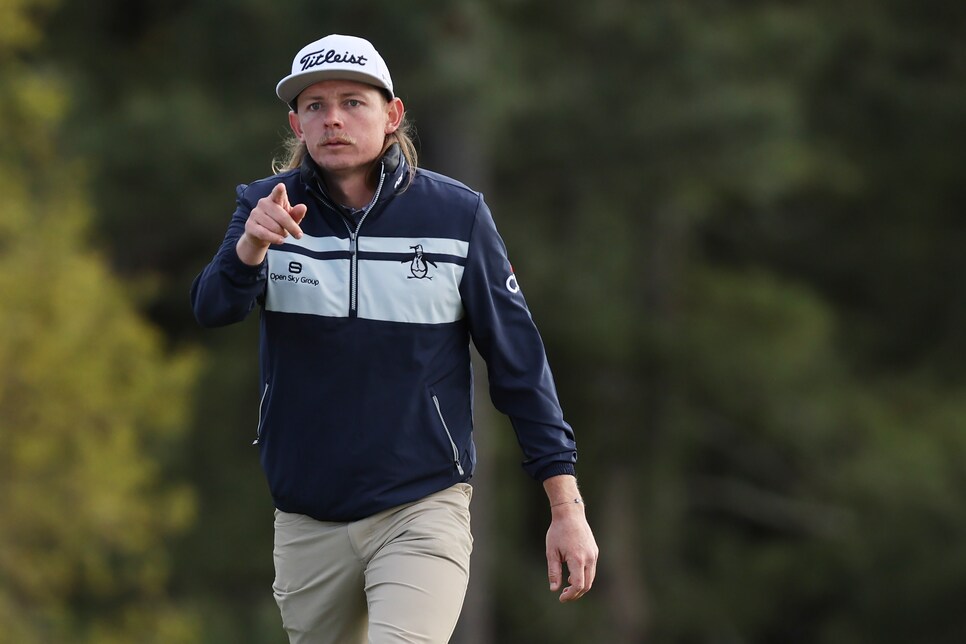 Corey Conners shoots 64 to win. The native Canuck jump-started his career by winning on a week when he Monday qualified—how can you not love that?
Cam Smith shoots 69 to win. Next to Scheffler, Smith (above) has been the hottest player in the world this season. With top 10s in three of his last four Masters appearances, including a runner-up finish in 2020, this short-game savant has clearly found the perfect venue in Augusta National. His 4-under 68 in the third round was the best score turned in by two shots. Given his glorious mullet and droll sense of humor, he would be a very popular winner.
Sungjae Im shoots 67 to win. Im, 24, became the first South Korean to lead after any Masters round thanks to a spiffy opening 67. A second-round 74 hurt his cause, but he caught fire on the final 11 holes on Saturday, playing them in 5 under. Hideki Matsuyama's victory last year resonated throughout the golf world; an Im triumph would be at least as impactful, given his youth and likability.
Shane Lowry shoots 65 to win. The jovial Irishman was the toast of the golf world when he won the 2019 Open Championship on his home island, but the victories are a little sparse for such a prodigious talent: only five across both the PGA and European Tours. That said, Lowry, 35, has already conquered Royal Portrush, one of the greatest courses in the world. If he adds Augusta National to the list, Lowry will stamp himself as a player of historical importance.
Dustin Johnson shoots 62 to win. DJ was in the thick of things on Saturday until he bogeyed six of his final 14 holes. With 25 wins he is already a lock for the Hall of Fame, but two career majors doesn't feel like quite enough. An epic Sunday comeback for a second green jacket would cement Johnson's legacy.
Justin Thomas shoots 64 to win. Birdies on the first two holes in the third round pushed JT to 3 under, but he made a bunch of mistakes coming home and had to fight for a 72. Thomas has underachieved in the majors since his breakthrough at the 2017 PGA Championship, and Augusta National appears to be getting in his head. One magical Sunday would change all that and return Thomas to the front ranks of the game.
Scottie Scheffler shoots 72 to win. The kid showed a lot of heart down the stretch of the third round, including a laser-like approach shot from some 250 yards and delicate up-and-down to salvage a crucial bogey on the last hole after he drove into a bush and took a penalty drop. With three wins in less than two months—his first three career victories—Scheffler has summited the World Ranking. A few observers believe that lofty perch is too much too soon for the 25-year-old. If he gets it done on Masters Sunday, there is only one possible takeaway: A star is born.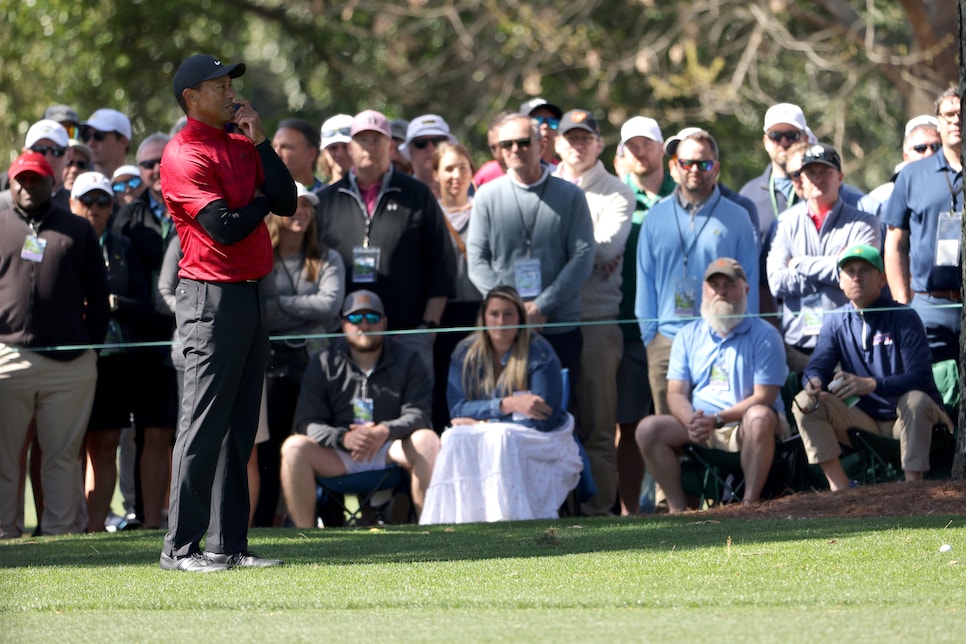 Rory McIlroy shoots 62 to win. After opening 73-73-71, McIlroy is in prime position for his traditional back-door top-10. But if he is ever going to exorcise his demons at Augusta National it will probably take this very scenario: Start far off the lead, freewheel his way to an outrageously low score (and course record) and win from the clubhouse.
Tiger Woods shoots 56 to win. Hey, we can dream, can't we?