Missing in action
Masters 2022: Phil Mickelson's most memorable Augusta moments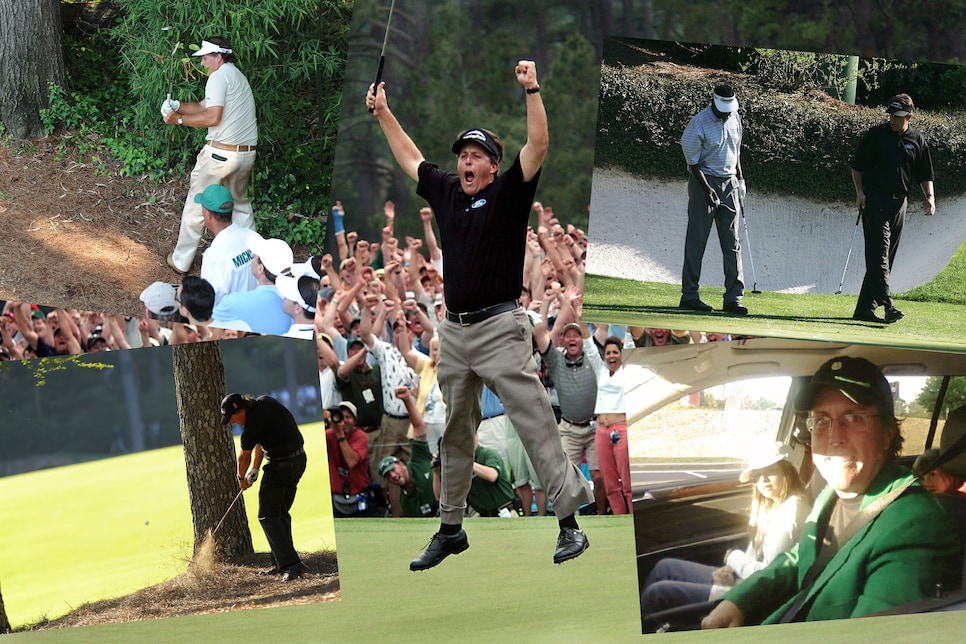 Phil Mickelson will not compete in the Masters for the first time since 1994 and will miss the year's first men's major for only the third time since 1990. The three-time champion made his debut in 1991 as the reigning U.S. Amateur winner and long has been one of the most popular contestants at Augusta National Golf Club.
Regardless of the impetus for his withdrawal—self-induced or strongly encouraged—it will be strange that Mickelson, the reigning PGA champion, is not teeing it up given his record in the event. Aside from the three wins in 2004, 2006 and 2010, he's also had eight other top-five finishes, 15 top-10s and 20 top-25s. In 29 overall appearances the left-hander has made the cut 26 times. Few men in the history of the tournament have been a more reliable contender.
Whether a fan of Lefty or not, there is no denying that his absence will be noticeable. And impactful. Golf Digest colleague Stephen Hennessey reported that Masters ticket prices on the secondary market went down 25 percent after it was confirmed that Mickelson wasn't competing.
With those considerations in mind, we offer you seven great—or at least infamous—Mickelson Masters moments to somewhat fill the void.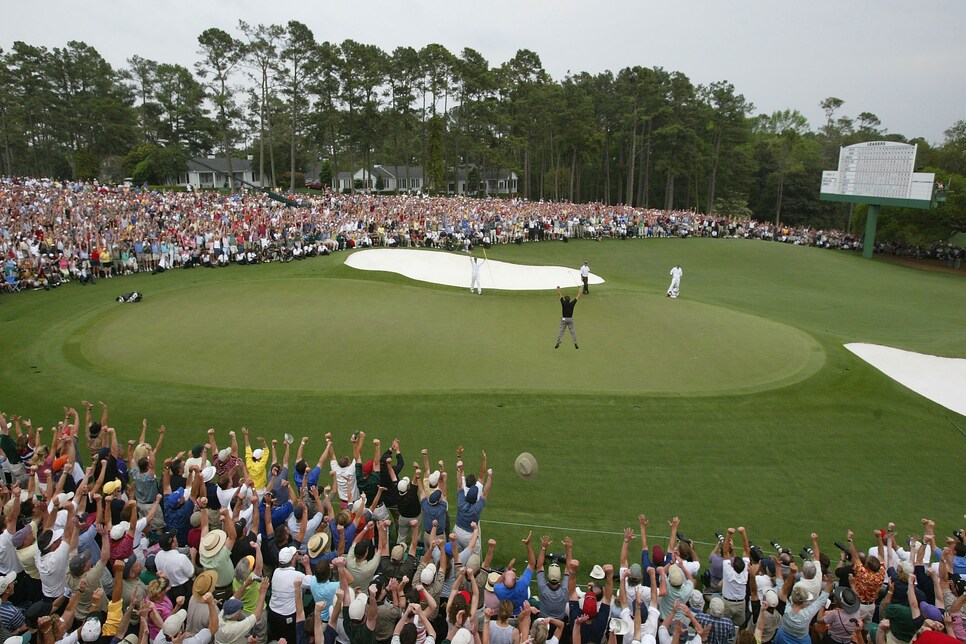 As silhouettes go, it's easy to identify Arnold Palmer's visor toss at the 1960 U.S. Open, Jack Nicklaus' pirouetting leap at the 16th hole from the 1975 Masters, or a Tiger Woods fist pump from, well, pick a major. Add to these the triumphant Mickelson's jump after he made an 18-foot birdie putt to beat Ernie Els by a stroke in the 2004 Masters. His legs are splayed a bit, his arms raised overhead with his right hand clutching his putter. You know it's Phil, you know the moment and you know it was for his first major title. Mickelson countered Els' final-round 67 with a closing 69 that included birdies on five of his final seven holes. The last, of course, came on the 72nd hole when he got a read from playing partner Chris DiMarco before sinking the downhill right-to-left slider that caught the left edge and dropped in. Then the celebration. "You saw I jumped three feet in the air," he told this writer a few years ago. "It was at least that high."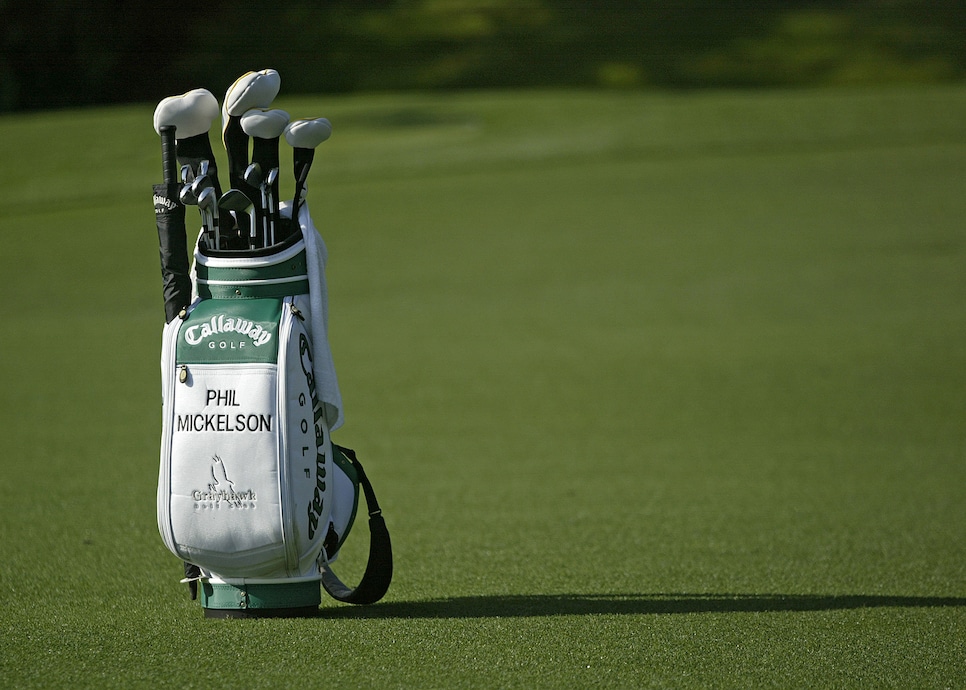 Phil became the 16th multiple Masters winner with his two-stroke victory over Tim Clark in 2006, but he became the first to conquer Augusta National with two drivers in his bag. A week after the two-driver experiment produced a remarkable 13-shot win at the BellSouth Classic outside Atlanta, Mickelson used the dual-driver strategy effectively in finishing at seven-under 281. Why two drivers? One to hit a draw and the other for a fade. He led the field in driving distance with an average of 299.3 yards while ranking 36th in driving accuracy at 62.5 percent. The more important average was his win percentage in his last nine major starts—33.3 percent. "Three out of nine; that sounds better," he said after winning the second major in a row following the 2005 PGA Championship in August.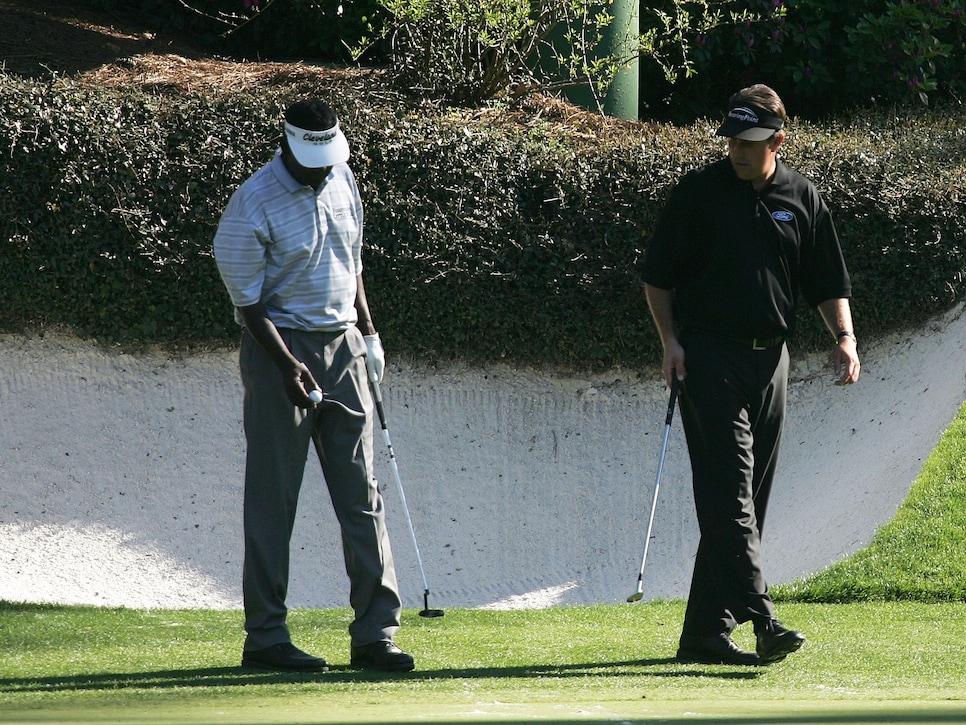 A locker-room kerfuffle was the story of a rainy second round in the 2005 Masters as Mickelson and Vijay Singh exchanged pleasantries over Lefty's metal spikes. Singh, the 2000 winner, was playing behind Mickelson, and he was finding significant damage on the greens. He had reason to suspect it was caused by the defending champion. He alerted officials, who checked Mickelson's spikes on the 13th green. Mickelson recently had switched from six- to eight-millimeter spikes. Later, Mickelson overheard Singh, the World No. 1, complaining to other players in the Champions Locker Room and confronted him. "He expressed his concerns. I expressed my disappointment with the way it was handled. I believe everything is fine now," Mickelson said. The incident provided intrigue on a day when play mostly was washed out—and prompted many golf observers to contemplate who might be left standing had they thrown down.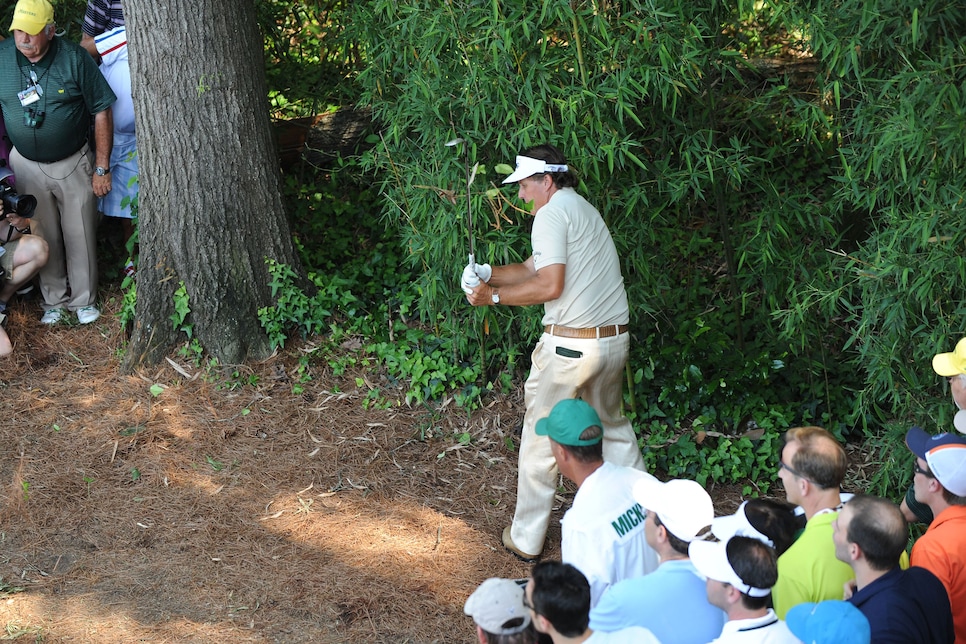 One off the lead entering the final round of the 2012 Masters and paired in the final group with Sweden's Peter Hanson, Mickelson looked primed for a fourth green jacket, especially after coming off a third-round 66. But a triple-bogey 6 on the par-3 fourth hole derailed him—derailed being a good choice of words. Mickelson's tee shot bounced off the railing of the grandstands left of the green, and the ball landed in a bush. He needed two to get out, hit his fourth in a bunker and nearly holed his fifth shot. Turns out, the shot wasn't far offline. In typical Phil fashion, he'd aimed in that direction. "It wasn't a bad miss by any means," he said. "If you go into the grandstands, you've got a chip that's uphill and you're going to get it up-and-down seven out of 10 times. So, keep it left. Hit it in the grandstands or the bunker." It was his second triple bogey of the tournament, and he went on to finish T-3. Had he just bogeyed the fourth hole, he'd have ended in a playoff with Louis Oosthuizen and eventual winner Bubba Watson, author of a Phil-like hooking wedge escape on the second extra hole that set up his victory.
As he sought to prevent Tiger Woods from completing the "Tiger Slam" in 2001, Mickelson arrived at the 16th hole just one behind. Paired with Woods for the first time at Augusta, Mickelson had posted three rounds in the 60s and was poised to become the first player to shoot four sub-70 scores. However, he lofted a 7-iron to the back shelf at the par 3, leaving a downhill putt that was impossible to stop unless it went in. It didn't. (David Duval found the same spot and got the same result, if it was any consolation.) Meanwhile, Woods two-putted for par, Mickelson fell two behind, and he would end up third after a 70. Woods got his Slam. "If I'm going to win with Tiger in the field, I cannot make the mistakes that I've been making," Phil noted.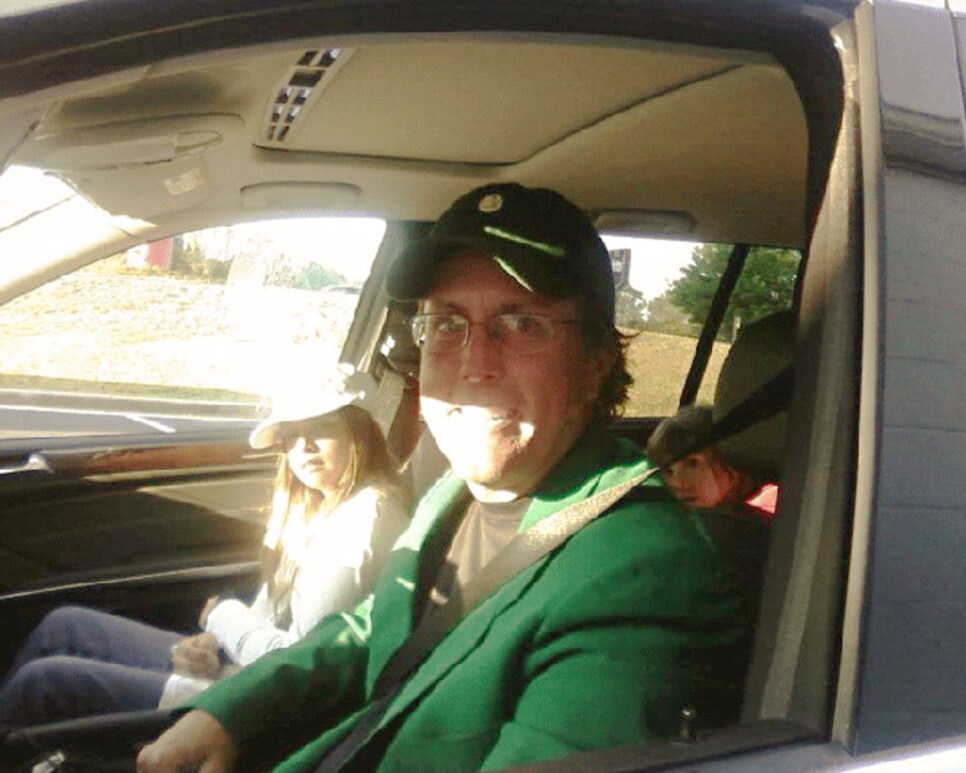 Mickelson wasn't yet on social media, but he created an internet storm when he allowed the manager of a Krispy Kreme shop in Augusta to snap his photograph the morning after his 2010 Masters win, The picture quickly went viral. It showed a smiling, bespeckled Mickelson at the drive-thru window wearing his green jacket (and a Masters cap). One of his daughters was in the passenger seat. He ordered three dozen doughnuts, which manager Greg Carswell ended up giving him for free—even though Lefty had pocketed $1.35 million the day before when he won his third green jacket. However, there was, ahem, a hole in this story that led to a not-so-happy ending. Mickelson's representatives had to get in touch with the doughnut chain in 2011 and tell them to cease use of the player's likeness after it was learned that Krispy Kreme had plastered the drive-thru photo from 2010 on an Augusta billboard without his permission.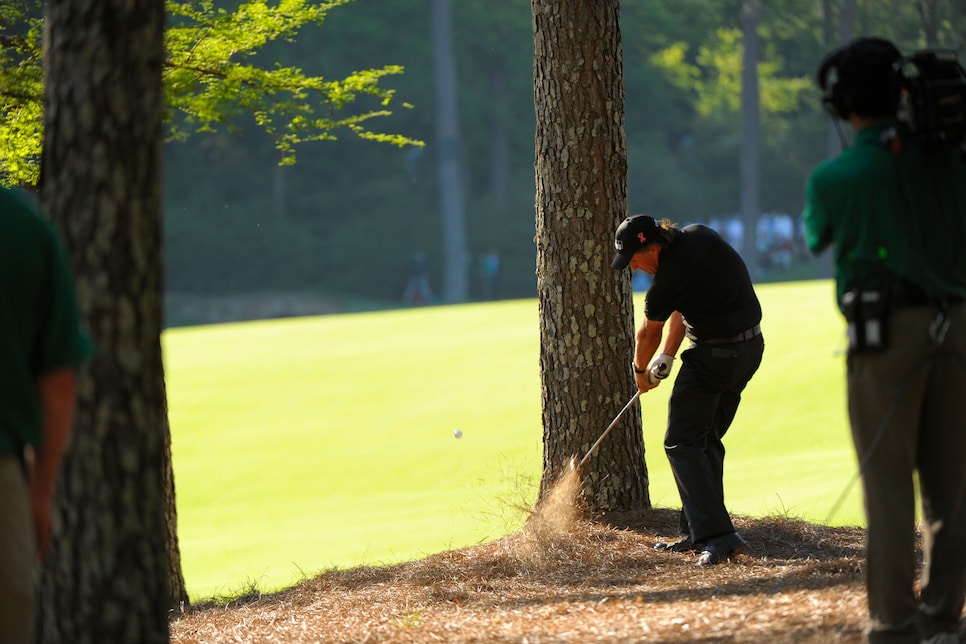 Mickelson produced the signature moment of his Masters career in the final round of the 2010 tournament at the par-5 13th hole after he had pulled his tee shot left into the pine straw and behind a tree. He had 207 yards to the hole and 187 yards to clear Rae's Creek with a small opening between two pines. Leading Lee Westwood by two strokes, Mickelson would have done well just to lay up, but after a lengthy discussion with caddie Jim "Bones" Mackay, Lefty opted to go for the green. He selected a 6-iron, clipped his ball off the straw and guided it through a small opening. The ball had draw-spin and found the putting surface, eventually settling five feet from the hole. He missed the putt but increased his lead and eventually won by three strokes. Augusta National asked for the 6-iron for its champions' club collection, making him the only Masters winner with two clubs in the collection after he gave the members a wedge from his 2004 victory. Asked the difference between a great shot and a smart one, Mickelson replied, "a great shot is when you pull it off. A smart shot is when you don't have the guts to try it."