Spoiler Alert
Masters 2022: Nick Faldo got absolutely cooked on Twitter for giving away Rory McIlroy's epic hole-out on 18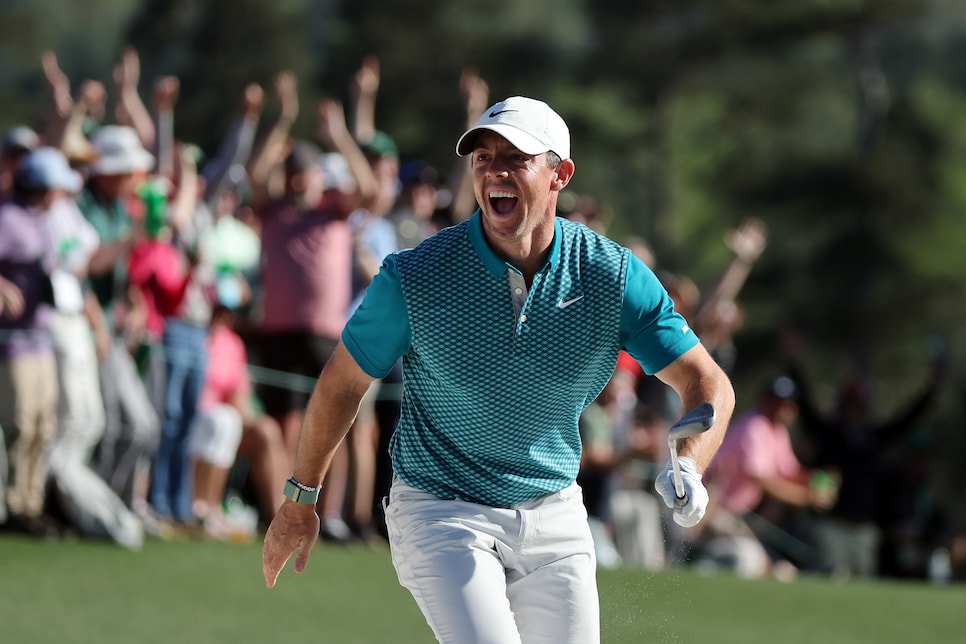 For those on the grounds at Augusta National on Sunday, specifically those at the 18th hole, Rory McIlroy's epic birdie hole-out from a greenside bunker on the 18th hole had to be the most pleasantly-shocking moment of the week. For those of us watching at home, we kind of knew it was coming.
In defense of CBS, which takes on a load of social-media crap even when the broadcast is good on any given week, there was some serious drama in the Cameron Smith-Scottie Scheffler pairing while McIlroy was playing the 18th hole. Smith had just dunked one in Rae's Creek at the 12th, eventually making a tournament-killing triple bogey while Scheffler made par to all but seal the deal. The 12th hole drama, plus its aftermath (Smith blocked his tee shot at the 13th soon after) will always get its deserved focus from CBS on Sunday at the Masters.
That's why, unfortunately, McIlroy's shot was not shown live, though that still could have been disguised had they simply cut to it afterward and someone, possibly Jim Nantz, could have rolled out the tried and true "this, just a moment ago." Instead, Nick Faldo, three-time Masters winner and longtime analyst for CBS, all but gave the shot away, saying something along the lines of "something crazy has just happened" at the 18th. Given the fact that McIlroy was the only player making Scheffler sweat, it was quite clear for the viewers that "something crazy" had to be a McIlroy hole-out at the 18th. It was:
Even knowing what was coming, it was still an electric moment. As you might imagine, though, social media was less than thrilled with Sir Nick:
Let's just say that Faldo has had much finer moments on the 18th green at Augusta National in his day.