News
Masters 2019 Live Blog: Bryson DeChambeau birdies six of his last seven holes to card first-round 66
AUGUSTA, Ga. — Hello, friends. Our long winter has ended, Augusta National has blossomed its way back into our lives. Raise a pimento cheese in toast.
And what a Masters the 2019 tournament promises to be. Rory McIlroy will be searching for that elusive title, one that will give him the career Grand Slam. Entering as the Players champion and with seven straight top 10s, the Ulsterman is the hands-down favorite at Augusta, but to don the green jacket, he'll need to tame the ghosts that have plagued him so at this event. Also seeking a sort of redemption: Dustin Johnson. It's now been two years since Johnson's fall heard 'round the world, and as he admitted a few months ago, he's just now returning to full strength. No one makes it look easier when they are "on," and many on the property are expecting DJ to finally compete at a course that suits his game so well.
Then there is Jordan Spieth. The man has made Augusta National his home with a win, two runner-ups, a third-place finish and an appearance in the penultimate group in five appearances, and his 70.05 scoring average is the best career mark among those in the Masters field. Alas, Spieth is stuck in a career-worst slump, his last top-25 finish coming in September. Can Augusta snap Spieth out of his slumber, or are further stumbles ahead?
Yet all eyes, as they usually are, will be on Tiger Woods. The 14-time major winner is searching for his first Masters win in 14 years. Amazingly, Woods is coming in under the radar, his best finish this campaign a quarterfinals appearance at the WGC-Match Play. However, his stats say otherwise, ranking sixth in strokes gained and third in GIR percentage. The list of viable contenders has never been deeper, and Woods no longer has the fastball of yesteryear. Yet, as he proved at Carnoustie, Bellerive and East Lake last season, Tiger remains more than capable of producing roars. Ones that could reverberate throughout Georgia this weekend.
The Golf Digest team will be here throughout the tournament to keep you up-to-date on all the action from Augusta National. Follow along with our 2019 Masters live blog below.
7:30 p.m.: Phil Mickelson sticks one at 18 and holes one more birdie to post a five-under 67, good enough for solo second behind DeChambeau and Koepka, who are tied for the lead at six under at the end of Day 1. And what a Day 1 it was. Is this leader board any good?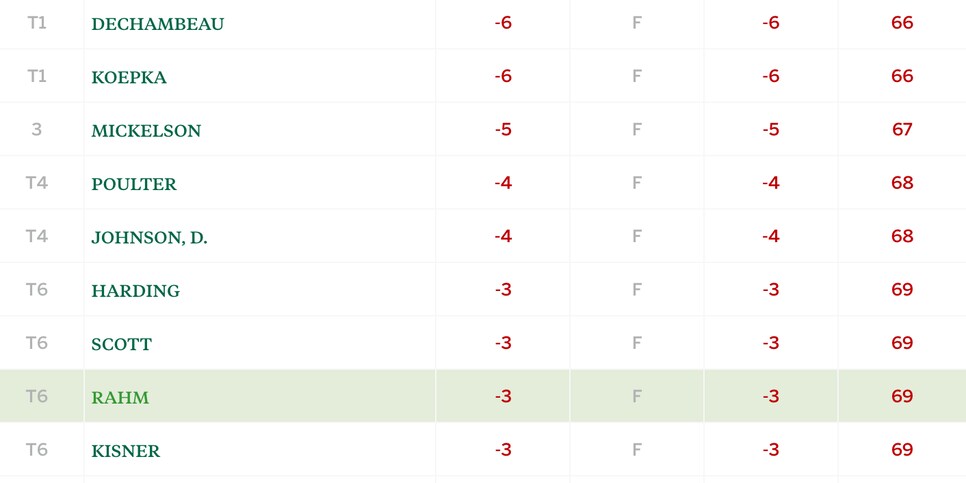 And a little further down are Tiger Woods, Rickie Fowler and Jason Day at two under. It's only Thursday, so we'll try to contain ourselves, but WOW. This is going to be a fun week.
7:08 p.m.: Bryson taps in and posts a six-under 66, giving him the clubhouse lead. Koepka saved par at 17 and will have a chance to join DeChambeau or take back the solo lead. Dustin Johnson finished off a four-under 68 with a par at 18. Anybody and everybody is in the mix.
7:03 p.m.: OH MY GOODNESS. After finding the fairway with a 3-wood at 18, Bryson DeChambeau strikes a perfect iron shot and immediately tells his caddie "it looks great." Uhhh, ya think? His shot hit the pin and didn't go! But he'll have another tap-in for his fourth straight birdie and sixth in his last seven holes to finish his round. Talk about being in the zone.
7 p.m.: After a wayward drive at the 17th, Phil Mickelson played a high draw over the trees that hit the green but spun off. He did manage to get up and down for par, and he'd love one more at 18 to post a 68.
Behind him, Brooks Koepka hit his second into a green side bunker and will have a testy shot coming up. AKA he'll get up and down easily.
6:52 p.m.: Jodan Spieth has made a birdie! Just his second of the day and his first since the second hole, and it comes at the par-3 16th. He's back to three over and does not look thrilled.
Up at 18, the reigning Open Champion Francesco Molinari rolls in a long birdie putt to post a sneaky two-under 70.
6:48 p.m.: Koepka is human. After a strong tee shot at the par-3 16th that ended up about 10 feet under the hole, his birdie effort came up short, ending his streak of consecutive birdies at four. Should be interesting to see how he attacks 17 and 18. Can he steal one more birdie, make two pars or will he come back to the pack?
6:42 p.m.: Wellllll maybe it's not over yet. Bryson DeChambeau just chipped in for birdie at the 17th after missing his drive way right off the tee. He's now at five under. it's all happening now!
6:39 p.m.: Real nice finish from Ian Poulter at the 18th. His birdie effort came up about seven feet short, but he banged in the par putt to finish with a four-under 68. That's good enough for the clubhouse lead right now, but it won't be soon. Remember when Brooks Koepka was in trouble at 15? His drive actually kicked back in the fairway and he hit his next over the green, and then chipped one to tap-in range. He's now at six under. Game over?
6:34 p.m.: Goodness, another near ace at the 16th. Phil Mickelson knocked one in there tight and it needed one more revolution to go in. Despite back-to-back bogeys at 10 and 11 that dropped him to even par, Lefty is about to move all the way to four under.
6:30 p.m.: Bryson, Dustin and Jason Day all make birdie at the par-3 16th. That's how you give the fans their money's worth. Bryson and Dustin are now tied for second at four under, while Day is at three under.
6:28 p.m.: Kevin Kisner gets into the clubhouse at three under with a par at the 18th, as does Kiradech Aphibarnrat. Nice playing today in that group.
6:26 p.m.: WOW. At the par-3 16th, we came so close to an epic roar as DeChambeau's tee shot hit the slope perfectly and rolled left, nearly dropping for an ace. He'll have a tap-in to get to four under. His playing partner Dustin Johnson hit a good one as well, though he'll have about 10 feet left to get to four under.
6:21 p.m.: Koepka's tee shot at the 15th hung out to the right, hit a tree and went backwards. Eagle is now out of the question, and birdie will be tough as well. That's good for everybody chasing him, because it looked like he might run away with this thing.
6:16 p.m.: As Koepka waits to hit his tee shot at the par-5 15th, Bryson DeChambeau is able to cut into his lead up at the green. The Mad Scientist just barely missed a long eagle putt and then cleaned up his birdie to move to three under with three to play, two back of Koepka. Though, with the way Koepka is playing, he'll likely add to that lead at 15.
6:03 p.m.: This is beginning to feel like a tournament where Brooks Koepka takes control and doesn't let go. There's a ton of golf to go, but Koepka is surging on the back nine on Thursday.
Koepka has four birdies in his last five holes, including a curling 16-footer above the hole at the par-4 14th to be the first golfer to get to 5-under for the week. That's one better than Ian Poulter. Koepka's turning it on in a big way late on Day 1.
5:48 p.m.: Brooks Koepka is the first player to get to 4-under in awhile, two-putting for birdie at the 13th hole to grab the solo lead. It looks like he'll be joined shortly by Ian Poulter, whose tee shot at the 16th hole just settled about 4 feet from the hole.
5:44 p.m.: Ian Poulter joins this ever-growing pack of leaders at 3-under with a birdie at 15. That's now NINE players grouped together at the top of the leader board.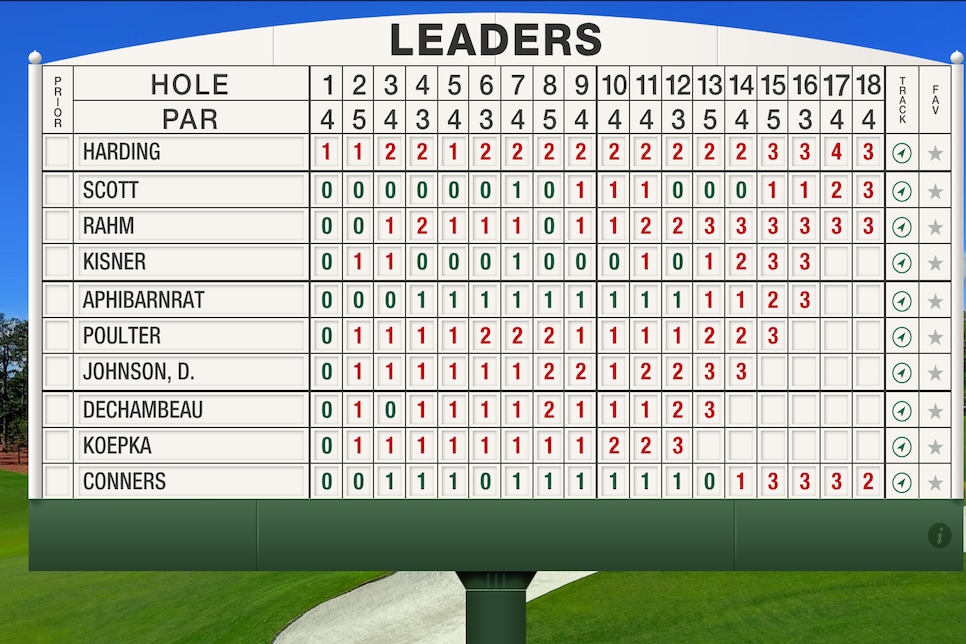 5:36 p.m.: Kevin Kisner gets a bit of luck here at 16, where his tee shot comes about as close to going in the water as can be. The ball somehow hangs on the edge—a great break for Kiz, who is a co-leader right now. Kiz plays a brilliant pitch that runs way past the hole and uses the slope to roll back toward the hole. He makes the six-footer for par to remain tied for the lead.
Kiz is playing with Kiradech Aphibarnat, who played his tee shot at the 16th beautifully, sliding off the ridge. And he rolls in the birdie putt to join the ever-growing group tied for the lead at 3-under.
5:25 p.m.: For all the talk about Brooks Koepka's weight before this tournament, the three-time major champion is doing a great job at quieting them quickly here at Augusta. Koepka just holed out from the fringe to move to a tie for the lead heading to the par-5 13th. Koepka looks like he's turning it on—the rest of the field should be scared.
Meanwhile, we have two other players joining what's becoming a crowded group tied for the lead. Dustin Johnson birdies the 13th hole to get to 3-under. And Bryson DeChambeau cards just the eighth birdie of the day at the 11th hole to also join the lead at 3-under. Oh, and add one more player to the mix: Kevin Kisner has three birdies in a row to get to 3-under with a tap-in birdie at the 15th. It's really ALL happening now!
5:13 p.m.: Jordan Spieth's struggles will undoubtedly continue to be a storyline if they continue. As he fights to avoid making another bogey at the 11th, rolling in his 6-footer for par, check out these stats on the day: He's hit only three fairways through 11 holes. And he's only hit two greens in regulation.
You can't hit the ball like that and contend at Augusta. Brutal.
5:07 p.m.: On what was supposed to be ideal conditions to score, it's pretty amazing we haven't seen anyone past 3-under since Justin Harding and Patton Kizzire had their scores to 4-under momentarily.
We currently have 14 players who are one back in this large group at 2-under. Consider this collection of talent:
Dustin Johnson (thru 12), Brooks Koepka (thru 10), Bryson DeChambeau (thru 12), Rickie Fowler, Matt Kuchar (thru 14), Ian Poulter (thru 14), Kevin Kisner (thru 14), Kevin Na (thru 16), Patton Kizzire, Tiger Woods, Gary Woodland, Lucas Bjerregaard, J.B. Holmes and Corey Conners
4:52 p.m.: Dustin Johnson gets it back to 2-under with a really sporty birdie at the difficult 11th hole. His bold approach, which looked like it might be flirting with the water left, but it came to rest in the back portion of the green. And DJ rolls in the 27-footer to join Tiger Woods, Rickie Fowler and a host of other great players at 2-under (T-4).
One of those players at 2-under is now Brooks Koepka, who stuck his approach at the difficult 10th hole and rolled in the 5-footer for his second birdie of the day. He just MASHED his drive 340 yards at the 11th hole. He's starting to COOK.
Patton Kizzire, who was in the lead for much of the day, bogeyed the 18th hole to finish at 2-under. That's a stellar start for the Sea Island, Ga. resident.
Speaking of Sea Island, Matt Kuchar is now amongst the large pack of golfers at 2-under par. Kuch has been quiet all day, until rolling in an eagle at the 13th hole. Make that two Sea Island residents near the top.
4:41 p.m.: You'll have to go to the bottom of the leaderboard to find Jordan Spieth's name. The 2015 champion has made a mess of a couple holes today, including the ninth, which he just bogeyed to make the turn in 4-over 40. Not great.
There have been a couple of really puzzling mistakes by Spieth. At the sixth hole, Spieth made double bogey after missing the green and then having his second shot roll off the green. The result was a bad looking 5 at the par 3.
Then at the ninth, Spieth's approach ran back down the hill. And his third shot did the same thing. The struggling Spieth will need some red numbers coming in to remain a factor here.
4:37 p.m.: Following an errant tee shot at the 18th, Rory McIlroy drops a shot to finish his round, dropping to 1-over. He went bogey-bogey to finish after having his round at 1-under. Not the way Rory envisioned his day ending—but obviously, there's a lot of golf to be played, and he's currently just four back of the lead.
4:26 p.m.: Tiger two-putts for par at the 18th hole to wrap up a round of 70, a 2-under round that has him one back of the current lead—shared by playing partner Jon Rahm, who's in with a solid up-and-down at 18.
Tiger/Jon Rahm and HaoTong Li (72) will tee off at 1:49 p.m. tomorrow.
"I shot a 70 the last four times I won a green jacket, so to me, I'm off to a good start," Tiger told Tom Rinaldi after his round.
Others at 2-under are Phil Mickelson, who just parred the ninth; Dustin Johnson, who has a tricky par putt upcoming at the 10th; and Rickie Fowler whose 21-footer for birdie at the 18th came up just shy. He has a two-footer upcoming.
4:18 p.m.: The approach from the fairway bunker at the 18th hole from Tiger finds the proper tier, coming to rest at the back right. Very stellar approach, with a good chance to get in the clubhouse at 2-under, currently one back of the lead.
4:11 p.m.: Tiger's tee shot at the 18th finds the first fairway bunker to the right. He'll have 173 into this newly rebuilt green at 18—a tough par to navigate to close his round.
4:07 p.m.: The tricky 9-footer peels off right, leading to a dropped shot for Tiger, who falls back to 2-under. The poor tee shot, and a tricky third shot, lead to the bogey. Disappointing way to come into the clubhouse, falling into a tie for sixth with a huge group of players at 2-under.
One of those players at 2-under is Rickie Fowler, who hit his approach at the 15th (in the group behind Tiger) to about 25 feet below the hole. He'll have a chance to tie the lead now.
Phil Mickelson joins the group at 2-under with a birdie at the eighth hole.
4:02 p.m.: Tiger runs his chip shot about 9 feet from the hole, which he'll have to save par and remain tied for the lead.
3:59 p.m.: Tiger hits another solid iron shot out of position—this one at 17 where his tee shot soared into the right trees. The controlled iron finds a flat part just off the green. He'll have a chance to save par here to remain tied for the lead at 3-under.
3:55 p.m.: Rory is surging on his back nine! He rolls in a 35-footer at the par-3 16th hole to get to red numbers at 1-under par. That's three birdies in last four holes for Rory who has played his way back closer to the lead.
3:49 p.m.: Tiger uses the slope nicely with his tee shot at the par-3 16th to 21 feet. He leaves his putt justttt short, so he heads to 17 with a share of the lead, with Justin Harding, Adam Scott, Gary Woodland, Jon Rahm and Patton Kizzire.
3:42 p.m.: Rory McIlroy looked to be in danger of losing too much ground, sitting 4-over after 11 holes. But Rory birdies the par-5 13th and 15th holes to get back to even par.
His second shot at the 15th was incredible—hitting a high lofted club over the trees to get onto the green in two. One of the more impressive shots you'll see at 15, in fact.
3:32 p.m.: Adam Scott birdies the 18th hole to join South African Justin Harding in the clubhouse at 3-under. That's a stellar 69 from the Aussie and former Masters champ.
Scott ties the group at 3-under, which now includes Gary Woodland, as well, who birdied the par-5 15th to tie the lead. He's in the group ahead of Tiger, who's in a bit of trouble on the same hole. After flying the approach way past the green on his second, his bump and run third shot doesn't make it to the green. But the tight pitch for his fourth nearly goes in the hole, which looks like it'll be a rather routine par on the scorecard. That was a bit of an adventure there.
3:26 p.m.: Tiger sails his approach way over the green at the 15th—as his ball trundles way down the hill behind the green. Peter Kostis on the telecast estimated that he flew the ball 25 yards farther than the hole. That was a misclub—plus some adrenaline for Tiger. Kostis thinks Tiger will do well just to make par here. We'll see.
3:18 p.m.: How does Tiger Woods follow up a birdie-birdie move through 13 and 14? He's 46-under par through his career at the par-5 15th, so he'll seemingly have a chance to get one more here. The first part is accomplished—Tiger hits the fairway and will have 229 yards for his second shot.
Here's the video of Tiger's birdie putt at 14. WOW.
Patton Kizzire retains a share of the lead after a bogey at 12 with a birdie at the par-5 13th.
3:13 p.m.: And Tiger rolls in the putt! That's a bending 25-footer into the bottom of the hole at the 14th hole. That's two birdies in a row and moves Tiger into a tie for the lead! WOW!
Here's that tremendous approach again:
3:06 p.m.: Tiger plays a magnificent recovery approach at the 14th hole after an errant shot. From the left trees, Tiger plays a towering iron over the trees and plays the slope beautifully to this tricky right-hand hole location. He'll have about 20 feet for birdie ... that would tie his playing competitor Jon Rahm for the lead. That was one of Tiger's most impressive shots of the day.
Brace yourself, people. This is a real leader board.

2:55 p.m.: Tiger, Rahm and Li all find the green with their second shots at the par-5 13th, and they all faced looooong eagle putts. Rahm went first and hit a perfect lag putt from 55 feet to kick-in range for birdie, which he tapped in to tie for the lead at three under. Li's putt was on a similar line but a bit shorter, and his eagle effort came up about five feet short and he threw a mark on it. As for the main event, Woods, his 53-foot eagle putt from the back of the green was a slick one, and he stroked it to tap-in range like Rahm did. Woods' makes his birdie and is now at two under, one off the lead. Li made his as well to get back to one under. Strong hole for this group.
2:46 p.m.: Finau's birdie putt comes up just short and he settles for par. He's two under with two to play. Up ahead, the par-4 18th gives another would-be leader some trouble. Lucas Bjerregaard, just like Justin Harding, bogeys the last, dropping him to two under. He joins a growing list at 2-under—including J.B. Holmes, who just wrapped up his round—in the clubhouse. Harding remains the solo leader in the clubhouse.
2:41 p.m.: Jon Rahm, who also saved his par at No. 12, tees off first at the 13th and hangs one out to the right a bit, but he'll still have a look at the green. Tiger pipes one, setting up what should be a big moment early in the week with his second shot.
Tony Finau looked a bit shaky early in his round, but he managed to not let the round get away from him and he's now climbed all the way to two under. At the par-3 16th, he hit one tight and will have a great look at birdie to tie for the lead.
We're happy to report that Jordan Spieth bounced back from his short miss with a birdie at the par-5 second. We won't write him off yet.
2:32 p.m.: Easy up and down par for Tiger at No. 12. Mission accomplished on 10, 11 and 12. Time for a birdie to cut into Harding's lead, or perhaps a big birdie ... we can dream.
2:28 p.m.: All the big names in the afternoon wave are now out on the course, and among those under par early in their round are Dustin Johnson and Bryson DeChambeau, who are playing in the same group. They each birdied the par-5 second. As did the third member of that group Jason Day, but that got him back to even par after a bogey at No. 1. Sounds like Day is already ailing though:
As for Jordan Spieth, his 2019 Masters got off to an ugly start. He just missed a two-footer at the par-4 first and made a bogey. Not good!
2:23 p.m.: The always-tricky tee shot at the par-3 12th lived up to its reputation in the Woods-Rahm-Li group. Rahm had the honor following his birdie at No. 11 and found the front bunker, while Tiger played one well left of the pin that just went over the back of the green. Li got aggressive by hitting one right of the flag and it paid off, as he'll have about 15 feet for a birdie. He needs one after making back-to-back bogeys at the 10th and 11th holes.
2:19 p.m.: Woods' lengthy birdie putt rolled a few feet past the hole on the 11th's slick green, but he was able to make the comeback par putt to stay at one under. Rahm gets to two under with a birdie putt from the back left portion of the green.
2:08 p.m.: Tiger hits another stripe with his driver at No. 11, then safely plays his approach about 40 feet right of the pin. Two putts will do from there.
Justin Harding didn't quite finish off his round, making bogey at No. 18, but he is still the solo clubhouse leader, at least for now. Denmark's Lucas Bjerregaard, who made a double bogey earlier in his round, has climbed all the way to three under through 15 holes. Patton Kizzire also just made the turn in three under. Combined number of appearances at Augusta for this trio? One. Who needs experience!
1:56 p.m.: Tiger safely played his approach to the left side of the green at No. 10 and two-putted for par. He'd probably sign for two more pars at 11 and 12 to get to the 13th at one under. Rahm nearly holed his bunker shot and saved a par of his own, while HaoTong Li dropped a shot and is now tied with his playing partners at one under.
At the 13th, disaster has struck for Henrik Stenson, who will go from even par to three over after making a triple bogey. For all the talk about how easy the 13th hole now is for the world's best, it still produces it's fair share of catastrophic occurrences.
1:47 p.m.: Harding rolls in his eight-footer for birdie at the 17th to reach four under. Now we'll see if he can finish with a par and grab the clubhouse lead. It's a hell of a first competitive round at Augusta National no matter what he does at 18.
1:36 p.m.: (double) BANG! Rahm and Woods each hole their short birdie putts to make the turn in one-under 35. They are both trailing the third member of the group, HaoTong Li, who posted a front-nine 34. Lot of action!
Up ahead at the 17th, solo leader Justin Harding is looking to build on his one-stroke edge. He's got eight feet left for birdie. Just as we typed this though, he was joined at three under by Patton Kizzire, who is working on a bogey-free round through eight holes.
Tiger just striped another beautiful draw at the par-4 10th.
1:30 p.m.: Big-time shot from Woods at No. 9. He putts it to five feet, which is a distance he's struggled with today. Would be huge to make this one for some back-nine momentum. Same goes for Rahm, who stuck his even closer than Tiger's. Little JUICE from this group at the ninth.
1:26 p.m.: Little bit of a pull off the tee for Tiger at No. 9 that finds the left trees but takes a good kick into the pine straw. He'll have a clear look at the green from 115, but the lie will certain play a factor.
1:17 p.m.: After another piped drive from Tiger Woods at the par-5 eighth hole, he played his second close to the green and his chip scared the hole. It kept running, about 10 feet past. But he'll have that to get back to 1-under.
Anddd another makeable putt slides by for Tiger. That was about 10 feet or so. That's the third missed opportunity for Tiger. The putter has been subpar all day.
Even more disappointed will be Jon Rahm, who just bogeyed the par-5 eighth alongside Tiger. Rahm had it to 2-under at one point—now he's even-par.
We have another player at 3-under now: South African Justin Harding. He birdied the par-5 15th hole to get to 3-under. That's his fourth birdie of the day—also birdieing Nos. 1, 3 and 6.
1:03 p.m.: Corey Conners, in the first group out, will take the (very) early clubhouse lead, completing a 2-under round of 70. Conners, who had to survive a 6-for-1 Monday playoff just to get in the Valero Texas Open field, which he would win, is now playing well at the Masters. It's such a cool story.
Conners' highlight came with the eagle at No. 15, which followed birdies at 13 and 14. The Canadian bogeyed the 18th hole coming in, but still—what a start, especially considering where he was last Monday.
12:53 p.m.: And there's a solid putt for Tiger at No. 7. The 14-time major champ gets up and down from the left greenside bunker to to save his par and head to the par-5 eighth at even-par.
12:45 p.m.: Tiger finds the left side of the fairway at the 450-yard par 4 seventh hole with his 3-wood. The off-the-tee game is strong thus far. The putter has yet to light up.
Tiger's approach now hooks way left into a greenside bunker. That's a big miss for Cat. We had an early club drop on that one. No bueno.
Joining the group at 2-under: Tommy Fleetwood and Gary Woodland (both through 7).
Going the reverse way: Rory McIlroy just bogeyed the par-3 sixth hole to fall back to 1-over. Also 1-over is Rickie Fowler, who bogeyed the short par-4 third hole.
12:37 p.m.: That will be a disappointing par at the sixth hole for Tiger Woods, missing the short birdie opportunity. Very odd—that one never really had a chance. Surprising miss for someone who knows these greens better than anybody.
That's two straight short misses at 5 and 6—he stays at even-par.
12:29 p.m.: Tiger has a chance for a bounce-back at the sixth hole! He stiffs it to about 6 feet or so at the par-3 sixth. What a good looking shot ... that didn't leave flag for a second. He'll have that look to get back to red numbers.
12:25 p.m.: There's Tiger's first dropped shot of the day. His par bid just lipped out at the fifth hole. He drops back to even-par on the day. Jon Rahm bogeyed the hole, too, to fall out of the 2-under pack.
The lead is now at 3-under, with last week's Valero Texas Open winner Corey Conners eagling the 15th hole to push the lead to 3-under for the first time.
12:18 p.m.: Tiger left himself 45 yards out of the fairway bunker for his third shot into the green. And Tiger puts his third shot close. He'll have about 7 to 9 feet to save par here at 5.
Elsewhere, Branden Grace has joined the leaders at 2-under—that makes it six tied at the top. Although Jon Rahm, who missed the green at No. 5, will have a tough par putt upcoming to stay at 2-under.
12:10 p.m.: We just saw Tiger's first errant shot of the day with his tee ball at No. 5. He snapped it way left of the fifth fairway into the newly positioned fairway bunker. He'll likely have trouble getting this one to the newly rebuilt green at this recently lengthened par 4.
Meanwhile Rory McIlroy just recovered from an opening bogey at No. 1 with a birdie at the par-4 third hole. He gets back to even par.
Of the 57 players on the course, only six of them are outside the range of 2-under to 2-over (Adam Long, Shane Lowry, Danny Willett, amateur Kevin O'Connell, Angel Cabrera and Ian Woosnam).
2016 Masters champ Danny Willett actually had it to 1-under early, but a triple bogey at 10 has him way at the bottom of the leaderboard now:

12:04 p.m.: Tiger's birdie bid at No. 4 slides by, so he settles for a par to stay one back of the lead. Joining that lead is his playing partner, Jon Rahm, who rolled in a putt right behind Tiger's spot to get to 2-under, joining the third member of this group, HaoTong Li, Patton Kizzire, Justin Harding and Aaron Wise.
Tiger's playing great—and his playing partners are playing even better, as they're both tied for the lead.
11:58 a.m.: Tiger continues to look good—hitting his tee shot at the par-3 fourth hole on the green. He'll have about 30 feet or so, and will get a teach from Jon Rahm, whose tee shot ended up right outside his. Two solid tee shots from that group.
11:53 a.m.: Woods gets up and down for his par, while playing partners HaoTong Li and Jon Rahm both make birdie. That puts Li in a tie for first at two under, and Rahm is now at one under. Also at two under is another Masters first timer Aaron Wise, who has struggled a bit since his victory last season at the AT&T Byron Nelson.
11:48 a.m.: Tiger's second was a testy one, and he tried to take one high and get it to suck back. It did not, skipping forward and rolling a few yards off the back of the green. Should be a straightforward up and down.
Just two players are now tied at the top, one of them still being Harding and the other Oosthuizen. South Africa is having itself a morning at Augusta, as Branden Grace is also at one under. Gary Player must be beating the crap out of his own abs in the locker room watching the leader board.
11:43 a.m: Woods smokes another driver at No. 3, this one going 311 yards and finding the fairway up near the green. He'll have just 37 yards in. What a start with the big stick for Big Cat.
11:40 a.m.: BANG! After splashing his bunker shot to four feet, Tiger holes his first birdie of the 2019 Masters to get to one under. HaoTong Li also made birdie, while Jon Rahm settled for par.
Up ahead at the sixth, Garcia walks off with double bogey.
11:38 a.m.: Little bit of trouble for Sergio Garcia at the par-3 sixth. His tee shot found the green but came up well short of the hole, and his birdie effort came back off the slope and back to where he originally hit it. He then smacked his third up the hill and now as a decent-sized bogey putt. We'll see how he handles his emotions after this.
11:34 a.m.: A couple of dark horses, at least based off their pre-Masters odds, have quickly climbed to the top of the board. Louis Oosthuzien has made back-to-back birdies at the second and third holes, and Xander Schauffele has opened his round with back-to-back birdies. They are tied for first with Justin Harding, who just made the turn in two-under 34.
As for Kevin Tway, he bogeyed the ninth to turn in 35 and just parred the 10th to stay at one under.
11:31 a.m.: Tiger tries to work one right to left at No. 2 but it hangs out on him and finds a green side bunker. Should be able to get up and down, but that's easier said then done. Would really hurt to walk away with a par after his tee shot.
11:26 a.m.: Oh man. Another monster drive from Tiger at the second, producing a a pimp step from Woods. He smoked it 340 yards and will have just 215 left. Meanwhile, in the other featured group, Sergio Garcia nearly chipped in for birdie at the fifth. He's made five straight pars to begin his round. A host of other big names are off and running as well, including Tommy Fleetwood, Louis Oosthuizen and Xander Schauffele, who are all at one under early in their rounds.
The biggest surprise so far is the play of Hideki Matsuyama, who is three over through four holes. Matsuyama has been striking the ball beautifully this year (2nd on tour in sg: approach-the-green), and has quietly made six consecutive cuts and finished inside the top 10 three of those times. That had plenty of people high on him this week, but he's off to a rough start.
11:18 a.m.: Good roll from Tiger at No. 1 that misses on the low side. Stress-free pars to start the Masters are always a good thing. Ditto that for Li and Rahm.
11:12 a.m.: Woods was probably hoping to hit it closer, but the back right pin at No. 1 on Thursday is a tough one to get to. He plays it well left and it spin back to just inside 30 feet. Playing partners Jon Rahm and HaoTong Li both found the green and will have similarly long birdie putts.
We once again have a tie at the top, and it's a South African takeover. Branden Grace joins Justin Harding at two under with his third birdie of the day at the par-3 sixth. Seems like the sixth is a hole players are feasting on so far today.
11:08 a.m.: Tiger Woods' first tee ball is SMOKED, 317 yards right down the pipe. He'll have just 136 yards left to the green.
10:53 a.m.: Kevin Tway is having an eventful front nine. He just got back to two under with a birdie at the par-5 eighth. Check out this scorecard:

Just two pars on the day. He'd sign for a third at No. 9 to turn in 34.
10:50 a.m.: Henrik Stenson's approach at the third actually went through the green, but only by a yard or two. He took out a wedge and holed it for birdie to get to one under. Meanwhile, Garcia and Finau both missed their short birdie putts. Hitting the green is wildly overrated.
10:45 a.m.: Whoops. Looks like we jinxed Lucas. Double bogey at the par-3 fourth drops him back to even par. Ouch. He's now two off the lead of Grillo and Harding. Grillo just made his second birdie of the day at the par-3 fourth, while Harding bounced back from his bogey at the fifth with a birdie at No. 6. The featured group of Garcia, Stenson and Finau are all even through two holes, and they all have a good look at birdie at No. 3.
10:32 a.m.: Tway gave one right back again at the par-4 seventh, where his tee shot found the left trees and came down into the rough. From 170 yards out he put his approach shot in a green side bunker and failed to get up and down, dropping him back to one under.
Justin Harding, who was tied with Tway at two under, became the latest victim of the long par-4 fifth, making a bogey and falling back to one under. He and Tway are tied with Kanaya, Willett, Grillo and Eddie Pepperell, who picked up his first Masters birdie at No. 2. They are all trailing Lucas Bjerregaard by one, as he's made back-to-back birdies at the second and third holes. We have a feeling American fans are going to become much more acquainted with Bjerregaard this week and in future majors to come, that is, if they haven't already after he took down Tiger Woods at the WGC-Match Play.
10:20 a.m.: By the way ... just over an hour from this guy teeing it up:
Anybody else mildly excited?
10:17 a.m.: At the par-3 sixth, Tway stuffs one to six feet and rolls in his third birdie of the day. Nice little bounce back to get back into a tie for the lead.
10:08 a.m.: Kevin Tway cools off at the difficult par-4 fifth, which, you may have heard, underwent some significant changes for the 2019 Masters. Pars will be at a premium there. That means amateur Takumi Kanaya and Justin Harding are now tied for the lead at two under.
A few more players join the crew at one under, including Fred Couples, who just birdied the par-5 second for the millionth time in his career (ballpark number). Emiliano Grillo and Lucas Bjerregaard also made fours at the second.
AT LONG LAST, we have featured group coverage on Masters.com. Tony Finau, Henrik Stenson and Sergio Garcia are off and running. Let's get it on.
9:46 a.m.: In his first career Masters appearance, Safeway Open winner Kevin Tway has birdied two of his first four holes to grab a share of the lead. Joining him is amateur Takumi Kanaya, who has opened his round with back-to-back birdies in his first Masters start. And they said this place was hard for first-timers? Speaking of, Justin Harding, another Masers rookie, just birdied the third to get to two under.
Three players are tied at one under, including 2016 Masters champion Danny Willett, who just birdied the par-5 second. Good to see him off to a good start. He's joined by Brandt Snedeker and J.B. Holmes at the moment.
9:30 a.m.: Two more players join Tway and Harding at the top, including Brandt Snedeker, who holed a 27-foot birdie putt at the first and just hit a great drive at the second. At 80-to-1 to win, he could make a lot of folks that took a flier on him happy this week, and you've got to like his chances to be in contention. He's fully healthy again, he's playing well of late and he absolutely loves Augusta National, as his record here shows. He's finished in the top 10 three times and only missed two cuts in 10 appearances.
Also at one under is amateur Takumi Kanaya, who pulled his drive into some pine straw at the first, then snap hooked an iron on the green and rolled in a 27-footer of his own for birdie.
9:21 a.m.: We have our first two players in red numbers. First it was Kevin Tway, who hit a mammoth 333-yard drive at the par-5 second that caught the slope and rolled down the hill leaving him 230 yards to the pin. From there he actually came up short, which he was clearly disappointed with as he looked toward the sky. But he was able to chip one close and roll in a four footer for birdie to get to one under on the day.
Tway is currently tied with South Africa's Justin Harding, who birdied No. 1, the very first hole of his Masters career. Not a bad way to start, we'd say.
9:10 a.m.: Three groups are now out on the course, and six players are tied for the early lead at even par. Andrew Landry, making his first Masters appearance, will be able to tell his grandkids some day that he made the first birdie of the 2019 Masters at the par-5 second. That got him back to even after a bogey at the first.
Next off the tee is a group that features former champion Angel Cabrera and two first-timers in Aaron Wise and Justin Harding. Danny Willett, Brandt Snedeker and amateur Takumi Kanaya will follow. After that? Fred Couples will tee it up in his 34th Masters alongside Si Woo Kim and J.B. Holmes.
8:45 a.m.: The 2019 Masters is officially UNDERWAY ! If you missed the honorary starters, definitely give it a watch below (for some reason, it doesn't start until the 3:14 mark, so fast forward accordingly):
Unfortunately they never show where the shots end up, but it's safe to say both Jack Nicklaus and Gary Player can still stripe it. Now that these two legends got the Masters rolling, let's go to some early scores. Ladies and gentlemen, Corey Conners is your solo leader:

This guy simply can't lose at the moment. Ok, ok, we know it's early. But there are players on the golf course and that's a beautiful thing. Featured group coverage doesn't begin until 10 a.m. with Sergio Garcia, Henrik Stenson and Tony Finau. An hour after that, we'll get Tiger Woods, Jon Rahm and HaoTong Li. So yeah, it should be a fun morning. If you are looking for some video coverage, go play around with the new "Track" feature on Masters.com. True to their word, you can indeed watch every single shot from every player. We just watched Conners' opening par at the first. Absolutely electric stuff.