News
Masters 2018: The return of Tiger Woods dims the spotlight on golf's other stars. And they're fine with that...for now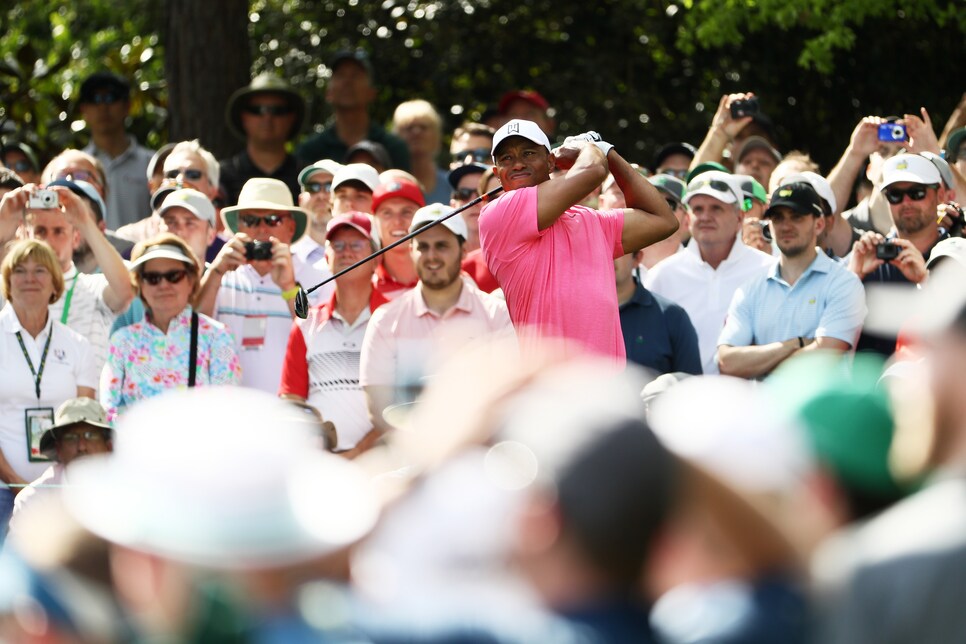 AUGUSTA, Ga. — The best player in the world, or at least in that title's conversation, hits his second at Augusta National's eighth hole in anonymity. That would be Jon Rahm, a four-time winner the past 15 months and last year's Masters darling. As he walks up the fairway Tuesday morning, a total of two patrons follow. Others are scattered, although they're not so much watching Rahm as admiring their surroundings. A group waddles over from the first to catch his tee shot on the ninth, yet only four continue with him down the hill. Considering an estimated 50,000 or so patrons attend practice days, a shockingly small number for a player of Rahm's caliber.
This is not indicative of his magnetism or reach. Nor is it a dig at Sergio Garcia, the reigning Masters champ, who had a small band following his front nine. Same goes for Justin Rose, arguably the hottest player in the game. On Monday night, he nearly jarred his approach on the seventh, a shot that garnered applause from all five sets of hands behind the green.
They are stars, with a capital "S." But these scenes are a reminder that, no matter their radiation, they are part of a constellation that revolves around a big, bright, 42-year-old sun. One that absorbs all attention in the golf galaxy.
Tiger Woods has returned to Augusta National. That, you know. However, when Woods take center stage, others tend to be left behind the curtain. There are a number of storylines this week; in that same breath, the Tiger narrative reigns supreme. It's why Rahm played his front without bother, as Woods simultaneously traversed the back with Phil Mickelson. Tiger's Monday round ended about an hour before Rose's on Monday night, leaving the Englishman with the venue to himself.
It's not a new phenomenon, this attention; it was a weekly occurrence during the height of Tiger's powers. It's nevertheless shocking to see an entire gallery engulf one player, turning the rest of the property into a ghost town.
"You can tell the atmosphere of the golf course is different when he's around," Rahm said after his round on Tuesday. "When he entered the range (on Monday), everyone stood up and starting clapping. They don't do that for anyone else."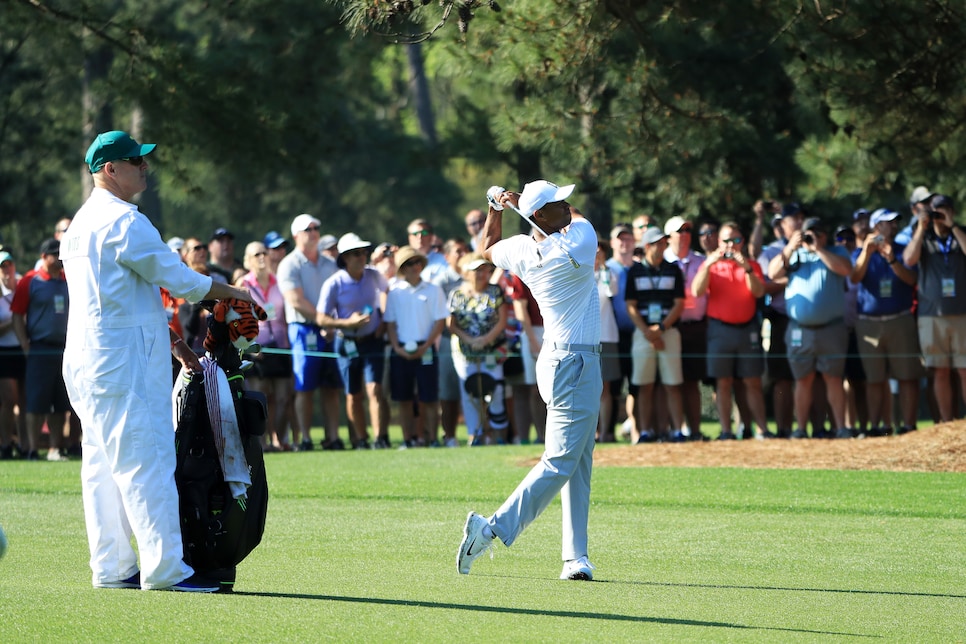 That can be a tough swallow for players. Although golf is a humbling sport, there's no shortage of ego in the professional ranks. But the stars aren't insulted by the Tiger-centric headlines. They're all for it.
"A lot of guys will enjoy not getting maybe as much, sliding under the radar, and getting to just take care of business and focus on why we're all here, to play good golf, see good golf," Rickie Fowler said on Monday.
A notion seconded by Jason Day, who enters as one of the tournament favorites. "That's fine with me," Day said on the lack of fuss. "I can just kind of focus on what I need to do to try and win this tournament."
Hell, Bubba Watson was downright giddy that patrons are looking in the other direction.
"I'm hoping everybody gets immediate attention and I just kind of sneak through the back nine roars there and somehow pull out a victory," Watson said. "So talk to all them and not me anymore."
There's also the interesting dynamic regarding Woods' age and that of the game's youth. It was Tiger's performance that inspired them, a primary catalyst for their careers. They look at him not as a colleague, but icon.
"Tiger has always been my favorite growing up," Justin Thomas said on Tuesday. "I was getting serious into golf, eight, nine years old, 10 years old, when he was in his heyday, when he was winning about every other tournament he played in.
"So, I mean, any kid, that's pretty fun to watch. You want to be like him."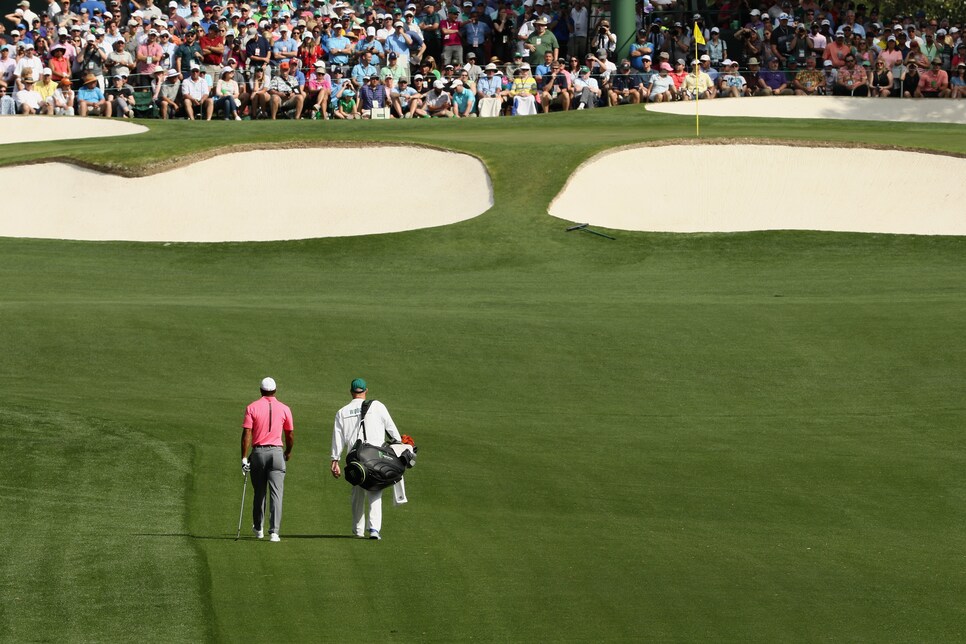 That might sound odd, considering the sport's operation—all players acting as single entities, with another's fruition often hindering yours. Conversely, the gravity of Woods' return is not lost on them. They realize Tiger's a tide that rises all boats. They are just as curious and excited about his prospects as anybody.
"I think when it comes to Tiger and the Tiger-mania, everyone wants to see him win and play the way he did before," Day said. "Everyone's kind of chomping at the bit for him to kind of get here and see how he's moving and everything."
"Tiger's earned the attention. After guys like Arnie and Jack, them setting the stage and Tiger having kind of changed the game and take it to a whole new level," Fowler remarked. "He's been the biggest needle mover in the game, and it's going to be tough for anyone to come close to that."
It's created an ideal scenario for the players: the absence of overwhelming expectation, with the carrot of success, and all that comes with it, still there for the taking.
"There's going to be a buzz around Augusta this week with Tiger being on the field, being on the grounds this week, and it's going to be exciting to see," Day said. "Tiger's Tiger, but I think the biggest thing for me is I can't beat myself. I think on my good day I've got a good chance of beating him. I honestly believe that. I think that there's 10, 20 other guys out there that honestly believe they can beat Tiger as well at his good day as well now."
Echoed Thomas: "I cherish the opportunity to potentially be going down the stretch with him to win a golf tournament or potentially a major."
As for Rahm? He's salivating at the chance to take him down. "It's the chance to beat one of my idols."
In short, they're fine to defer the spotlight to Woods now. And ecstatic at the chance to steal it come Sunday.