News
Masters 2018: The big distance question Fred Ridley will address Wednesday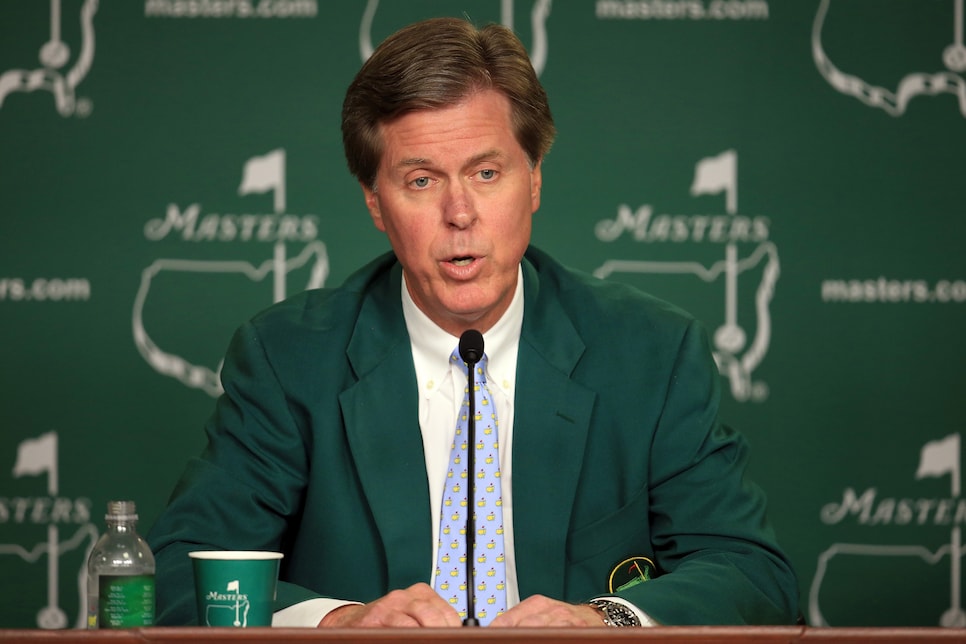 David Cannon/Getty Images
When Fred Ridley steps to the microphone on Wednesday for his first Masters week press briefing as Augusta National chairman, one potential topic he'll face is his reactions to the USGA and R&A's recent distance report and its tone of "unusual and concerning" driving distances on the professional tours. With the ruling bodies hinting at rollback and the PGA Tour and PGA of America both offering stern dissents, Ridley might just find himself in the position of shifting the debate in one direction or the other.
With golf's major organizations somewhat divided, the new chairman is suddenly power broker in the distance debate. If he says distance isn't a problem, it's over. If he demurs or hesitates even slightly, or even hints that driving distance levels are a concern, the idea of change and rollback has sudden and substantial velocity.
Though the Masters and Augusta National have no official authority in golf outside of this week's tournament, this club has always and will forever establish what the game thinks of itself, how it should address its problems and indeed what even those problems might be. Distance, depending on your perception, has been either controlled or danced around for the better part of two decades by the game's ruling bodies. With the distance report, it is now front and center and this week may be its defining moment when it comes to future regulation.
It's not exactly clear what he might say now since Ridley has yet to address the findings in the USGA and R&A's annual Distance Report. That report called for a more intensive study or "thoughtful conversation" about the issues presented by recent increases in driving distance on the pro tours. As chairman, though, Ridley is on record for being proactive on distance, at least in terms of how the golf course itself deals with any distance surges.
"We are committed to do whatever is necessary to preserve the integrity of the Augusta National golf course," he told Golf Digest last fall. "Don't know exactly where the line is, but it's something that we are certainly watching. I wouldn't take anything off the table."
While hesitant then, Ridley even allowed for the possibility of former chairman Hootie Johnson's idea of a Masters Tournament ball.
As an isolated event, the Masters relationship with distance has been decisive and yet understated, equally grand and subtle, and yet entirely self-interested. The club responded multiple times from the late 1990s to the mid-2000s with dramatic lengthening of holes, eventually stretching the overall distance of the course from 6,925 yards in 1997 to 7,435 yards today.
The club has already filed plans that would allow for the possibility of lengthening the 5th and 13th holes, perhaps as early as by next year's Masters. But the club's efforts to put a restrictor plate on tour-level distances have been subtle, as well. For example, during tournament week, the fairways are mown toward the tee box in an effort to slow down roll.
Statistically, the Masters has not seen the typically wildly high distance numbers you might expect from a course that doesn't have penalizing rough. Only three times since 2000 has the average driving distance at the Masters climbed over 285 yards, reaching a high of 287.1 yards in 2014. Its average since 2006 when the last of the major course-lengthening changes were completed is 280.7. That's nine yards longer than in the years from 1997-2006. That said, the average driving distance for the last two Masters (277.4, 277.8) was basically the same as it was in 1997 (277.1). Over the same stretch, driving distance on the PGA Tour grew more than twice as fast, from 267.3 in 1997 to 292.5 in 2017.
What also may be concerning for Ridley is the dramatic increase in the number of longer drives. Those big hits of 325 or more yards have jumped significantly in the last five years. There have been 134 drives recorded at that number or higher since 2013, or twice as many as in the preceding seven decades of the tournament.
Whether Ridley and the Masters take a more overt and more global position on distance would be somewhat out of character, although past Masters chairmen, most notably Ridley's immediate predecessor Billy Payne, have been confident in the ruling bodies' abilities to monitor and control distance. Just a year ago at his last press conference as chairman, Payne reemphasized the faith in the USGA and R&A to control distance.
"They are working together to ensure that it does not become a problem, and as is always the case, we have great confidence in their ability to forge a solution," he said. "But of course, as you would imagine, we always reserve the right to do whatever we have to do to preserve the integrity of our golf course. But I don't think that will ever happen."
Were he to dive even more deeply into statistics, Ridley might discover what many distance rollback proponents have been trumpeting for years: Long-hitting is taking on a disproportionate role in success on the PGA Tour. Statistically, the correlation between driving distance and money rank on the PGA Tour is the highest it's ever been. Over the last three years, the likelihood that a player's rank on the money list matched his rank in driving distance almost doubled compared to what it was from 1980-2014. Ridley isn't likely to be citing statistics, but that's one that could spur an opinion.
As for rolling back distance through some particular technology constraint, most experts agree that any shortening of the ball would only provide greater advantage to long hitters, tilting the scales even more sideways than they might be perceived to be today. The Masters has changed its course but not exclusively in a way that makes it a bomber's paradise. With its adjustments, the Masters since 2006 has had nearly as many of its winners finish the week ranked in the top 10 in driving distance (six) as outside the top 30 (four).
As much as it might want to be above such things, the Masters does not operate in isolation. It still sets the tone. Perhaps the best thing Ridley might do with his remarks on Wednesday is to remember the outgoing words of his predecessor Payne, who told Golf Digest he was comfortable being referred to as the club's "most collaborative" chairman.
"I'm pretty good at math," he said in reference to working with golf's other organizations. "I know if you add five together, it's a lot more powerful than just doing it alone."