News
The most important questions—and answers—on distance
Our equipment editors dissect the latest distance report from golf's governing bodies to help you understand what it really means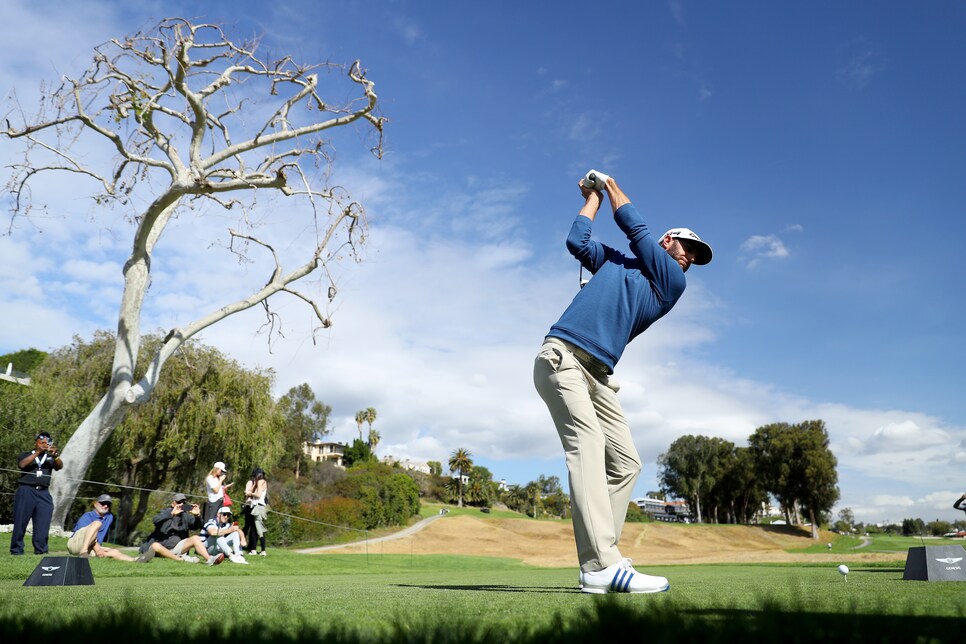 On Monday, the USGA and the R&A, golf's joint rulemaking bodies, released their third annual report on driving distances on the world's professional tours. While the first two reports generally found consistent but unremarkable growth, that all changed with Monday's report which cited all-time highs in 2017 on all five of the men's tours it tracked in the survey (PGA Tour, PGA Tour Champions, Web.com Tour, European Tour and Japan Golf Tour), as well as an increase on the Ladies European Tour. (The LPGA Tour saw a modest decline last year.) The "unusual and concerning" record-setting distance numbers prompted a call to action from the ruling bodies for more research in the coming months.
So rather than wading through the 24-page report and all its 200-level statistics charts and graphs (oh, you can if you want, but what we're talking about is much more fun), we thought we would step in here and help you understand what all the fuss is about. Maybe as a result we might help bolster their research, too. After all, even the USGA itself said it wanted to "conduct a thoughtful conversation about the effects of distance prior to making any specific proposals." Certainly, golf's distance debate could use some thoughtful conversation. We hope these questions might serve as a good start for both you and the rulemakers who clearly have distance under the microscope.
Why is distance perceived as a problem?
Aside from stating way back in 2002 that they didn't want any more significant increases in distance (but not actually giving a number or drawing a line in the sand), neither the USGA or the R&A has specifically defined the problem with distance. The easy answer, of course, is that golf's leaders want to protect the game's traditions and "prevent an over-reliance on technological advances rather than on practice and skill." (That language is right there in the USGA's equipment rules section of the rule book.) But there are several schools of thought percolating beneath the surface of the distance debate. First, there's a fear that distance has become a skill that overwhelms all others required of top players. Second, the extreme distances elite players are hitting the ball may be making golf's environmental footprint too great, increasing demands on resources, cost and time. Third, the elite players' distance gains will obsolete golf's traditional major championship venues (see Old Course at St. Andrews). All can be argued one way or another.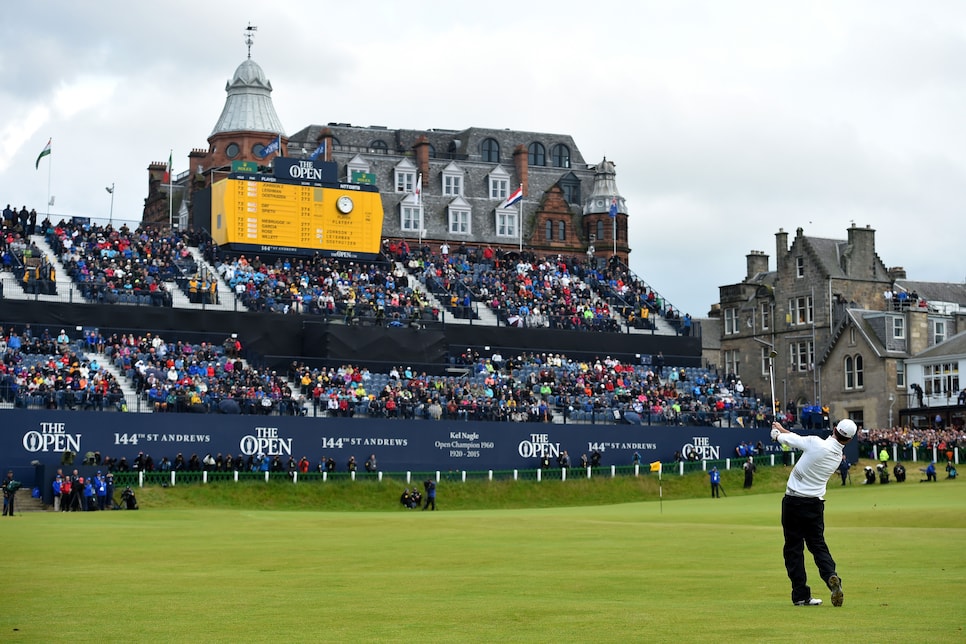 Stuart Franklin/Getty Images
If distance is out of control, then scoring records should be falling left and right, no?
Not exactly. Although some have been toppled recently (Justin Thomas' 253 at Sony, Henrik Stenson's 258 at Wyndham and Marc Leishman's 261 at the BMW in 2017 being recent examples), most 72-hole totals have held up. In fact, 11 scoring records have stood for 15 years or more, with several dating back to the 1990s.
I worry the pro game is becoming pitch-and-putt instead of a full test of golf.
The answer to this depends on what your definition of pitch-and-putt is. The idea that insanely long drives leave approach shots that only require wedge shots, the easiest full-swing club in the bag to hit, is a clear concern that driving distance is negatively impacting the skills required at the elite level (better players should be required to hit a wide variety of approach shots, including long and middle irons). But here are the facts and you can decide for yourself. In the 2016-17 season there were 76,464 approach shots hit between 50 and 150 yards according to ShotLink. In that middle ground of 150 to 175 yards there were another 44,342 shots. For shots 175 yards and longer there were 80,121 shots. Granted, this includes second shots into par 5s when going for it, but a 4-iron shot is a 4-iron shot regardless of the par of the hole, isn't it?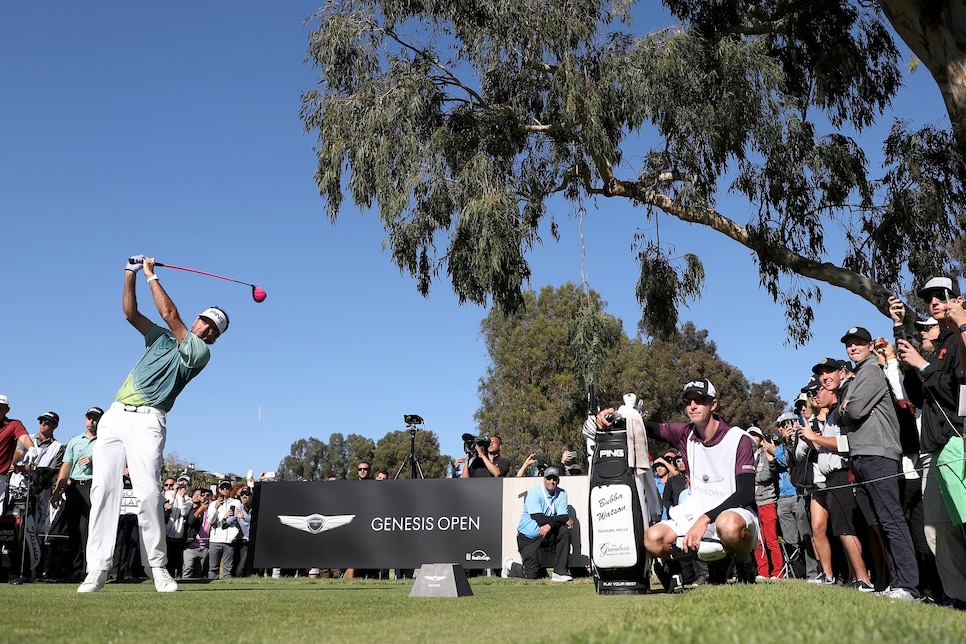 Christian Petersen/Getty Images
What numbers in the Distance Report were the ones that cause the greatest concern?
The one-year jump of nearly seven yards in driving distance on the developmental Web.com Tour may draw the most attention because it is the first time a major professional tour averaged over 300 yards for a season. But also hidden in the report is the steady decline in scoring average that has mirrored the increase in driving distance. The PGA Tour average score is nearly 1.5 strokes better than it was in 1980, the Web.com Tour average is more than 2 strokes better than it was in 1990 and the LPGA Tour is nearly 2 strokes better than it was in 1994. That's a concern.
Does this mean there's going to be a distance rollback?
No. But maybe. First, the report is just a report and mentions no rollback plan, just that the record highs "required closer inspection." Those can be viewed as code words, or at least a precursor to a proposed rule change. Or it could lead to a discussion that sways the ruling bodies to opt to do nothing. Either way, a rule change of this importance could take years to develop and implement. The groove rule process started with an announcement of a study in 2005, was implemented in 2010 and still does not technically restrict amateurs from using non-conforming grooves until at least 2024.
But, really, there's going to be a rollback, right?
When the ruling bodies make it clear that they are looking at an issue, it's not because they want to publish a paper at the next World Scientific Congress of Golf. Whether it was adjustable drivers, grooves or anchored putting, in each case the public statement led to a proposed—and eventual—change in the rule book. But rollbacks are the third rail of equipment rules, so we'll see.
If they roll back the ball 20 percent like Jack Nicklaus suggests, would that help the shorter hitter in the pro game?
That would seem to be logical, but so was "Tiger-proofing" golf courses and that didn't work out all that well. Although there is no firm answer, it's not a stretch to think that although the longer hitters would suffer a greater loss of distance if going by a strict percentage, they still would be considerably longer than the short hitters. So while now Dustin Johnson might have gap wedge and Matt Kuchar a 9-iron or 8-iron, that's at least somewhat of a fair fight. DJ with an 8-iron and Kooch with a 4- or 5-iron might be a different story.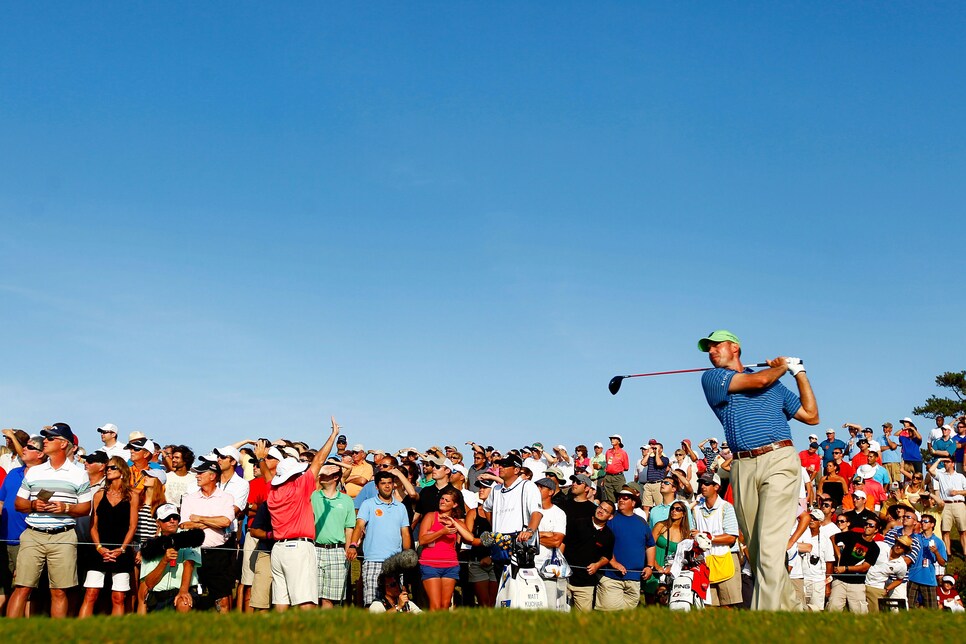 What equipment could be rolled back? For whom? When?
Obviously the ball is everyone's favorite target. But any discussion would have to include other elements such as clubhead size, for example. There has been evidence over the years that the larger impact on distance is more the driver than the ball, especially with its more stable forgiving heads, longer lengths and lighter weights. As for whom, the USGA is on record as saying it does not want to bifurcate the rules. That would mean any action would apply to all, which presents a problem. The report shows average male driving distance at 208 yards and women at 146 yards (albeit in a small sample, but hey, it's the USGA and R&A's report). Try taking any of that away and the game gets more difficult for everyday players. While the topic of whether to rein in the pros is a legitimate discussion, it's pretty clear the game the rest of us play is hardly in danger of being overpowered. When might something happen? If the governing bodies propose anything at all history shows implementation is rarely swift.
It can and it might. Certainly, manufacturers almost universally have disagreed with equipment rule changes over the last two decades. And their pleas at best had only moderate impact on any rule changes. But when the PGA Tour decides it doesn't want to follow a rule, it's unlikely that rule is going to be proposed, so whether they can get the tour on board is something that bears watching. As former USGA Executive Director David Fay once put it nearly two decades ago, "It gets to the issue of power and authority," he said. "The power is in enforcing the rules in our own 13 championships. The authority comes through the positions that we've taken over the years and whether those positions are regarded as persuasive by those who play the game."
PGA Tour commissioner Jay Monahan says the tour getting younger has helped lead to distance increases. True?
The tour has definitely gotten younger. Using the commish's 2003 benchmark, the 190 players who qualified for the distance stat were 35.37 years on average compared to 33.39 in 2017. There were also 32 players in their 20s in 2003, and 58 in 2017. However, the increase in those youngster's driving distance is 7.34 yards—pretty close to the average increase during that time frame. That said, there's little doubt those coming onto the tour today possess a more polished game, having grown up with tools such as launch monitors to develop an efficient swing and played in formal competition, not to mention likely being more physically fit than those of the same age 15 years earlier.
The report says driving distance on the PGA Tour is 292 yards but every time I look at TV guys are blasting it well over 300. What gives?
Remember, television is often showing the leaders, or put another way, players who are on their game that week. What they're not showing you is Gavin Green and his 279-yard average in Mexico that evens out those prodigious blasts on the stat sheet.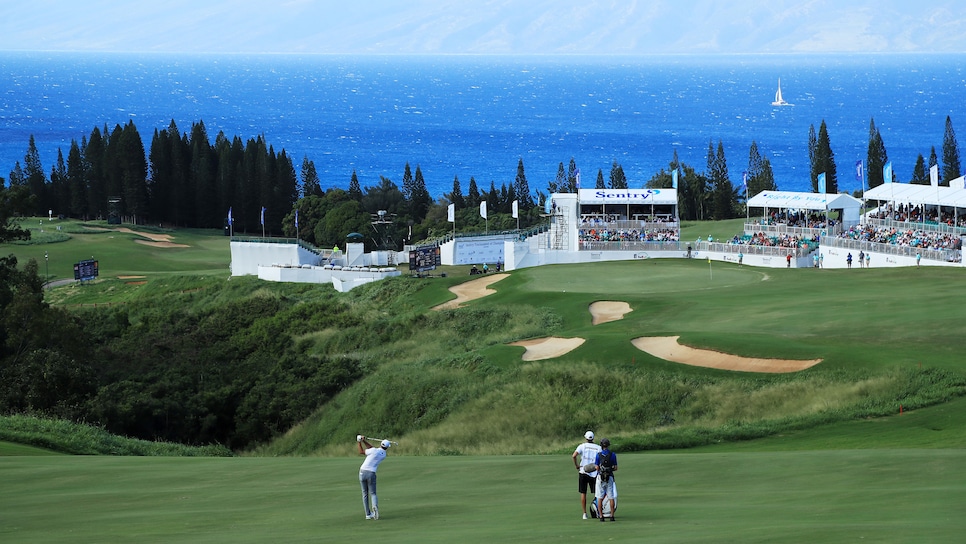 Fair enough, but the 400-yard tee shot seems to be hit with alarming regularity. That would seem concerning.
It absolutely is something to keep an eye on. Through the 2014 WGC-Cadillac Championship (now WGC-Mexico Championship) there were zero 400 yards drives. In 2015 there were 11. In 2016 there were four and last year there were nine. This year there are 80. Forget the fact 69 that were hit at the Sentry Tournament of Champions at Kapalua. That's a pretty big leap.
The USGA talks about sustainability of courses. Are courses really being lengthened to a great degree? Do they need to be?
We're all for saving the earth and there seems to be some anecdotal evidence regarding the lengthening of everyday courses, but no real data as to whether this is an issue at the everyday player level. But here's a thought: Have the USGA provide data from its GHIN handicap system breaking out the number of scores posted from every 100 yards from 5,000 to 7,500 yards. That would give us a feel for where people are playing from and whether courses are being lengthened out of need or ego. Water and resource conservation is a real issue and most golf course superintendents have made tremendous strides in this area over the last decade, but we need more data to determine whether or not golf's environmental footprint needs substantial shrinking.
I really like watching pro golf at the classic courses. Are they really in danger of becoming obsolete?
We dig it, too, but here's the thing: Did you watch this year's AT&T Pebble Beach Pro-Am? On three courses all measuring under 7,000 yards and in perfect weather no one tore it up and the winner, Ted Potter Jr., won with shotmaking and putting, not pure strength. Most of the "classic" courses on tour such as Pebble, Harbour Town, Riviera, Colonial, tend to hold their own, often ranking in the middle of the pack or better in resistance to scoring. Last season five courses on the PGA Tour were under 7,000 yards. Excluding majors, eight were over 7,500 yards. The difference in weighted scoring average was 15/100ths of a stroke.
One of the joys of golf is that I can hit shots the pros hit. Isn't that going away as they get so incredibly long off the tee?
We don't know, does it? Fact is you probably never came close to hitting it as far as them anyway. But that doesn't mean the game isn't relatable. You can relate when knocking an iron shot close, spinning a bunker shot to within a foot or jarring a curling 25-footer. Those are all things we all can do. Besides, if you want to relate to distance off the tee, compare yourself to Lexi Thompson (although she probably blows it by you, too). Deep down most people want to watch that which they cannot do on their own. It's why people watch the NBA or Major League Baseball. Or John Daly.