News
Masters 2018: The best and worst (but mostly best) of Tuesday's quotes from Augusta National
AUGUSTA, Ga. — The Tuesday press conference lineup at Augusta National was a murderer's row. There was Tiger and Jordan and Dustin and Rory and Justin and Phil and … you get the idea. And while pre-tournament pressers can be monotonous affairs, there were plenty of verbal gems sprinkled throughout the day. Here are the best and worst—but mostly best—of Tuesday's quotes from the Masters:
Worst Portrait of Reality
Phil Mickelson on the atmosphere surrounding his practice round with Tiger:
"Yeah, it seemed like there were a lot of people out there. They seemed pretty excited, and I thought that the two eagles Tiger put on them at 13 and 15 led to some pretty nice roars."
Pretty excited. Pretty nice roars. "Seemed" like a lot of people. Phil's (likely) being facetious, but he should have committed to the bit and called Augusta National a "pretty nice track" and Tiger a "pretty good" player.
Best "I Don't Have Time For This" Quote
Justin Thomas on imagining Rory McIlroy's Grand Slam burden:
"I would like it a lot more than trying to win my second major, that's for sure."
Listen, sometimes the heathen media needs to toss out-of-left-field questions to craft a story. That doesn't mean the players need to oblige. To Thomas' credit, he tried his best to give the question its due, but as he talked it out, the further he realized how ridiculous it was: "I think—and I don't mean this in a disrespectful way, but I think it's harder—you guys think it's harder on us than it is. It's like, I mean, at the end of the day Rory's going to go home and how many Majors has he won? Five? Four? So it's like he's going to go home and he's either going to be a four‑time Major winner or five‑time Major winner. That's still pretty good."
Justin Thomas. Man of reason who does not suffer fools.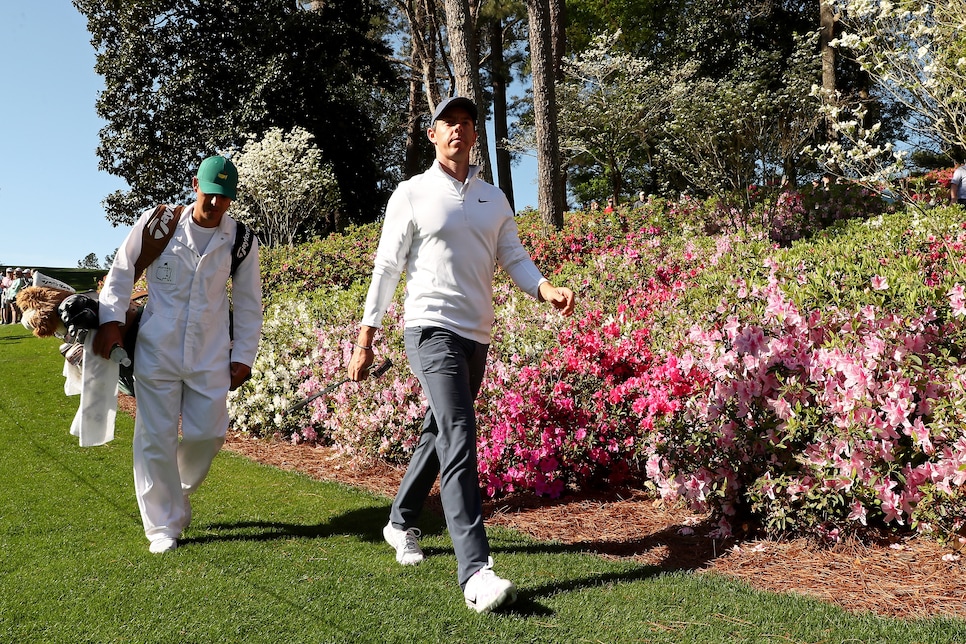 Rory McIlroy on his Masters preparation:
"Yeah, I've been very fortunate to come up here a couple of times with members over the past five or six weeks, and I've played a lot of holes. I played 54 holes on Wednesday and Thursday last week. I played 36 a couple of weeks before that. … Any time you come up to Augusta and it's not the week of the tournament, it's a real treat. It's nice to stay on property and do all that."
Listen, I know Rory offered a genuine response to a question, but that doesn't change the fact the he nonchalantly mentioned he's racked up 90 holes at Augusta National in the past month. And yes, that sentence was written in a jealous rage. Takeaway here: It's damn good to be Rory McIlroy.
Tiger Woods on his practice pairing with Phil:
"We partnered up against Thomas and poor Freddie. It was a long golf course for Fred, but he had a young stud as his partner. But it was good, though, because it was an appearance fee, so … (laughter). We enjoyed it."
Forget the runner-up at the Valspar, his Sunday run at Bay Hill, the absurd swing speeds. That Tiger's dropping courtesy-laugh-only quips is the best evidence yet that he's #back.
Best "Pros, They're Just Like Us" Remark
Jon Rahm's on Phil Mickelson's age:
"It's still Phil Mickelson, right? I still feel like a kid. Especially when you see him around here. It's just—it just seems like one step above us every time, especially when he grabs a sand wedge around the green. But I don't think, I mean, I don't consider them old."
Amen. Mickelson may be 47, but thanks to discovering parts of the golf course that gives cartographers nightmares, working his short-game witchcraft and, well, doing things like this …
Questions about Tiger and Phil to players who aren't Tiger or Phil
This isn't so much a quote as an observation. Or if you will, a criticism of my journalist brethren. I get the Woods-Mickelson pairing was a surprise, and it provided its spark (a.k.a content) for a practice round. But it was just that: a practice round. Why we needed other players' opinions on the matter is beyond me. I was really, really hoping Jordan Spieth would respond, "Why are you asking me?" when needled about the Tiger-Phil round. But he did his best to provide commentary, proving Jordan Spieth is a much better person than me.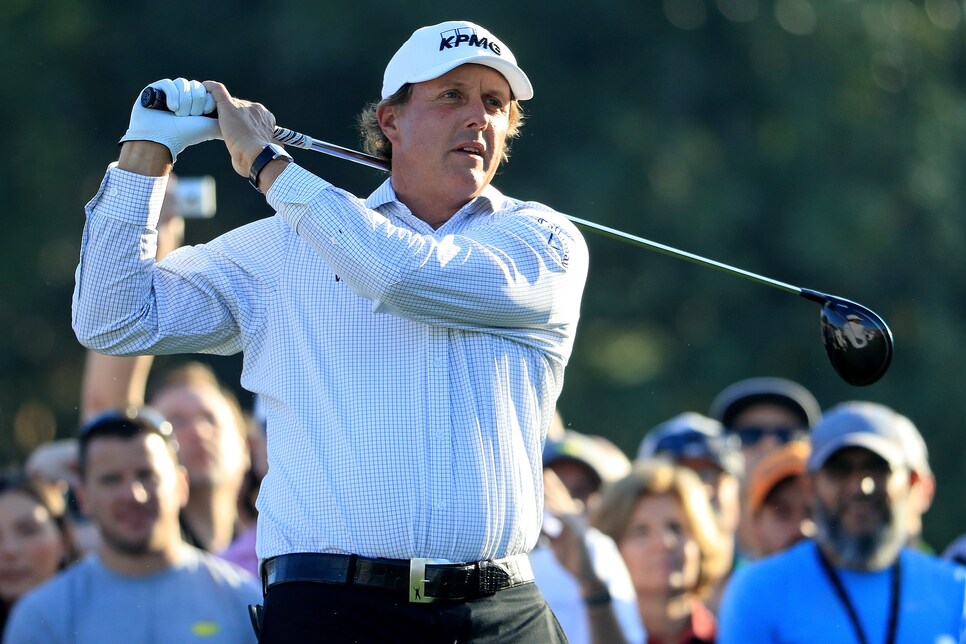 Second Best "I Don't Have Time For This" Quote
Phil Mickelson, when asked how he responds to people calling this the most anticipated Masters ever:
For years, man has pondered what it would take for Phil not to take a question and turn it into a stump speech. Break out the champagne folks, we have our answer.
Shubhankar Sharma on his Masters special exemption:
"I think that after the press conference there was a post on the Masters web site that said 'Shubhankar Sharma accepts the invitation to play in the Masters.' And I was like there's no question about it. Why wouldn't I accept it? Somebody gets an invite to the Masters, I will definitely accept that."
Yeah, that makes sense. And if this category seems forced, you're right: Just wanted to to ensure Big Sharm received a shoutout.
Sergio Garcia when asked about keeping the green jacket safe:
"If you bear with me, we won the Masters, obviously we got to New York for all the morning shows and everything, which was a really cool experience. And we were there, so I've had the jacket for a day and a half, and we're doing all the different shows and the stock exchange and Bloomberg and everywhere. And all of a sudden we're kind of wrapping up the first day on Monday, and I'm about to do an interview, and I kind of—I've been taking pictures with different people and guys behind stage and stuff like that, and I kind of look at my right arm and there's two big grease stains on it. And I'm thinking, My God, I've had the jacket for a day and a half and I already have two massive stains on it. What am I going to do?
"So apparently one of the guys from backstage working on the stage, he must have had some grease on something, and when I put my arm around him, it just got on it. So we were trying to clean it up as we can and everything, and we kind of get it off a little bit, and then we took it to dry cleaner and they did a great job.
"But no, it was—oh, that was tough."
I haven't cringed that bad for someone else's pain since Mikey kept leaving voicemails in "Swingers." I, and this may come as a surprise, don't own a green jacket. Never will. But entertaining the idea this fate would befall me in such prosperity is enough to make me weep.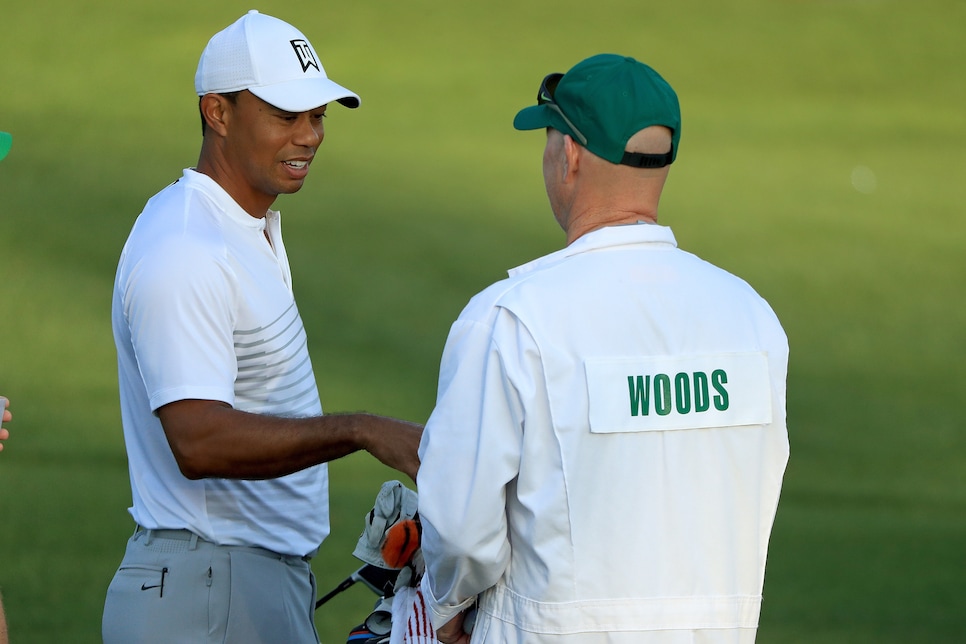 Best Reminder That's It's A Miracle Tiger's Even Playing This Week
Tiger Woods, when asked about his swing post-surgery:
"It's crazy. I'll be honest with you, it is crazy. I didn't think—I thought prior to the fusion surgery that that's pretty much it. I'll have a nice, comfortable, and great life, but I'll never be able to swing the club like I used to speed‑wise, just there's no way, lower back fusion."
I say this with all sincerity: It doesn't matter how he finishes this week. That he's merely in the field, after coming so close to the abyss, is cause for celebration.