News
Masters 2018: Rory's 'Grand' plan
Three times Rory McIlroy has needed a Masters win to cap the career Grand Slam, and three times he's fallen short. So why might this year be any different?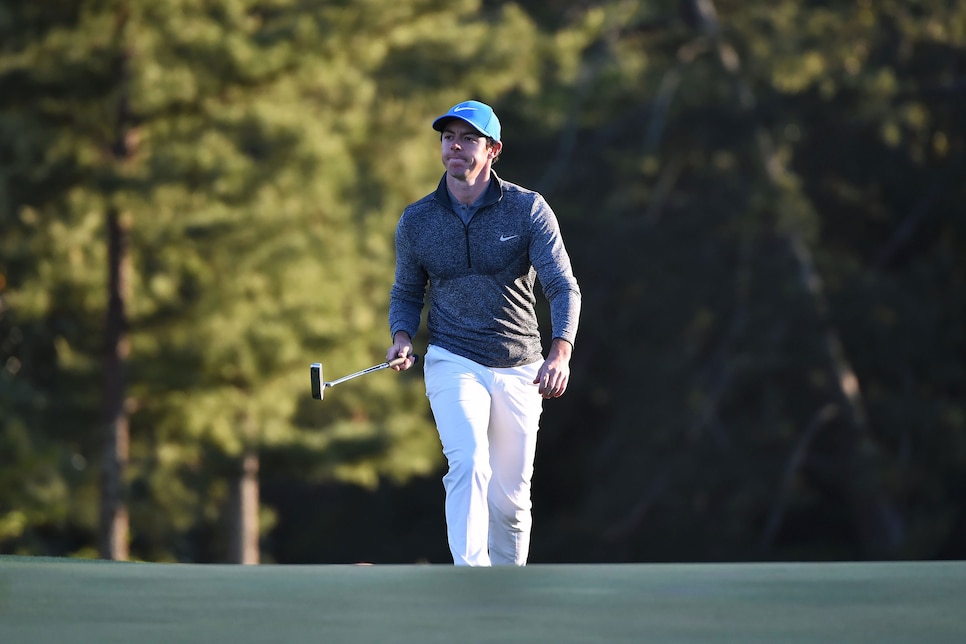 Photo By: NICHOLAS KAMM/AFP/Getty Images
Rory McIlroy still remembers that Sunday afternoon at Augusta in 2011 vividly. He remembers realizing that leading the Masters in the final round just wasn't like leading another golf tournament, even though he had spent most of Saturday night telling himself that wasn't the case.
He remembers the collapse, the wayward shots, the eight-over-par 80 that sent him tumbling from a four-shot lead to a tie for 15th place. He remembers it because, he says, he believes he learned from the experience and is still learning from it.
"I just wasn't ready for it," he told me recently. "I was 21, and I'd never been in that position in a major, certainly not at the Masters. The thing about a major—any major—is you have to prepare for it, all of it, as if it's just another golf tournament, but understand that it's not.
"Everything is different. The atmosphere is different. The preparation has to be different because if you just show up on Monday thinking you're going to practice 18 holes a day you're going to be exhausted on the first tee Thursday, because the practice rounds take six hours. You have to think ahead to get ready and then, if you have a chance to win, you've got to find a way to keep your mind on staying in the present. You can't just say, stay in the present. You have to talk to yourself, have a conversation about your next shot, the next hole, the weather—anything but what might happen a couple of hours from that moment."
Of course, that's what McIlroy did eight weeks later, coming back in his next major start and grabbing the U.S. Open title at Congressional. "Even though I had a big lead Sunday, I kept telling myself, Nothing's over until the last putt on the 18th green." He paused. "OK, I did let go of that after my second shot was on the green at the last and I knew I couldn't possibly lose."
That Open win in 2011—by eight shots—was the first of McIlroy's four major titles (PGAs in 2012 and 2014, and the British Open in 2014), helping set up the storyline McIlroy faces now for the fourth straight year at Augusta: win the Masters and take your place in golf immortality as the sixth person to claim the career Grand Slam.
The fact that he was able to come back from the Masters meltdown to win so quickly stunned most of the golf world. One person who wasn't stunned was David Feherty, who worked at Holywood Golf Club in Northern Ireland as an assistant pro before McIlroy was born and knew his parents well during those years.
"I was worried about him that Sunday at the Masters," Feherty said. "I knew he was a mature kid, but that was a hell of a thing to have to deal with. When I got off the air [Feherty was still with CBS at the time], I drove directly to the house where he was staying to check up on him. He was playing football in the yard with his mates. I took him aside and I said, 'How are you doing?' He looked me right in the eye and said, 'I lost a golf tournament David. It's disappointing. But if this is the worst thing that ever happens to me in my life, I'm going to have a pretty good life.' I knew he'd said something like that to the media, but I looked at him closely and realized he meant it. He really was alright.
"And then he said, 'I'm 21, I'll have other chances.'"
'All I want is to give myself a chance. … I know I'm prepared. I can't wait to find out if that preparation pays off.' —Rory McIlroy
Feherty didn't actually meet McIlroy until Rory was a teenager, but he remembers the first time he saw him. He was visiting Holywood when someone pointed out to him that the kid walking up to the ninth green was Gerry and Rose McIlroy's son, and he was quite a player.
"I think he was 9," Feherty said. "He came walking up to the green, bag on his back bouncing along, and he had this bounce in his step. You could see it, he just walked in a way that let you know he was good, knew he was good and was having fun.
"I can still see it today. When he's playing well, I can tell just by watching him walk even if I have no idea what kind of score he's shooting. To me, he'll always be that wee lad. A lot of it is because he's never changed, even with the fame and the money. It's why I love the kid so much."
McIlroy is 28 now and hasn't had a real chance at the Masters since that day in 2011. His finishes appear impressive—fourth in 2015; T-10 in 2016; T-7 in 2017—but there was not a lot of Sunday contending rolled into any of them.
McIlroy's been the No. 1 ranked player in the world and has become rich beyond his wildest dreams. He's done just about everything a golfer could hope to do and he's not yet 30. If he retired tomorrow, he'd be voted into the World Golf Hall of Fame about 30 seconds after becoming eligible.
But he hasn't yet won the Masters.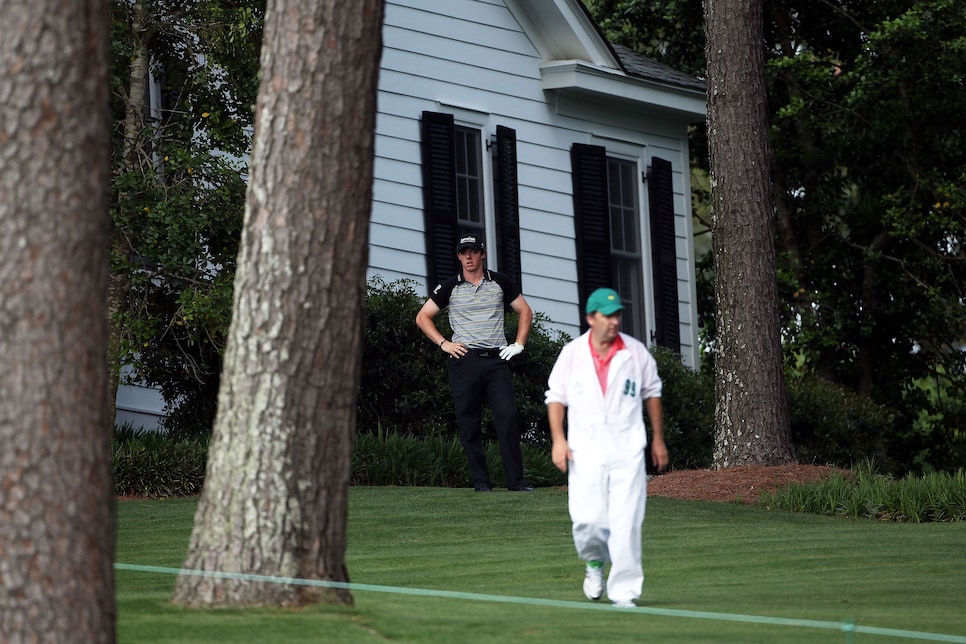 Andrew Redington/Getty Images
The closest McIlroy has come to real contention was two years ago, when he trailed Jordan Spieth by one shot going into the third round before shooting 77 on Saturday to knock himself out of contention.
"I'd like to put myself in position to win, give myself a chance and see what happens from there," McIlroy said. "I played myself up the leader board on Sunday, but never to the point where I was thinking I had a serious chance to win."
More often, Thursday has been a problem. In 2015, when he finished fourth, six shots behind Spieth's virtuoso performance, he opened with a 71—meaning he was seven shots behind Spieth after 18 holes. Last year he shot a respectable even-par 72 on a difficult, windy opening day but still trailed leader Charley Hoffman by seven shots.
"I'm often a slow starter," McIlroy said. "If you look back at the majors I've won, I've gotten off to a good start on Thursday. There's no doubt the old saying's true that you can't win a major on Thursday, but you can lose it.
"I have to remember, especially at Augusta, that you've got to be patient, especially on the front nine. On the one hand, two of the first three holes [2 and 3] are good birdie chances. But you better put the ball in the right spot on the first green or you're going to be in trouble. Hit it in the middle and take par. If you're even par after three, it's OK. You have to not be too aggressive the rest of the front nine. The moments to be aggressive will come, but you can't force it."
McIlroy was more than a little disappointed with his play in the majors two years ago. His best finish was a T-5 at Troon, but he was nowhere close to the Henrik Stenson-Phil Mickelson shootout and ended up 16 shots behind Stenson; 13 behind Mickelson. His T-10 at the Masters was sullied by the Saturday 77, and he missed the cut by a shot at both the U.S. Open and the PGA Championship.
As he often does when planning ahead, McIroy sat down with his informal brain trust: teacher Michael Bannon; best friend (and now caddie) Harry Diamond; agent Sean O'Flaherty and his dad, Gerry.
"The idea was how do I work my way to Augusta early in the year so I'm playing my best golf when I get there," McIroy said. "In those situations I listen to what they all have to say, but in the end, I take the lead unless someone makes a point about something I haven't thought about and I need to rethink that.
"I wanted to play more before Augusta, especially here [in the U.S.]. I like opening the season in the desert because I play well there. It's a chance to get comfortable and get an idea what I need to work on. But I wanted to get to Augusta with enough golf played when I got there that I felt confident with what I was doing, that I felt like I had a specific plan on how to deal with the golf course and with what might go wrong. The more you play, the better you play—although you've always got to be careful about finding that balance between playing enough and playing too much."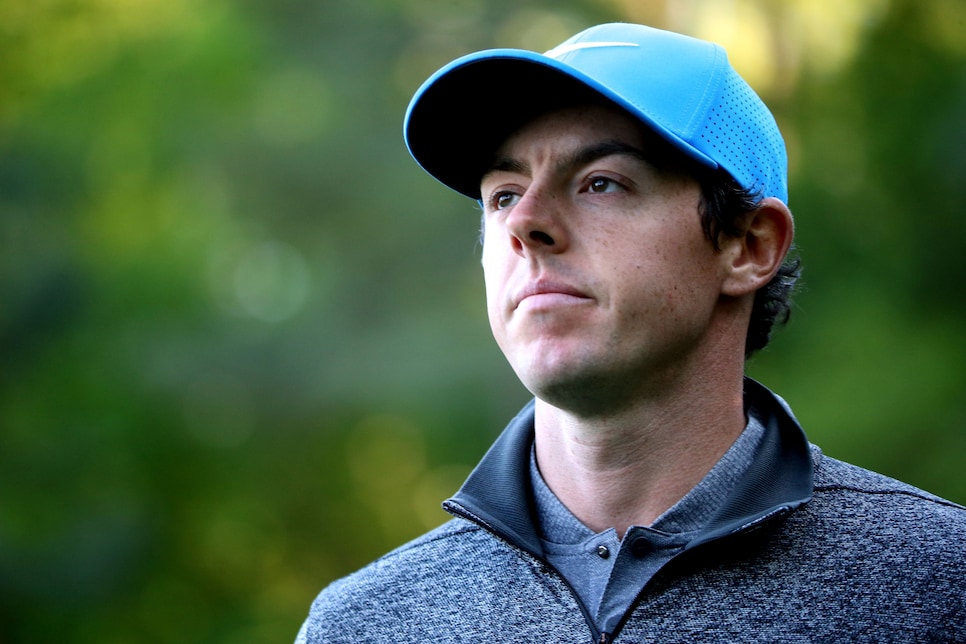 Andrew Redington/Getty Images
The plan was to play twice in the Middle East, then come to the U.S. to play Pebble Beach, Riviera, Honda, Bay Hill and the WGC-Match Play prior to Augusta.
But the plan got blown up when McIlroy fractured a rib in January and had to sit out almost two months, coming back to play well (T-4) at the Arnold Palmer Invitational at Bay Hill. He then failed to make the weekend at the World Match Play, meaning he'd played a total of seven rounds in the U.S. going into the Masters. Plus, he'd come back too soon. The rib was still bothering him.
"I can play," he said just prior to the PGA Championship at Quail Hollow last August. "But there's still some pain in there. I definitely need to give it a rest."
His dream that week was to find a way to win the PGA and then take the rest of the year off. "If I can win the PGA, I can call the year a success and go home," he said, smiling. "If I don't, I'll play a few more weeks to see if I can do something good and then shut it down in the fall."
That's what he did, actually finishing second at the British Masters in October, knowing he needed the break—which he took a week later after playing with his father in the Dunhill Cup (finishing T-63)—that lasted until January.
"I never got the chance to follow through on the plan I'd come up with a year ago," he said. "So, I decided to give it a try this year. I started the year rested and felt good coming to the U.S. I've had some ups and downs, but missing the cut at Valspar [which he added to the schedule he'd planned for 2017] might have been one of those blessings in disguise. I got some extra time with Michael and the extra two days off probably didn't hurt either."
Apparently that was the case. After going to see Brad Faxon to talk about his putting issues on Monday, McIlroy shot 64 the following Sunday at Bay Hill to pull away from a bunched field and win the Arnold Palmer Invitational by three shots. Even though he missed the weekend again at the Match Play, he arrives at Augusta feeling better about his game than he has in a number of Aprils.
McIlroy doesn't try to pretend that closing out the career Grand Slam won't be on his mind if he's in contention on the back nine on Sunday. He remembers having a plan to deal with the pressure at Hoylake in 2014 when he knew the notion of winning the Open Championship, the event he grew up watching most, would very much be on his mind if he had a chance to win.
"I had two words that week," he said. "Process and spot. Whenever my mind started to wander, I went back to those two words. Stick to the process and pick your spots."
Whether McIlroy will pick a couple of words to focus on or find something else to keep his mind off the idea of slipping on a green jacket, he probably won't really know until he gets to the first tee on Thursday.
"All I want is to give myself a chance," he said. "If I do that, then whatever happens, happens. I just know I'll be better prepared to deal with that pressure than I was the first time. Knowing that should help me. I know I'm prepared. I can't wait to find out if that preparation pays off."