News
Rory McIlroy strikes the right balance between confidence and comfort at Bay Hill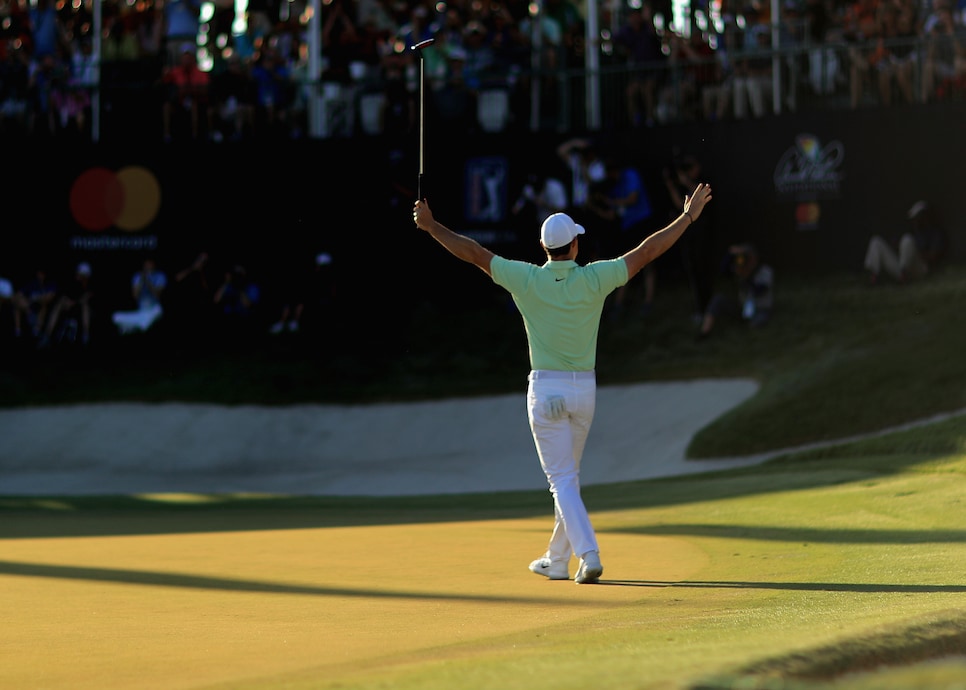 Rory McIlroy was walking into the locker room moments after finishing his first round of the Honda Classic on the last Thursday in February. He had the look of someone who knew he'd made a mistake but also knew, deep down, he'd have done the same thing given a second, third or fourth chance.
"Wanted birdie on the last," he said with a sheepish smile. "Wanted to get under par. Not very smart."
The 18th hole at PGA National is a par 5 that is reachable in two but treacherous if the wind is blowing and if you don't hit two perfect shots. McIlroy, badly wanting that final birdie, had gone for the green in two and watched his ball sail a little too far right and find the water. It was a shot he absolutely believed he could pull off if only because there are few shots in golf he doesn't think he can pull off.
This time though, he didn't pull it off. By the time he was done, he'd made double-bogey 7 and had shot two-over 72.
As it turned out, that last hole on Thursday set the tone for his week. He shot another 72 on Friday and managed to make the cut with a stroke to spare. By Sunday evening, he was nine over for the week, tied for 59th place, 17 shots behind winner Justin Thomas.
A week later, in Tampa, he didn't even play THAT well, missing the cut by a comfortable two strokes.
"You never want to miss a cut," he said early last week. "But, let's be honest, it happens. It's part of golf. The key is to find a way to learn from it and maybe used the extra days off to recharge. Take advantage of the weekend at home you weren't planning on."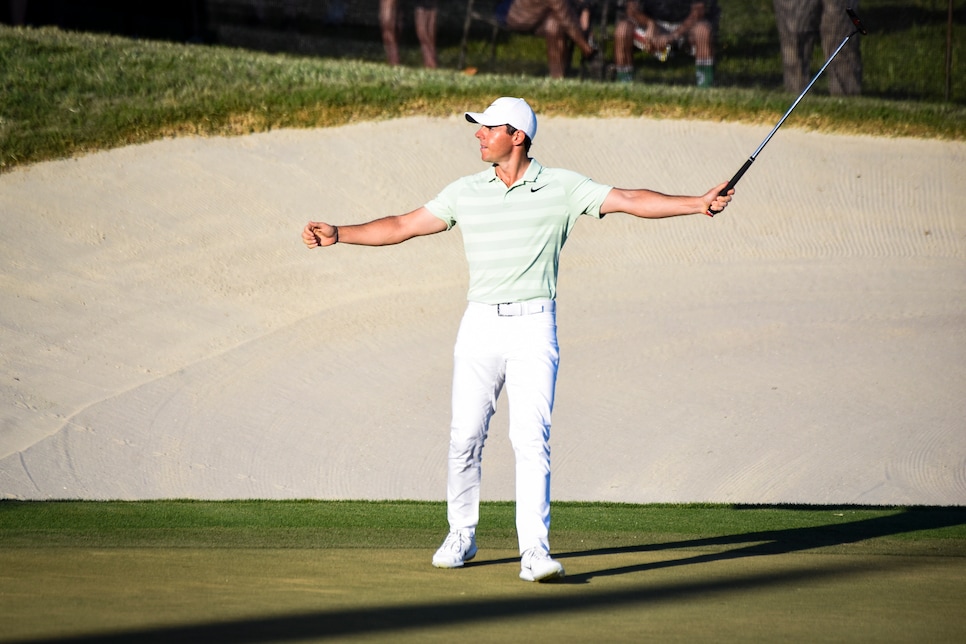 McIlroy did just that after Tampa. He spent most of the weekend working with his lifelong teacher, Michael Bannon, who he hadn't seen for several weeks, searching for a swing tweak that might turn him back into the ultra-confident Rory McIlroy with a driver in his hand. Then, on Monday, before leaving for Orlando, he spent some time with Brad Faxon, whose putter has often been compared to Pavarotti's voice: both can make beautiful music.
McIlroy arrived in Orlando for the Arnold Palmer Invitational feeling refreshed and confident. Instead of thinking about the two lost weeks that he'd just experienced, he was thinking it was time to win again. For once, the struggling golfer's credo: "I'm close," actually meant something to the struggling golfer.
Even a double bogey on the 18th hole on Thursday—eerily similar to the one made at PGA National—didn't deter him because he knew he'd played well, shooting a three-under 69 after coming to the last at five under.
For the next two days, he calmly kept the leaders in sight, more than happy to let the spotlight fall on Tiger Woods. He finished off a sporty 67 on Saturday with a birdie on the 18th, hitting his second shot to within three feet, moments after Johnny Miller had said on-air (again) that he believes McIlroy's workout regimen hasn't been good for his game.
Then, on Sunday, while most of NBC's telecast was devoted to Woods, McIlroy exploded on the back nine, birdieing five of the last six holes to roar past everyone en route to an eight-under 64 and a three-shot victory over Bryson DeChambeau, whose final-round 68 would have been good enough to win on a lot of Sundays.
Woods, for the six of you who don't know, went backwards in the late afternoon heat, shot 69 and finished tied for fifth—eight strokes behind McIlroy.
Before Sunday, McIlroy hadn't won anywhere since September 2016 when he took the title at the Tour Championship at East Lake. He's been hurt, got married, fired his long-time caddie, started a major renovation on a new house and probably came back too soon last spring from the rib injury that sidelined him early in the year. He's also been diagnosed with a chronic, albeit minor, heart condition that will require monitoring for the rest of his life.
Other than that, all has been well.
There is also the most volatile relationship in his life: the one with his putter. Or putters. Or putting stances, grips and mindsets. McIlroy only changes his approach to putting on days that end in a Y.
He hit a low at the 2016 PGA Championship at Baltusrol. The problems there, he said, were technical and mental. "I had a two-way miss going with the putter," he said. "It had everything to do with my grip, but a lot to do with what was inside my head. None of it was good. If anyone else had hit the ball the way I did the first two days at Baltusrol, they'd have been leading the tournament. I missed the cut."
So, McIlroy went back to square one. He changed putters and he changed putting coaches, going from Dave Stockton to Phil Kenyon. It worked—for a while. Two weeks after starting over, McIlroy won in Boston. Then he won in Atlanta and played very well a week later at the Ryder Cup at Hazeltine National.
Since then, for all intents and purposes—nothing. Last June at TPC River Highlands, he used three different putters in four days. By the end of the summer he knew he needed a break, physically and mentally. His rib still wasn't 100 percent and neither was anything about his game.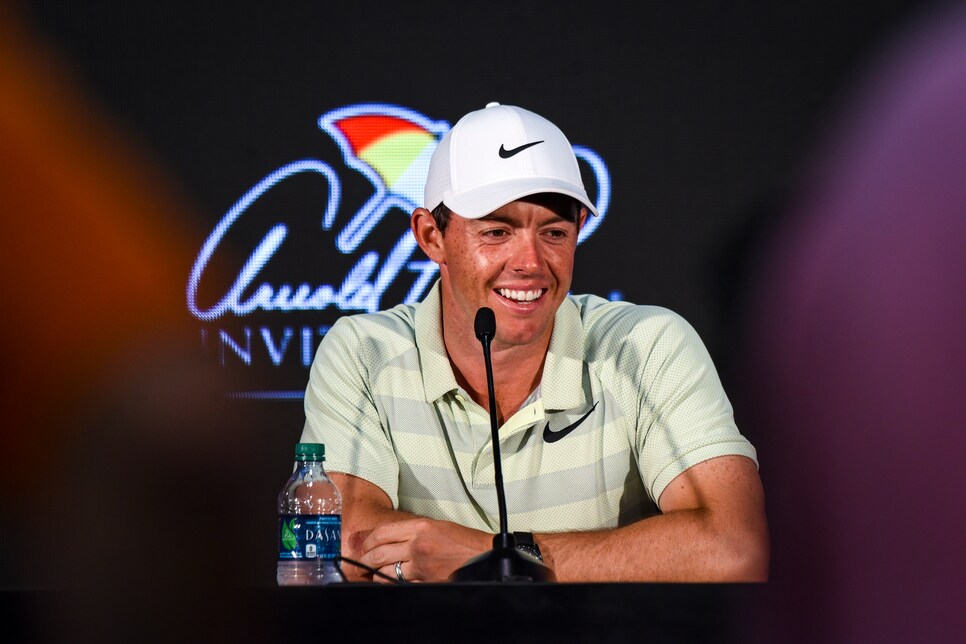 He came back in January, looking healthy and ready to be Rory McIlroy again. He finished second and third in Dubai and Abu Dhabi, but struggled when he came to the U.S.—missing two cuts in four events, his best finish prior to Orlando a T-20 in Los Angeles.
"Some of it was adjusting to the greens over here," he said last week. "I always play well in the desert. There's rarely any wind, and I'm comfortable on the greens there. There were some windy days here where I didn't feel comfortable and something was off with my swing; not way off, but off enough. The margin for error for all of us is so narrow. That's why we all say, 'We're close,' when we're struggling. It feels like a small gap, but finding your way across that gap can be difficult."
The win Sunday had great meaning for McIlroy for a number of reasons. First, it broke the drought that dated to East Lake. That win came on the same day that Arnold Palmer died, news that McIlroy received shortly after accepting the trophy. It took a lot of the joy away from the victory.
The Arnold Palmer Invitational didn't really fit McIlroy's pre-Masters schedule for many years, but he began to play in 2015 when Palmer's health was slipping. His only regret on Sunday was not being able to look to his left on the 18th green and see Palmer standing there on the hill after he had nailed his closing 25-foot birdie putt.
Winning Palmer's tournament clearly meant a lot to McIlroy. Most important perhaps, it should give him an extra dose of confidence two weeks from Thursday, when he steps to the first tee 414 miles north of Bay Hill to play in the one major he has yet to win.
If there is one thing about McIlroy it is this: When he feels confident about his swing and his putting stroke, he is almost impossible to beat. That was never more evident than Sunday.