News
Masters 2017: What it took for Sergio Garcia to finally win a major
En route to his Masters title, the Spaniard figured out his problem hadn't been a golf thing, but a life thing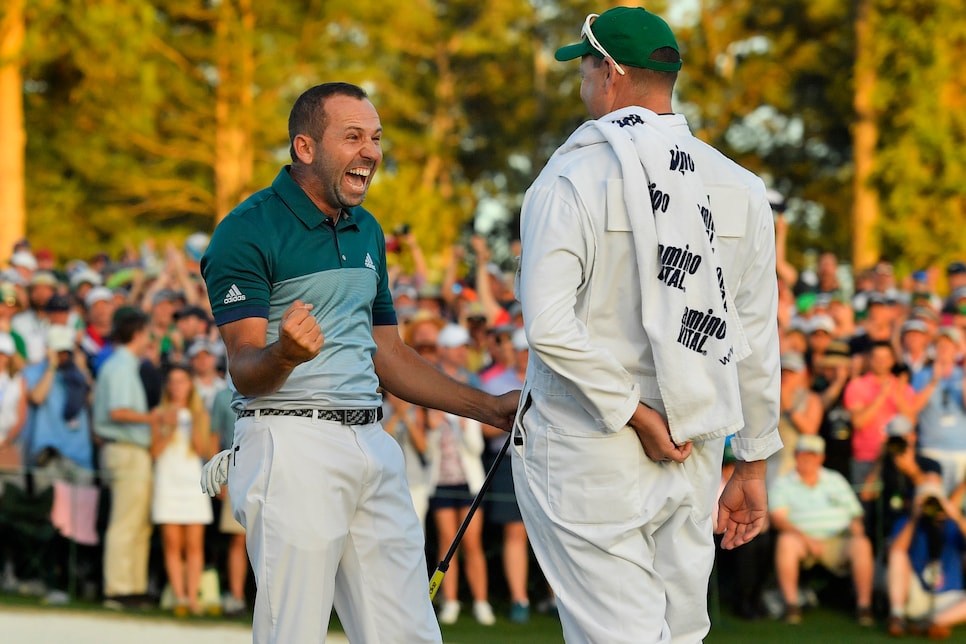 AUGUSTA, Ga. — At long last, it can be said: Sergio Garcia, major championship winner.
Sure, the designation was overdue. But there was much more that accounted for the prolonged outburst of joy that was unleashed—even Tiger Woods sent a congratulatory tweet—when the 37-year-old Spaniard's final putt in sudden death snuck in to defeat Justin Rose and win the 81st Masters.
And it wasn't just seeing a player who produces some of the most solid strikes and tightest ball flights ever heard or seen, and who now has 28 official worldwide victories, getting a title that will allow his name to live more prominently in golf history. It also went beyond nostalgia for the boyish iteration of El Niño who charmed the world with his scissor-kick at Medinah during the 1999 PGA Championship.
The reason was more centrally human, the vicarious fulfillment that comes from seeing a person who has spent years getting in his own way finally triumph over himself.
Few players are perfect mentally, but Garcia as a golfer was seriously flawed. Over nearly two decades, he trafficked in all manner of negativity: excuse making, whining, blaming and defeatism. All while stubbornly refusing to see how he was sabotaging his extraordinary ability.
Comparing Garcia to his peers in terms of competitive heart was to clearly understand why, before last Sunday, he was 0-for-73 in majors.
From exuberantly confident 19-year-old who starred at the Ryder Cup at Brookline, Garcia quickly became a tense player who developed a pattern of fading when in contention, especially at majors. He developed the grip yips at the 2002 U.S. Open at Bethpage, where he received a final-round schooling at the hands of Woods. Instead of the experience making Garcia tougher, it seemed to start him down a steady decline toward fragility, to the point that at the 2012 Masters, he said, "I'm not good enough. … I don't have the thing that I need to have to win majors."
In retrospect, Garcia suffered the backlash that often confronts sports prodigies. Used to both overwhelming their competition with talent and generally getting their way, being thrown in with older peers with more competitive grit and more polished skills can be jarring, especially when the expectations that were thrust upon them so early are, if anything, adjusted up. In Garcia's case, he ran smack into the prime of Woods, a figure who, because he showed no mercy competitively, was especially chilly to potential rivals, and got into Garcia's head. For the first eight years of Garcia's career, the harder he tried to beat Woods, the more convincingly and dishearteningly he lost.
During this period, Garcia became a more petulant version of El Niño. He sulked after tough runner-up finishes to the more mentally tough Padraig Harrington at the 2007 Open Championship at Carnoustie and the 2008 PGA at Oakland Hills. He lost his zest for the game, became a nervous short putter and lacked the self-awareness needed to rally. Instead of looking within, Garcia, shunning work with a sport psychologist, kept loading on prideful baggage.
Before the Masters, Garcia had only won twice on the the PGA Tour since his victory at the 2008 Players. In majors, he managed 12 career top-fives before Sunday, including two in 2016. But almost all of them had followed a pattern of, at best, hanging on in the late stages, rather than making a charge.
In the fall of 2015, however, Garcia, who had tended to take breakups with girlfriends hard, began dating Angela Akins. He began playing better, starting out with solid showings at Riviera and Honda, although in both instances he again failed to close down the stretch. But he won at Dallas last May, his first PGA Tour victory in four years, and began to emphasize in his press conference the increased calmness he was feeling when in contention.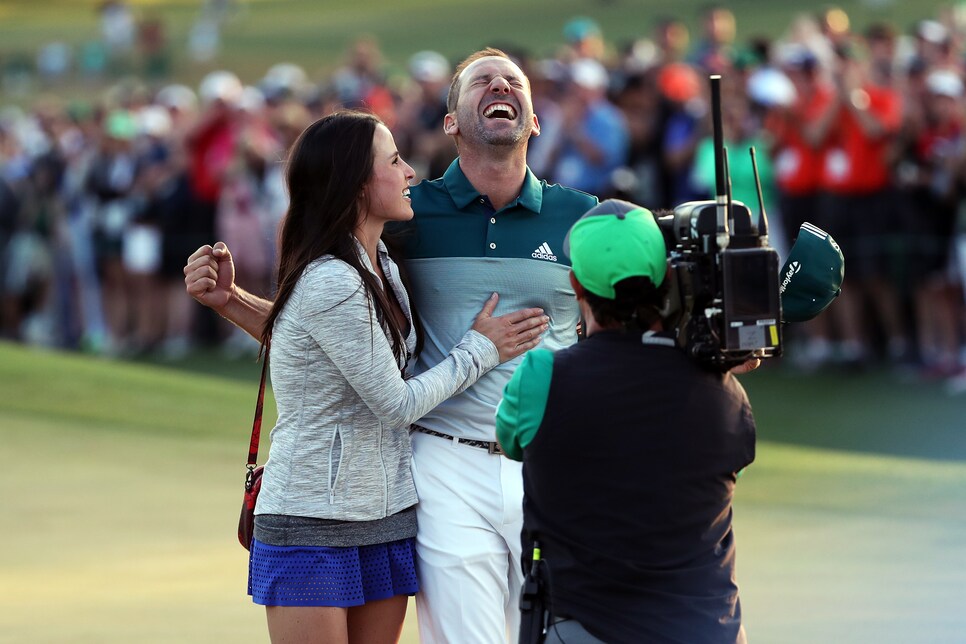 At long last, Garcia was figuring out that his problem hadn't been a golf thing, but a life thing. The main catalyst was Akins, a former University of Texas golfer whose father, Marty, was an All-American quarterback for the Longhorns in the 1960s, and whose grandfather, Ray Akins, is a legendary Texas high school football coach. Her cousin is another star in the football world, NFL All-Pro quarterback Drew Brees. Rather than defaulting to the fatalism that constantly cited luck—usually bad luck—Garcia began to speak in the positive terms typical of American athletes, reminiscent of another Texas bred athlete whose forte is grit, Jordan Spieth.
"They are all very competitive," Garcia says of his future in-laws. "That's the really positive background the whole family has."
Garcia decided that rather than lamenting bad breaks, he would strive to eradicate the negativity by appreciating his good breaks. The group of Spanish journalists who regularly cover him noted a change last year during the U.S. Open at Oakmont, where Garcia got within one with five holes to play but quickly made three bogeys on his way to finishing T-5. Afterward, though, he was surprisingly upbeat.
"Obviously, there's a lot of nerves, but I really enjoyed it," he said. "I think that I handled it quite well, and unfortunately, came up a little bit short. But I'm still happy with the week. I've just got to keep putting myself in this situation and, you know, at some point in time, I'm sure that, you know, the coin will end up, will fall off on heads instead of tails."
Akins encouraged the couple's friends to send Garcia messages of support, while she left Post-Its with inspirational quotes on the bathroom mirror, including a message on Sunday morning, "Don't forget to be amazing."
It might have sounded like self-help jargon, but the important thing was that Garcia was walking the walk—and getting better under pressure. In October, in one of the greatest Ryder Cup singles matches ever played, Garcia and Phil Mickelson made 18 birdies between them until Garcia had to make one more on the 18th hole at Hazeltine National to salvage a halve. He poured in the 10-footer, the kind of do-or-die putt he had historically missed, and later said blithely, "I was feeling quite comfortable, maybe because I love these moments. This is what I live for."
In January, Garcia was the model of poise in holding off Henrik Stenson at the Dubai Desert Classic to win wire to wire, his first victory in two years on the European Tour. He said he was comfortable, but added, "Golf is tough. Golf is really tough."
Garcia has learned to make it less so. At the Masters, the X factor continued to be Akins, to whom he is engaged with a July wedding date. Travelling with their black Pomeranian "Bear" for good luck—the pup had been with them during Garcia's victory in Dallas—Akins encouraged the couple's friends to send Garcia messages of support, while she left Post-Its with inspirational quotes on the bathroom mirror for Garcia to peruse. At the Masters, the quoted included Audrey Hepburn and Buddha, as well as Akins herself, who on Sunday morning left the message, "Don't forget to be amazing."
Doing his part, Garcia, who described himself as "a hard-headed man," gamely addressed what had at first been a grudging commitment to his new outlook. After his 69 on Friday at Augusta, he said, "I'm working on trying to accept things. It's much easier to say than to do it, but it's part of golf. But it's still fun. I love what I do. I feel like I'm so blessed to be able to play golf for a living. So I'm going to enjoy it as much as possible."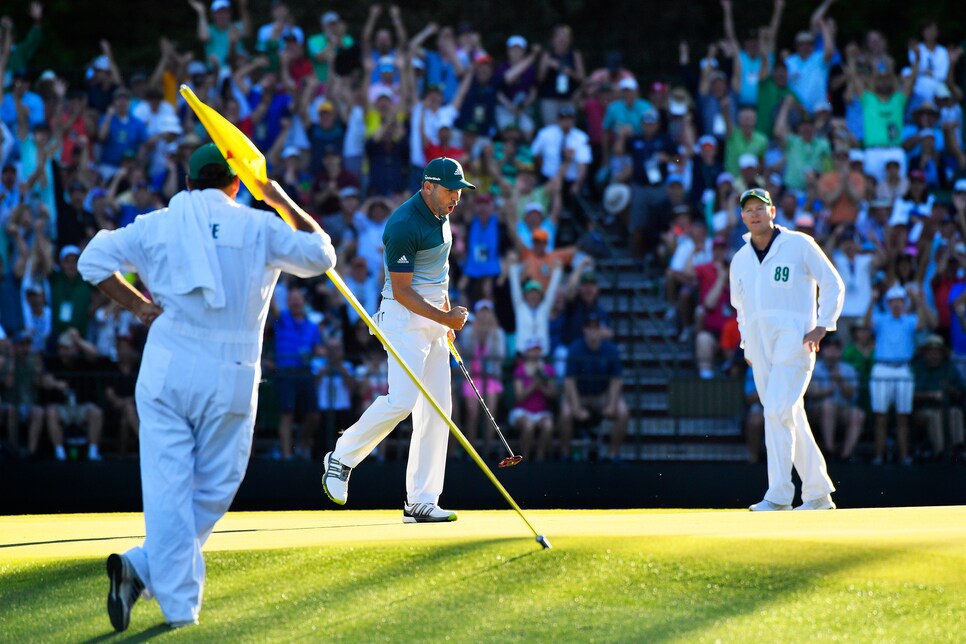 After Saturday's 70, when he got a good break on a second shot that somehow stayed out of the water and led to a birdie on the par-5 13th, Garcia didn't disagree that his new attitude was having a role in the golf gods seeming to smile on him. "Probably it's because my mentality has a changed a little bit, the way I'm thinking things," he said.
On Sunday, he would describe his drive to the course as "very calm … I felt the calmest I've ever felt on a major Sunday." When asked whether he was proudest of any shot—and Garcia hit at least three classics on Sunday, his 8-iron that led to an eagle on the par -5 15th the most spectacular—or the character he showed, he said, "definitely demonstration of my character, and my mentality."
Upon making the putt that made him the player with the most career starts before winning a major and ended his reign as the best player without one, Garcia sank into a deep crouch reminiscent of Ben Crenshaw's emotional reaction to his winning putt in 1995. Garcia said that as held that position with closed eyes, he thought about "some of the moments I've had here at Augusta that maybe I haven't enjoyed as much and how stupid I really was trying to fight against something that you can't fight. And how proud I was of accepting things. And this week, I've done that better than I ever had."
The paradox is that Garcia fought more fiercely and effectively than he ever has—just not with himself. "Lately I've been getting some good help," he said. "And kind of accepting, too, that if it for whatever reason it didn't happen, my life is still going to go on. It's not going to be a disaster."
Of course, that approach had made it more likely to happen.
It's true that at tournament's end, Garcia was at or near the top of the field in greens in regulation, driving distance and driving accuracy. Surely some karma flowed from what would have been the late Seve Ballesteros' 60th birthday, as well as a note from José Maria Olazábal that pointed out he currently has an opening to share his Champions Room locker. Garcia's claw-grip putting stroke, while occasionally shaky, stayed smooth enough to miss very few of the short ones that in recent years have undermined him on the biggest occasions.
But most of all, this Masters was won by an El Niño who is finally all grown up.