News
Masters 2017: Dustin Johnson withdraws because of back injury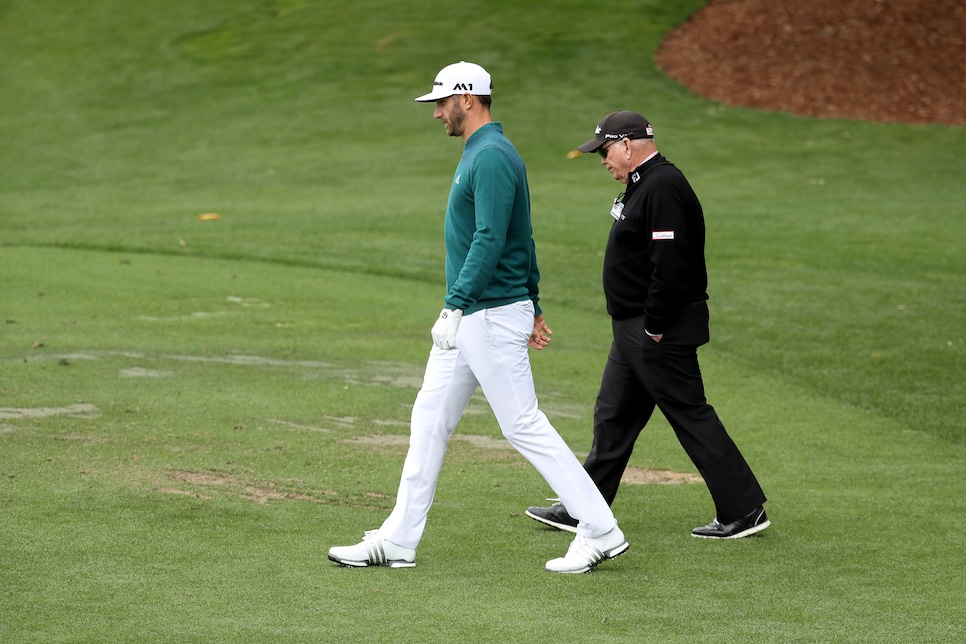 AUGUSTA, Ga. — Dustin Johnson said Thursday afternoon at Augusta National that he was "going to give it a try," despite suffering a freak injury to his lower back during a fall at his rental home a day earlier.
Johnson walked off the first tee and withdrew from the 81st Masters a few minutes before his scheduled 2:03 p.m. opening round tee time.
"I could make a backswing, but every time down, right at impact [my back] would just catch," a dejected Johnson said behind the clubhouse. "I just don't feel like there's any chance of me even competing.
"It sucks. I'm playing probably the best golf of my career."
Johnson, the top-ranked player in the world, arrived at the year's first major as the tournament favorite, having won his last three starts.
But when he went down a few steps wearing socks on Wednesday afternoon, his foot slipped and he landed hard on his left side, badly bruising his left elbow and hitting the lower left portion of his back on the steps.
He underwent continuous treatment, and on Thursday tried to warm up, hitting balls for just over 30 minutes on the range.
Johnson hit mostly irons, doing so at less than full speed, and when he pulled driver from the bag had his brother and caddie Austin tee up the ball for him.
Two swings later, Johnson reached for his back. He took just eight more swings with the driver.
"We were all just trying to see if he was going to be able to tee it up," said Johnson's coach, Claude Harmon III, who looked on along with father, Butch.
After a brief discussion with the group, and Masters Competition Committee chairman Fred Ridley, Johnson headed toward the first hole, hoping still to tee it up. Following a few more practice swings on the green, Johnson felt he couldn't go on.
"I want to play more than anything," he said. "But just sitting there on the putting green, I made a few swings, and I just can't swing.
"To have a freak accident happen after I got back from the course, it sucks. It sucks really bad. It feels like in two days it will be fine. If it happened on Monday, I don't think we'd have any issues."
Johnson joins Tiger Woods as the only No. 1 player in the world not to play the Masters. Johnson was scheduled to tee off with two-time Masters champion Bubba Watson and last year's PGA Championship winner Jimmy Walker in the day's final group.
"I was doing everything I could to try and play," said Johnson, who has six wins since last year's Masters when he tied for fourth. "Last night, ice, heat, ice. I was up pretty much all night trying to get it ready for today. Worked on it all morning. Obviously, I can make some swings. But I can't swing full. I can't make my normal swing."
Johnson last missed the Masters in 2012, when he suffered a back injury before the tournament.
"It would have been better if it had been a full set up stairs," he said because I would have just slid down it," he said. "The left side of my lower back took the brunt of it."