The Loop
Mastering the Annual Augusta National Putting Contest
Cliches become cliches because they're fundamentally accurate. The Masters' reputation has always been that it rewards the best putting week with a green jacket (see: Olazabal, Jose Maria and Crenshaw, Ben).
Adding more overall yardage and a second cut of rough hasn't changed that. If anything, putting is at even more of a premium. Missing fairways and hitting longer clubs into greens will force players to putt from longer range and less advantageous positions -- on greens that still run 12 on the Stimpmeter even after heavy rain thanks to Augusta National's state-of-the-art SubAir drainage system.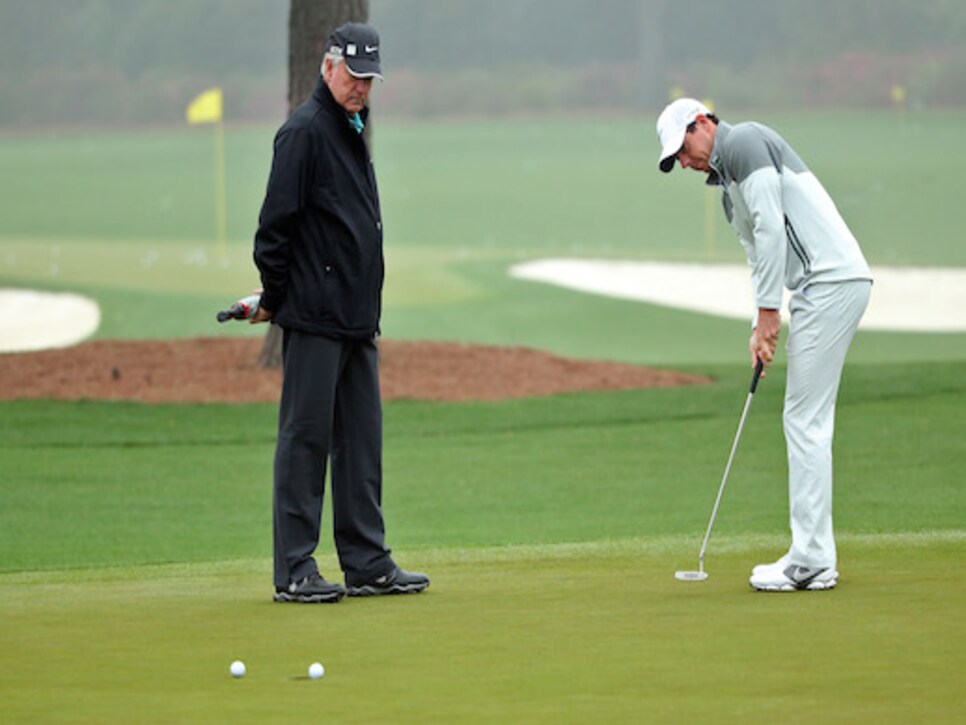 Birdies are the sexiest stat, but the pressure point to watch for this week is three-putt avoidance. That stat is the best at representing a player's lag putting skill. Players such as Rory McIlroy (shown above with teacher Dave Stockton) will spend a majority of their practice time early in the week working on two components of lag putting -- speed control and leave position.
"The standard green at Augusta has multiple slopes that produce tricky double breaks on any long putt," says top Maryland teacher Bernie Najar, who has followed player practice rounds in Augusta each of the last 10 years. "If a player has a 60-footer, he's not trying to make it. He's trying to leave the putt in a position where he has a reasonable chance to make the next one." That means controlling speed and finding the area around the cup that produces a relatively straight, uphill second putt.
"Players will work hard Tuesday and Wednesday both on the course and on the practice green to simulate situations they're going to see when the tournament starts," Najar says. "They're experimenting to find the maximum break and minimum speed they can play and let gravity take over, so the ball dies right around the hole."
There's no magic formula to great speed control, just repetition, attention to detail and square contact between putter and ball. Find the player locked in the best in these areas and he's a good bet to get fitted for a new coat come Sunday.