Marty Dou: Turning Pro At 17
"My dad called the principal and told her I would start leaving school early to focus on golf."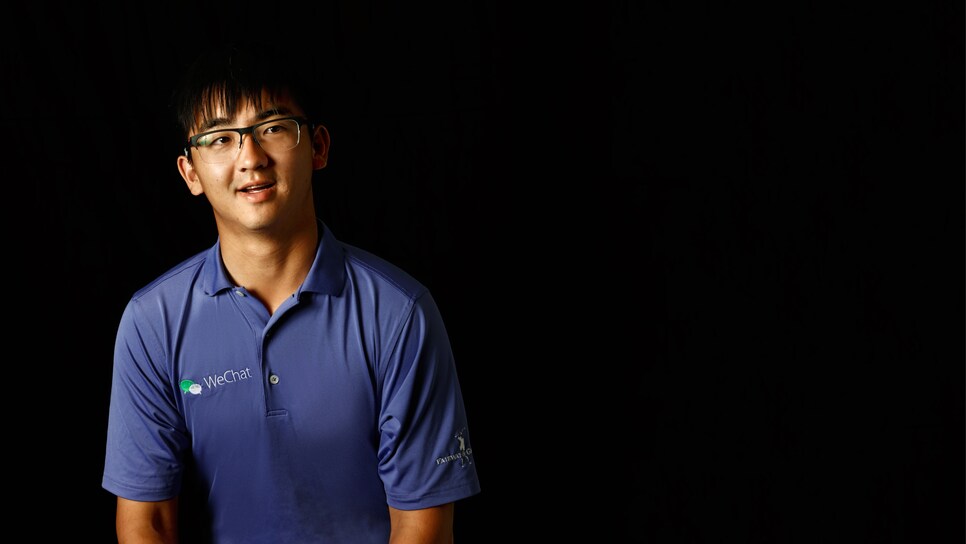 Photo By: Photo by Walter Iooss Jr.
LAST SEASON, ONLY 10 GOLFERS PLAYED ALL 22 EVENTS ON THE WEB.COM TOUR, AND I WAS ONE. Because I didn't have a home in the United States, it was always easier to go to the next event and practice. I really had only two good weeks, but one was a win in Kansas worth $117,000, which helped me get my 2018 PGA Tour card. The depth of competition has been an adjustment, but maybe I can be the first Chinese golfer to win on the PGA Tour.
I DON'T WEAR A HAT, WHICH MAYBE MAKES ME LOOK YOUNGER THAN I AM—21. Several times I've had volunteers tell me to step off a tee box and go behind the ropes. I have to explain to them that I'm playing in the tournament. This would bother some pros, but I find it funny.
MY ENGLISH IS GOOD BECAUSE MY FAMILY LIVED IN VANCOUVER WHEN I WAS AGE 4 UNTIL 9. My sister and I shared a tutor for reading and writing Chinese, but otherwise we were regular Canadian kids. On my first day of kindergarten, the teacher had trouble pronouncing my first name—Zecheng—so she suggested Martin or Marty. I said I liked the second one.
MY DAD WOULD TAKE ME TO A COURSE CALLED GREEN ACRES TO HANG WITH HIS FRIENDS. The range was just a net you hit into, but my dad signed me up for lessons with the pro. We'd roll the ball, kick it and throw it, do anything to make golf fun. It wasn't until we moved back to China, to accommodate my dad's business interests, that I started to take the game seriously.
IN CHINA, YOU'RE LESS LIKELY TO KNOW YOUR NEIGHBORS. At school, kids get the mind-set early that you must succeed at every level to get a good job. When my dad took business trips to America, he'd bring me along and enter me in tournaments like the U.S. Kids Golf World Championship in Pinehurst, N.C. I thought this was a little crazy; I really wasn't that good, but I think he liked the idea of incorporating my hobby into his travel.
CLASSES AT MY SCHOOL RAN FROM 7:30 TO 4:30, WITH TONS OF HOMEWORK. When I was in ninth grade, my dad called the principal and told her I would start leaving school early to focus on golf. The principal was a famous and intimidating educator, but she agreed I should follow my passion.
My friends were jealous when I started leaving after lunch, but hitting bucket after bucket off synthetic mats was my homework. In a way, I was jealous of them. My father hired a driver to pick me up from school and take me to the range, but we could not afford green fees, which were very expensive at all of the courses around us.
LOOKING AT MY PARENTS, YOU MIGHT NOT GUESS WE'RE AN ATHLETIC FAMILY. But my sister also enjoyed shorter days in high school so she could pursue artistic gymnastics. She reached a high level of government support, but she stopped competing and is now enrolled at Columbia University in New York. She was always a bit better at balancing training with academics.
MY GOLF GAME TRANSFORMED IN ONE MONTH WHEN I WAS 14. A golf buddy's dad found a coach in America who could supervise us at Morgan Run Club & Resort outside San Diego. Along with a third buddy, our dads agreed to split the cost of on-course accommodation and the coach's pay. From sunrise to sunset, we played, practiced, worked out in the gym and had short-game contests. The course was kind of short, but I went from shooting 74 or 75 to almost always shooting 67 or 68. My dad flew in and took me to the Callaway Junior World Championship at Torrey Pines. I won my age group. My dad didn't react. At the time, it felt like the greatest achievement of my life, but in time I realized that fields aren't always as strong as they seem.
DURING SCHOOL BREAKS, I WAS RECRUITED TO TRAIN AT THE CHINESE NATIONAL GOLF TEAM BASE IN SHENZHEN. Until this point, the financial burden of my athletic career had fallen solely on my parents. The base was 36 holes with a hotel and some restaurants in the middle of nowhere, but it was perfect. The courses were good, and the grass range was stocked with Pro V1s. I was the best Ping-Pong player among all the men and women golfers, but our physical trainer was unbeatable.
THE INAUGURAL SEASON OF PGA TOUR CHINA WAS IN 2014. I WON TWO AMATEUR TOURNAMENTS, AT AGE 17, AND TURNED PRO. It was a hard decision. I knew many Chinese golfers who'd been on the same path as me, who'd gone on to play college golf in the United States, only to abandon their dream of competing for a living. These guys told me how eye-opening and fun the experience of college was, and that I absolutely had to go. But I know myself. I'd be distracted by parties and school and maybe second-guess my dream, too. You only have your life, so you can't listen to another person's opinion on how to live.
PLAYING FOR PRIZE MONEY DIDN'T GET IN MY HEAD. I just wanted to advance to the next stage. I viewed the success of each tournament in terms of that goal, not the size of my paycheck.
THE TOP-FIVE MONEY-WINNERS ON PGA TOUR CHINA RECEIVE FULL MEMBERSHIP TO THE WEB.COM TOUR, AND IN 2016 I FINISHED FIRST. I was lucky because the next year our tour was canceled because of a lack of sponsorship amid the government crackdown on golf. It was believed many corrupt officials were accepting anonymous club memberships as bribes. As a golfer, it was sad to see courses I knew being torn down.
STILL, BUILDING COURSES LEGALLY WILL BE BETTER FOR THE SPORT LONG-TERM. Recently, I played a course that had crops planted on five fairways, as farmers had reclaimed the land. It looked so strange. We came to the tee and were like, Whoa, where did the hole go? When there's a negative attitude about golf, it's hard for kids to choose it as their sport. For me, what matters is that I got to America when I did, and PGA Tour China is running again.
UP TO NOW, I'VE GOTTEN AWAY WITH PLAYING A HIGH HOOK. But PGA Tour courses require all the shots. My new coach, Cameron McCormick, says I've climbed Mount Everest without oxygen, and now I need to figure out how to survive at the summit. We're working on controlling trajectory and studying my stats so that I can practice efficiently.
SURE, LIFE CAN BE A LITTLE LONELY OUT HERE. My apartment in Dallas doesn't feel like home yet—just a place where I keep my stuff. When I get back from playing tournaments, the first thing I usually do is fire up my computer to play video games.
WHENEVER I HAVE TWO WEEKS OFF, I GO BACK TO CHINA TO SEE MY PARENTS. And my dogs. But this is my dream. I've made it this far because I didn't give myself another option.