Tour Tales
Mark Calcavecchia clears up story of he and John Daly getting fined for playing too fast (yep, too fast)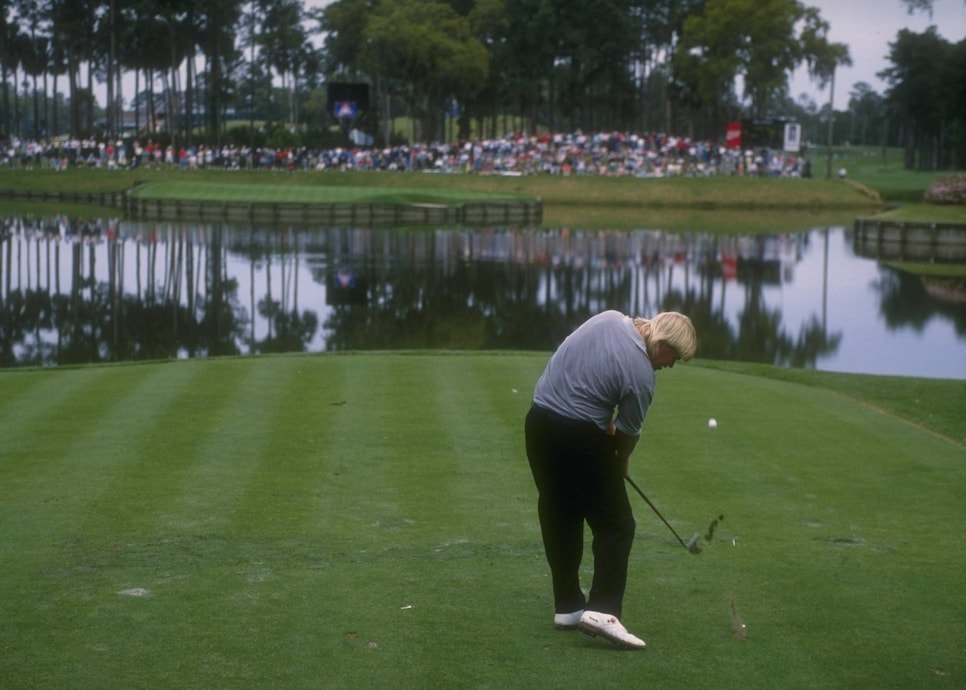 John Daly plays No. 17 during the 1992 Players Championship.
Gary Newkirk
Slow play on the PGA Tour has been a hot topic for some time, causing the tour to implement a new policy last year that includes fines. But did you know the tour once cracked down on a pair of major champions for playing too fast? Yep, that's right. Too fast.
Let's take a trip down memory lane to the 1992 Players Championship when John Daly and Mark Calcavecchia played their final round together in a sporty two hours and three minutes. What was the problem? Apparently, the tour wasn't pleased with the pair's effort as they posted rounds of 80 and 81.
Upon finishing, Daly and Calcavecchia were informed by a rules official they were being cited for conduct unbecoming a professional and subject to a fine. Needless to say, they were not too pleased about that.
''There are guys who are playing in twosomes, and they are going to fine us for fast play?'' said Calcavecchia. ''Put that in the paper. They said we weren't putting forth our best effort."
''I actually hit the ball pretty good,'' Daly said. ''Me and Mark just wanted to have some fun. We wanted to show the fans a good time, and I think they enjoyed it. They didn't care what we shot. They had a good time out there.''
Calcavecchia added the two had played better than the previous day and that they would be appealing. And apparently, they were successful in their struggle for justice. When someone tweeted about the infamous fine on Tuesday nearly three decades later, Calc cleared up the story—and added that he's still ticked that his closing triple bogey cost the duo from recording a sub-two-hour time.
So there you have it. Calcavecchia and Daly were not fined for playing too fast. Nor was Wesley Bryan for racing around the final round of the BMW Championship in under 90 minutes. In other words, don't be afraid to pick up the pace out there.