The Loop
If Marcus Mariota's Oregon beats Ohio State in the national title game, it can thank. . . golf?
Marcus Mariota is a Heisman Trophy winner and the potential top pick in the upcoming NFL draft. Apparently, he owes a lot of that to him not being nearly as good at golf.
Mariota's other favorite sport came up during his press conference ahead of Monday night's national championship game, in which his Oregon squad will face Ohio State. Here's what he had to say when asked about playing golf:
"Golf is a frustrating sport. You can hit a nice shot, then the next one you can hit it in the water. You know, in that sense, it is a little frustrating, but I think that game has allowed us to kind of deal with a little bit of adversity and frustration and has helped us in the long run."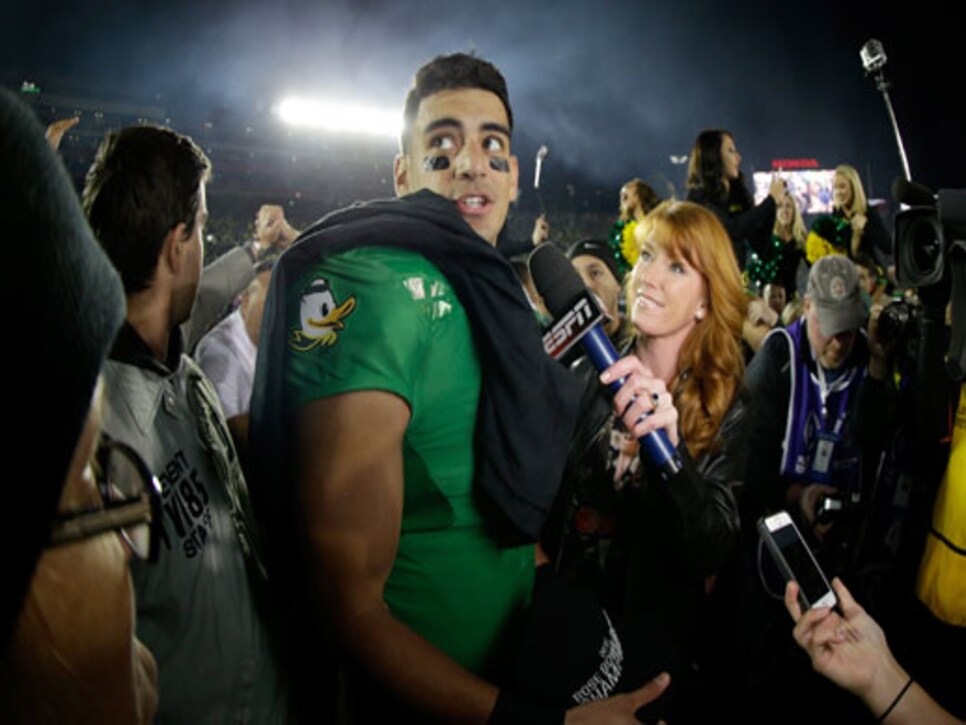 When Mariota says "us," he's referring to Oregon teammates like Hroniss Grasu, with whom he plays golf almost every day in the offseason, according to Cleveland.com. The Ducks' center was asked if he's ever seen his quarterback frustrated and responded, "Yeah, on the golf course," where Mariota's immense football talent doesn't translate.
According to the story, Mariota shows that frustration by walking to his ball after hitting a bad shot instead of getting back into his golf cart. That must be a challenge for a star athlete in charge of arguably the fastest-paced offense in football history.
And maybe it's a trick he learned this past semester. Needing to complete just two more courses to graduate, Mariota only took golf and yoga in the fall. Yeah, we'd say it's been a dream senior year so far.