News
Marc Leishman isn't a big name, but he continues to show he has a big game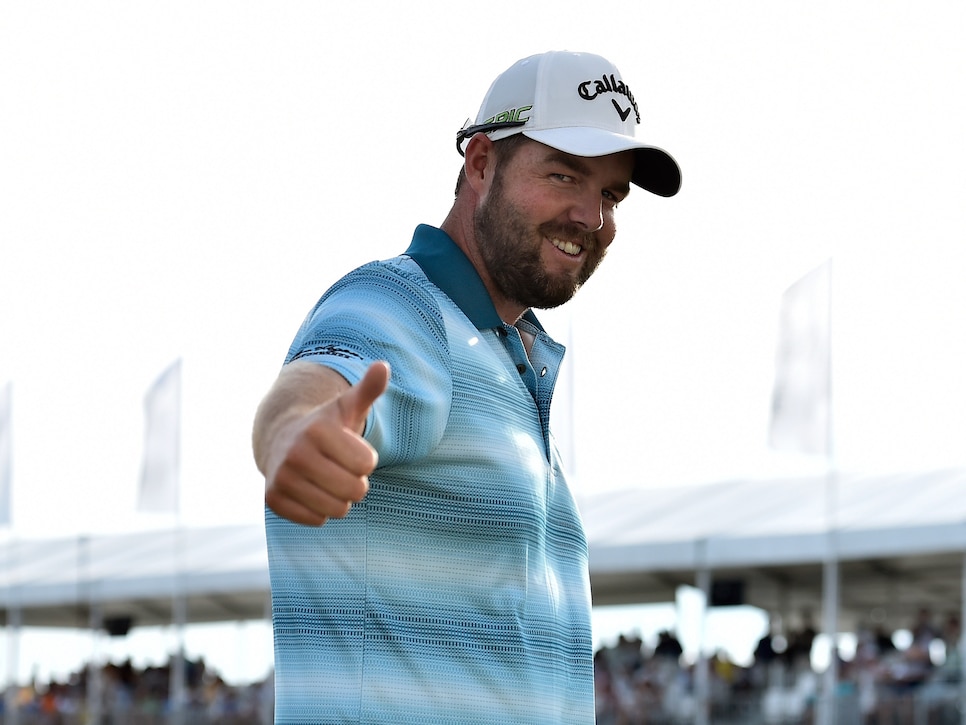 Photo By: Icon Sportswire
Scars are evidence of trauma. Only the person who wears them can determine if they'll allow the pain to be permanent, too. Two weeks ago Marc Leishman suffered a meltdown on the final nine holes at TPC Boston, allowing Justin Thomas to sneak past him and claim the Dell Technologies Championship. Leishman admitted the loss "stung." It took a day for him to shake it off. His clubs spent a week in the garage, untouched.
Yet as his lead began to dwindle Sunday at Conway Farms Golf Club, it appeared that Leishman was about to suffer a deja coup in the BMW Championship. Olympic gold medalist Justin Rose had crept within two strokes, and Leishman, who had led after each of the first three rounds, needed to offer an appropriate response.
"I had a few scars from a few weeks ago," Leishman said candidly. "I was just really, really determined to not let that happen again. Got it done."
Done, and then some. A birdie at No. 15 from 30 feet. Another from 10 feet at the short 16th. And then a capper for good measure from 18 feet at the last. Birdies on three of the final four holes, and the soft-spoken big-swinging Aussie completed a wire-to-wire victory and a second PGA Tour title to his career year.
Thanks to 29 birdies for the week, Leishman, 33, closed with a four-under 67 and a tournament-record 23-under 261 to defeat Rose and Rickie Fowler by five strokes (the margin by which he started the final round out in front) and tied for the third-largest margin in the FedEx Cup Playoffs. He heads to the Tour Championship at East Lake fourth in the FedEx Cup standings and first in momentum with finishes of third and first his last two outings.
Ask Billy Horschel or Rory McIlroy, who won the FedEx Cup in 2014 and 2016, respectively, with big playoff pushes, how important momentum can be in claiming the $10 million prize.
"It was just nice to put four good rounds on the board in a really big event, and backing up what happened to me last week was probably the most satisfying thing for me," said Leishman, who advanced to the Tour Championship for just the second time in his career. "You come to every tournament to try and win it. Especially after last week my game was in a good spot and I felt confident with my game and so, yeah, I had my sights set high for the FedExCup and trying to get into the top-five. If I have another good week next week, who knows what might happen."
Jordan Spieth, the 2015 FedEx Cup champ, shot a Sunday 65 to tie for seventh and retain the No. 1 overall seed, followed by PGA champion Justin Thomas, World No. 1 Dustin Johnson, Leishman and rookie Jon Rahm. Fowler failed to birdie the par-5 18th, closed with a 67 and will go to East Lake in sixth place. The points are reset to give all 30 players at East Lake a mathematical chance, but the top five seeds are the only ones who can capture the FedEx Cup with a Tour Championship win.
Rose, with a bogey at 17, settled for 65 and will start eighth at East Lake.
"That was really important today to go out and shoot a low round," said Spieth, the British Open champion, who is still in the picture for Player of the Year, though Thomas, with five wins, including the PGA Championship, has the edge. "Obviously that was kind of my goal today, to maintain the No. 1 position, and we'll go into East Lake really trying to win the golf tournament and trying not to focus on anything else."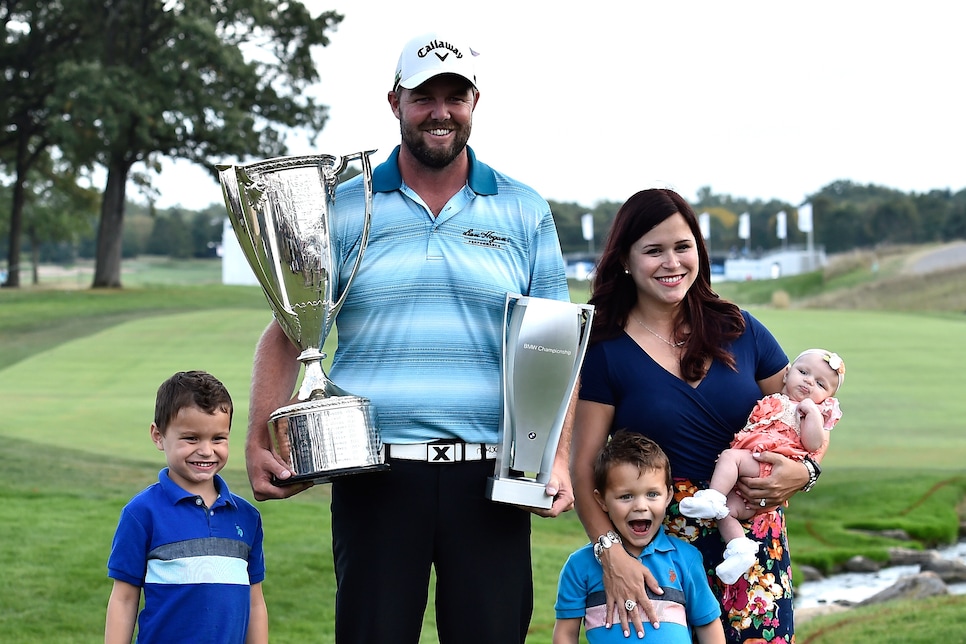 But there's certainly no ignoring Leishman, who moved into the top 15 in the world rankings with his third career victory and second of the year after the Arnold Palmer Invitational in March. In addition to seven top-10 finishes, Leishman was one of just 13 players this year to make the cut in all four majors. His best finish was T-6 at the Open Championship at Royal Birkdale.
"Marc's a world class player now," said Fowler, paired with Leishman on Sunday. "He's got the power, he hits it plenty far. He made plenty of big putts today especially coming down the stretch, made some good swings. He's definitely not someone that you look past. I think maybe that's been the case in the past, but I know us as players, it's never really been that way."
Leishman credits improved driving for his surge this season, but he didn't expect anything like this. "You dream. I thought my game was in a good enough spot but, you know, having one win in eight years, it's hard to imagine winning twice in one year and two big events like they were."
It doesn't hurt that things are more settled off the course. Leishman's timing was particularly rewarding for reasons beyond his bounceback performance. His wife, Audrey, has her own story of recover. She nearly died from toxic shock syndrome two years ago, just before the Masters. Marc wanted to use the BMW Championship to help spread awareness of the illness during what is Sepsis Awareness Month, and he asked his fellow players to wear ribbons on their caps.
Then he left with a feather in his own.
Audrey and his three children were there on the 18th green to help him celebrate. Perfect.
"I've never been one to say I'm going to get to No. 1 in the world or anything like that," said Leishman, who describes himself simply as "a normal bloke." Normal but extremely talented. "I feel like, you know, with the life I live that's probably very hard for me to do that. Don't practice a lot on weeks off. Spend a lot of time with my kids, and I feel like you have to dedicate … not your whole life but you have to work very, very hard. I'm happy doing what I'm doing now with the life I've got and the way I'm playing and all that to be happy with where I am."
Especially considering where he had just been.