News
Marc Leishman backs up 61 with second-round 66, holds one-shot lead over Aaron Wise at AT&T Byron Nelson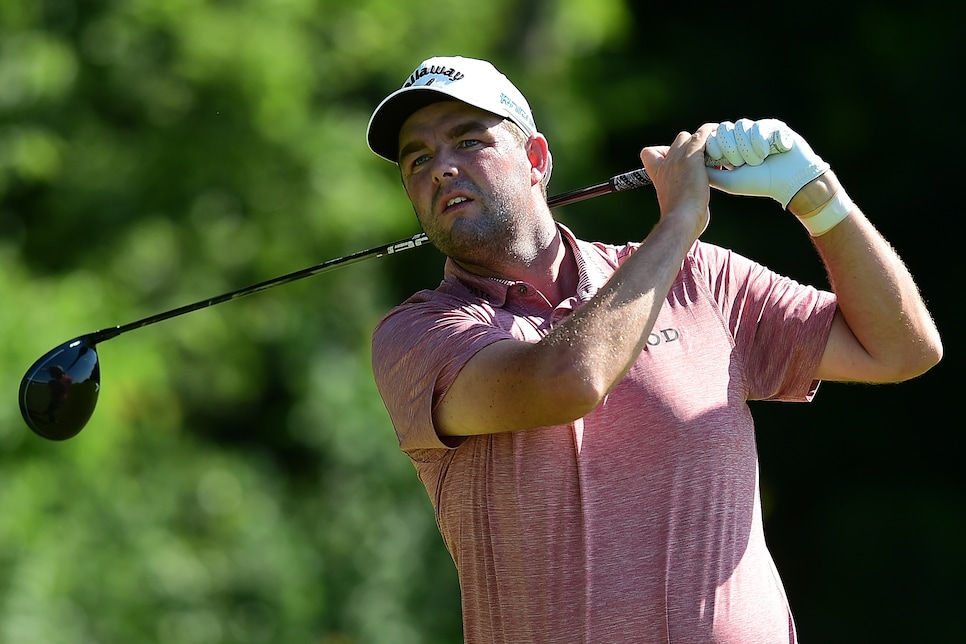 Marc Leishman's record at the Open Championship suggested he would probably fare well this week at Trinity Forest, but not even he could have imagined he'd play this well.
The Australian backed up his career-low 61 with a five-under 66 on Friday, putting him at 15-under 127, his second-lowest 36-hole total in his PGA Tour career per Golf Channel's Justin Ray. It gives him a one-stroke lead over PGA Tour rookie Aaron Wise, who fired an eight-under 63 to get to 14-under 128.
Leishman, 34, has been nearly perfect so far in Dallas, hitting 33 of 36 greens in regulation and ranking first in total strokes-gained and strokes-gained/putting. After making 13 total bogeys last week at TPC Sawgrass, he's made just one his first two rounds at Trinity Forest, and his improvement on the greens has played a large role in that.
"I think just I'm reading them really well and then my speed has been great," said Leishman. "Last week at the Players I hit a lot of really good putts that lipped out and this week they're going in. My speed is a lot better but just being comfortable on the greens. Looking at a putt and knowing that it's going to break a certain way or it's up or downhill."
Last week's T-63 at the Players doesn't look great among a slew of top 10s on his resume already this year, but Leishman was certain it was a step in the right direction, and that some good golf like this was coming soon.
"Actually played really well last week at the Players. I finished 63rd but the signs were actually there. I hit a lot of good shots," he said. "Like I said to my wife Sunday night, I feel like I should have finished in the Top-10 and finished 60th.
"You know, coming here I was confident that -- when you come off a week like that where you played well and got nothing out of it I think, you know, I wasn't -- I was expecting to play well but I wasn't expecting this, I wouldn't say, so it's nice to get off to such a good start and put myself in good spot for the last two days."
Wise, who almost chased down Jason Day earlier this month at the Wells Fargo, will attempt to chase down another Aussie in Leishman this weekend as he gets closer to a breakthrough victory. The rookie made four birdies on his final seven holes on Friday.
"First time I've been in the hunt with something to look back at," said Wise. "I did great two weeks ago and it's just get it going and feeling good about the game. Excited to go tee up tomorrow."
The round of the day belonged to Brian Gay, who posted a nine-under 62 and sits alone in third at 13-under 129. Jimmy Walker and Eric Axley are tied for fourth at 11-under 131.
Adam Scott, who played alongside fellow countryman Leishman, is at 10-under 132 with rounds of 67 and 65, the latter being his lowest round since a second-round 64 at last season's FedEx St. Jude Classic. While his noticeable struggles in 2017 carried over into early 2018, Scott believes he's close to turning the corner, and a T-11 at last week's Players Championship certainly helped.
"I think it's a comfort level more than confidence," said Scott. "I think the real confidence I'm looking for can come with the result this week but comfort level is much better.
Even though I was playing okay I was very edgy going to the course, anxious about what can happen in the round. That's just how my golf was. I played lots of good golf. Doubles, triples quite often this year and it's not fun to go out there. Get a lot of gray hair doing that. Last couple weeks have been really solid and much more calm going to the first tee."