News
Watch Jordan Spieth miss tap-in putt as short-putting woes continue at AT&T Byron Nelson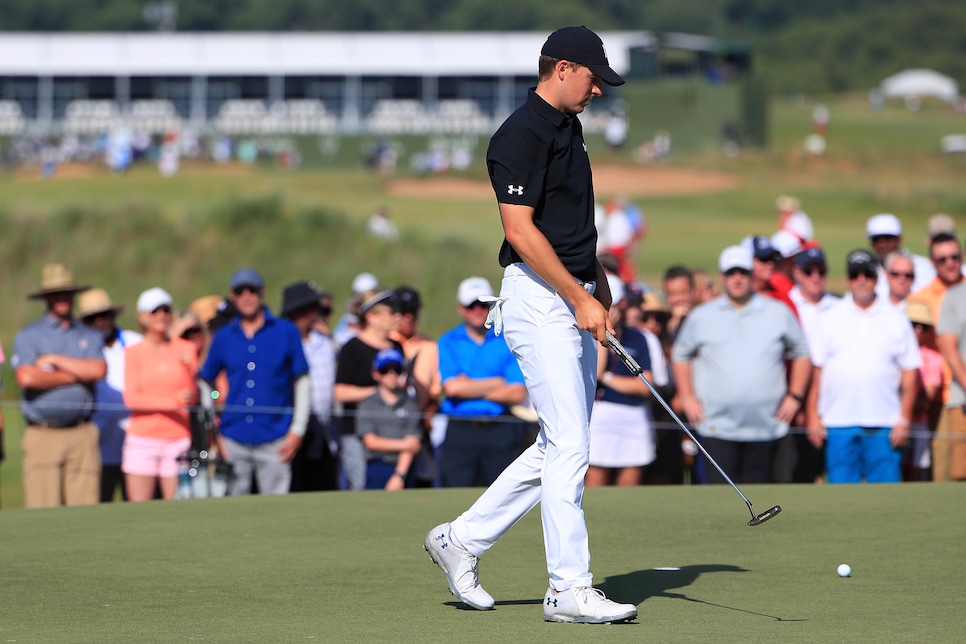 Jordan Spieth's putting struggles were on full display alongside Tiger Woods last Sunday at the Players Championship, most notably at the 72nd green, where the three-time major winner three-putted from five feet for a quadruple-bogey 8. Perhaps a trip to his home course, Trinity Forest Golf Club, for the AT&T Byron Nelson this week would be just what the doctor ordered to break out of his slump. Not quite.
After carding a first-round two-under 69, Spieth was even through four holes on Friday as he lined up a 22-foot birdie putt at the par-4 15th to get into red figures for the round. He missed, and had a routine, one-foot, three-inch tap-in putt left for par. No problem, right? Wrong. Here's what happened next (viewer discretion is advised):
While it feels like we exaggerate Spieth's struggles, considering he could start rolling them in from anywhere at a moment's notice, the stats back it up, specifically on the short ones. If you've watched enough Spieth this season, you've noticed he's missed an alarming amount of putts from what's normally gimme range for the world's best. This season, he ranks 202nd on the PGA Tour from three feet and 191st from four feet. It's when he gets further from the hole that he improves, as he ranks 43rd in putts from 25 feet or more. Overall, he's a distant 200th in total putting, and 183rd in strokes-gained/putting. For comparison's sake, Spieth has ranked 20th or better in that category three of the last four seasons.
Of course, he could snap out of it, although it doesn't appear like this will be the week that happens.
UPDATE: Spieth came back in a big way after this short miss, making seven birdies on his next 11 holes to get to six under on the day and seven under for the tournament. On his final hole, he had a 12-footer for birdie to shoot a back nine 29. Instead, he carded a five-under 31 after three-putting, including another tough-to-watch short-range lip-out:
Oh boy. In retrospect, it's remarkable that Spieth shot a 66 with these two misses, prompting another wild, oddly specific stat from Golf Channel's Justin Ray:
Spieth is at seven under and will definitely be around for the weekend, when he can hopefully start connecting on these putts.