The Loop
Manuel Margot with the catch of the year, decade and possibly the century
You probably didn't even know it, but Game 1 of the American League Championship Series occurred on Sunday night. There are plenty of reasons for that, the first being an epic Seahawks-Vikings game was on and the NFL is king, the second being Game 6 of the NBA Finals which featured LeBron James was on and the third being that the ALCS is a matchup between the Tampa Bay Rays and the Houston Astros. One team that nobody cares about, and another that everybody hates. Riveting stuff.
My salty Yankee tears aside, it's still a matchup worthy of your attention, at least when the NFL isn't on. Game 1 was a crazy-intense pitcher's duel that the Rays eeked out, 2-1, and Game 2 has already featured a three-run bomb and one of the most ridiculous defensive plays of the season. Oh, you didn't realize Game 2 already started? Yeah, us either.
Well, joke's on us. Rays outfielder Manuel Margot has officially made the ALCS impossible to ignore on this dreary Monday afternoon. First, he smacked a three-run homer off Astros pitcher Lance McCullers Jr. in the bottom of the first inning:
Straightaway center field. Talk about a statement dinger. In the very next inning, Margot flashed some leather in right field, proving he's a do-it-all player in a matter of minutes. This may be the catch of the year, decade and century:
What. A. Freaking. Play. Maybe decade and century were pushing it, but it's certainly in the conversation for catch of the year, right up there with Cody Bellinger's home-run rob in the NLDS. Margot covered a ton of ground, battled the sun and secured the catch before taking an extremely dangerous fall. Much like the Derek Jeter catch against the Red Sox many years ago, Margot's fall probably makes the catch look better than it is, but this is still an awesome play. The dude straight up disappeared from the frame: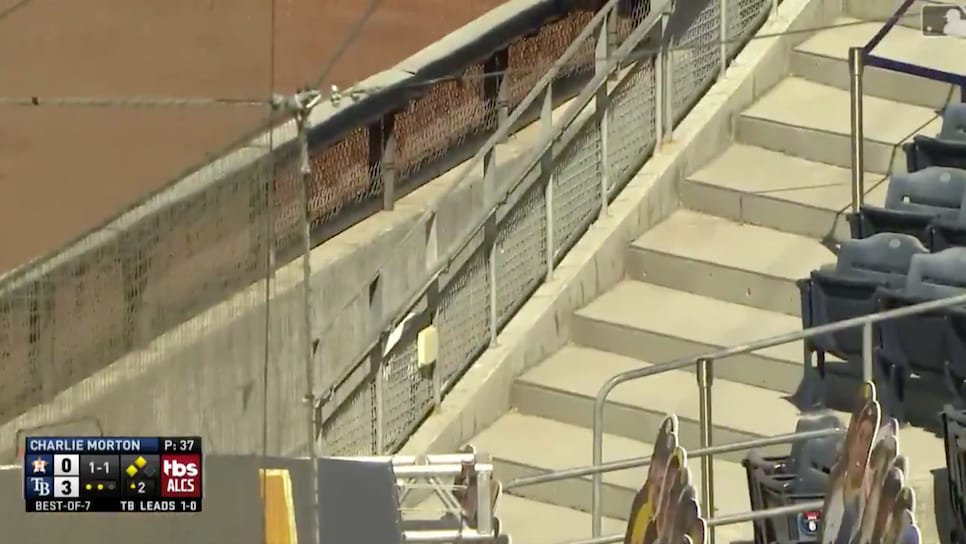 Yep. He gone. Crazy play. That's a six-foot drop off for those wondering:
Iconic stuff. These Rays are no longer screwing around.