The Loop
Manny Machado's dirty play in Game 4 of the NLCS is hardly anything new for him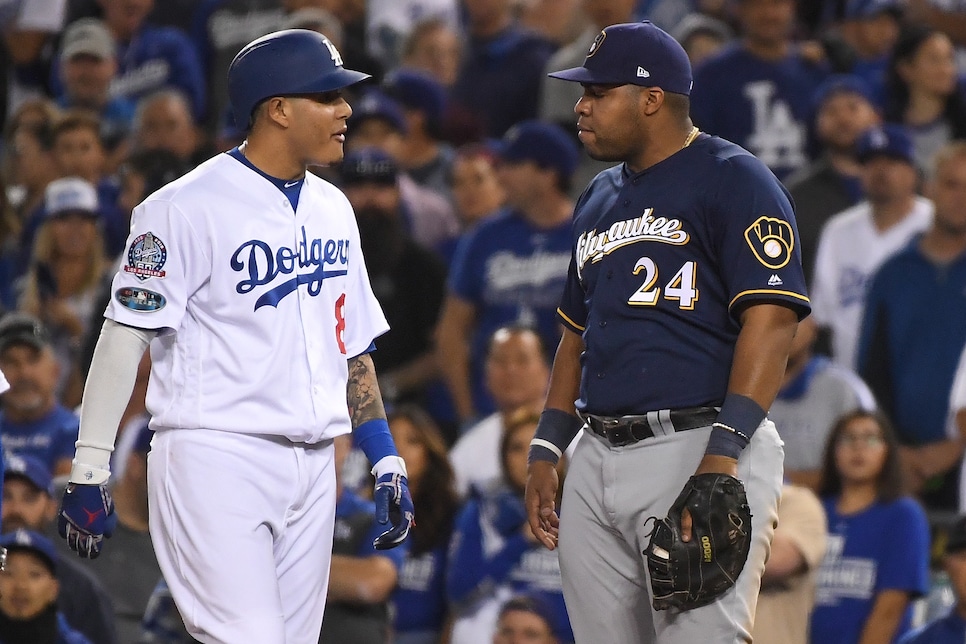 Tuesday night's Game 4 of the NLCS between the L.A. Dodgers and the Milwuakee Brewers was a classic, ending in the bottom of the 13th inning on a Cody Bellinger walk-off single. The Dodgers knotted up the series at 2-2 with the victory, and will have a chance to take back control of the series on Wednesday. Unfortunately, all anyone can talk about is a dirty play from one Manny Machado rather than what actually happened in the game.
The play in question occurred in the bottom of the 10th, when Machado grounded out to third base and clearly kicked Brewers first baseman Jesus Aguilar on purpose as he ran through the bag:
The move lead to both benches "clearing," also known as absolutely nothing occurred, but still a clearing nonetheless. Afterwards, Brewers outfielder Christian Yelich called it a "dirty play" from a "dirty player." Yelich was hardly alone in his assessment of the shortstop:
Absolutely NEED to hear from the 7-percent who said "No" to this poll, and the 5-percent who are "unsure" might actually be even dumber. There has never been a more intentional move in the history of baseball, but that's nothing new for Machado. Let's take a little trip down memory lane, shall we?
Ahh yes, the old "he tagged me too hard so I need to throw my helmet down" and possibly cry play. Nothing to see here. This was Machado's response just two games later back in June of 2014:
Hard slide, no big deal. Not like he would ever do it again.
I think sliding hard, intentionally kicking people, throwing bats in their direction, etc., is Machado's idea of "hustle," which, as we learned in this interview with Ken Rosenthal, is something he's not all that interested in:
Have to admire the honesty, no matter how stupid of a quote that is to float out into the world. Machado is a great player, and almost none of this will affect the gigantic contract he will 100-percent receive this off-season (please Brian Cashman, I'm BEGGING you not to do it), but these incidents should be a bit of a red flag. Again, they won't be. We do know one team he definitely won't be getting signed by: