Approach Shots
Make Your Arms "Disappear" To Stuff More Short Irons Like Rory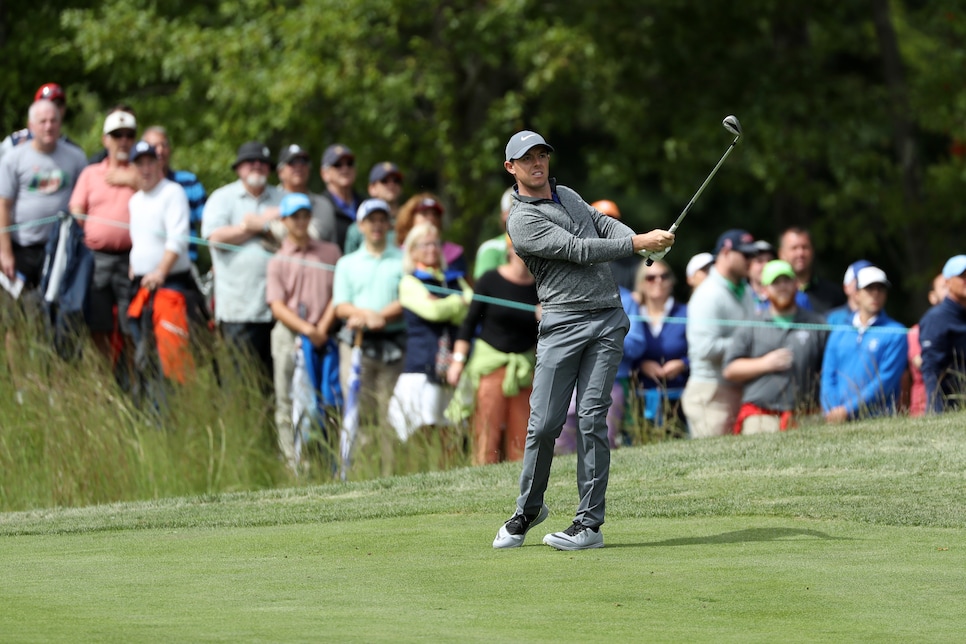 All of the technical chatter about Rory McIlroy had been centered on his admittedly bad putting, but one thing that got lost before the Deutsche Bank was McIlroy's indifferent short iron play in 2016.
One piece of the putting problems undoubtedly came from ranking at or near triple digits on tour in proximity from 100 to 150 yards. If you're 20 feet away, you're not making as many putts as the guy who is 10 feet closer--no matter who you are.
But after a rocky start in Boston, McIlroy found something, making five birdies in his first nine holes on Monday and coming from six shots behind to beat Paul Casey and win for the first time on the PGA Tour since last summer. Part of it was a grip adjustment with his putter, shifting his right hand more to the top of the grip to keep the face more square through impact. But just as important was hitting more shots close and getting reasonable birdie chances for his new-found putting touch. Four of his seven Sunday birdies came from inside ten feet.
Top New York teacher Michael Jacobs says McIlroy's best short iron shots come when he's giving his arms room to work through impact the right way. "Rory is known for his big power, but when you watch his best iron swings from down the line, you see why he hits those shots great," says Jacobs, whose X Golf School operates at Rock Hill Country Club in Manorville, on Long Island. "Just past impact, his arms disappear from the frame. His posture has stayed so solid, and he has so much room for his arms to do what they're supposed to do. They're moving low and around his body. Most people are trying really hard to swing their arms down the line, toward the target, so they can steer the ball toward the hole. That's the opposite of what you want to do."
With the help of a friend, make some video of your own swing from down the line and check where your club and arms are when your hands get to waist high on the follow-through. If you can see them, you're not taking the right path.