59 Watch
'Golfers being golfers': Mackenzie Hughes has a laugh about his second close call for a 59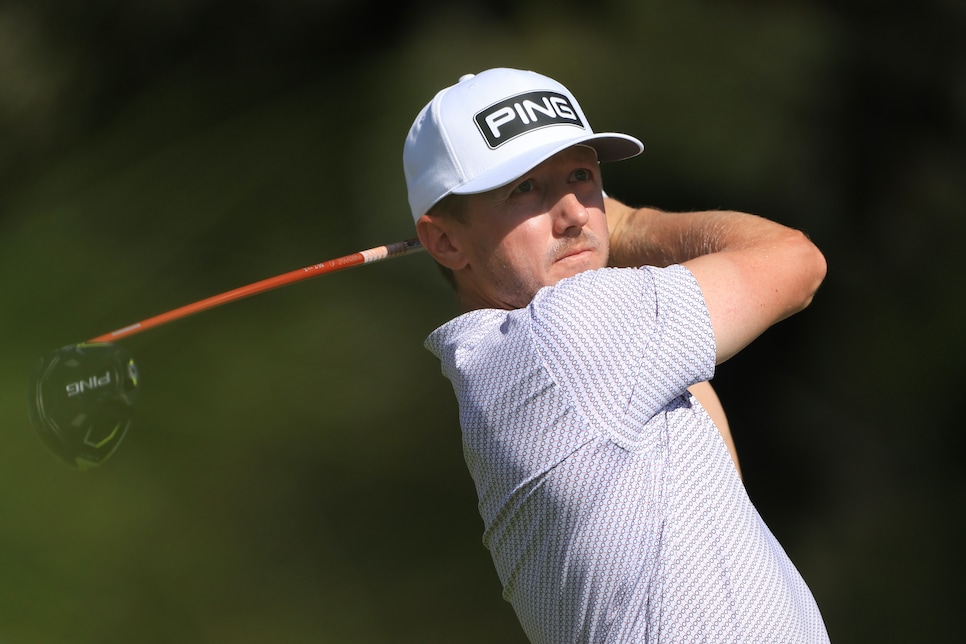 Mackenzie Hughes hits a tee shot in third round of RSM Classic.
Sam Greenwood
If a 59 is going to be shot on the PGA Tour, the likely tournament is the RSM Classic. Among the nine scores of 60 or better on tour over the last two seasons—an eye-opening number in itself—three of them have come on the par-70 Sea Island Golf Club's Seaside Course.
The man most likely to produce golf's magical number? Apparently, it's Mackenzie Hughes.
The 32-year-old Canadian already had one near-miss of 59—at the 2020 Travelers Championship—on his resume heading into this week's RSM. Then, in Saturday's third round of the season finale, Hughes poured in eight birdies and an eagle, shot four under over a three-hole late stretch, and had a 16½-foot birdie putt on the 18th hole to score 59.
Recounting later that he was disappointed to have a dead-straight putt, Hughes watched his ball trickle right and avoid the hole, so he had to settle for a 10-under-par 60 that put the 2013 winner of the 2016 RSM only two shots off the lead of rookie Ludvig Aberg.
Just getting that opportunity is an incredibly rare feat. The PGA Tour said only Hughes and Sebastian Munoz, who shot 60 in Round 1 of the 2021 RSM, have had multiple rounds of 60 in the past five seasons. (Tyler McCumber is the other player to shoot an RSM 60, in 2021.)
For this round, Hughes was impressive with every club, hitting 10 fairways and 15 greens while needing only a field-best 25 putts. Down the stretch, Hughes made a 24-foot eagle putt at No. 15, and birdie putts of 10 feet and 12 feet, respectively, at 16 and 17.
"I putted nice, but I also drove the ball well," Hughes said. "I was in just about every fairway, but in good positions even if I wasn't in the fairway, so driver was definitely strong. I probably give the nod to the putter. I gained five strokes putting [on the field]; it's a pretty good day."
Of the putt for 59, Hughes said he simply misread it. "It was on the spine and it was super straight, and that's typically the putt I like the least," he said. "I'd rather it break a foot than be straight. For whatever reason, it's just hard to see straight when I putt."
Naturally, Hughes was asked to compare this 60 to the one he shot at Hartford three years ago. In that round, he started on the back nine and came to the short ninth needed a birdie for 59. He bombed a driver to only 90 yards short of the flag, but said he got an awful lie in the worst rough on the course.
"I just happened to kind of catch a bad break there and like total guess from 90 yards," Hughes recalled. "But with the pin being in the back, in the rough, it would have been a good opportunity to get up and down from there for 59."
Hughes could only chop out in giving himself a 40-foot birdie putt for 59 and missed.
"I don't know," Hughes said. "I kind of think I like them both and I probably feel a little bit of disappointment on those last holes, but that's golfers being golfers, right? Disappointed with a 60."
We should all be so troubled.