The Loop
Lydia Ko's birthday fail, a PGA Tour idea flops, and a (tearful) look back the 10-year anniversary of Anthony Kim's legend being born
Welcome to another edition of The Grind, where after watching more of the NFL Draft than we'd like to admit (baby duty), we shudder to think what our combine stats would be. Forty-yard dash? I might post a sub-seven seconds if I were running from my car to the first tee. Vertical jump? Mark me down as Phil Mickelson-esque. Bench press? LOL.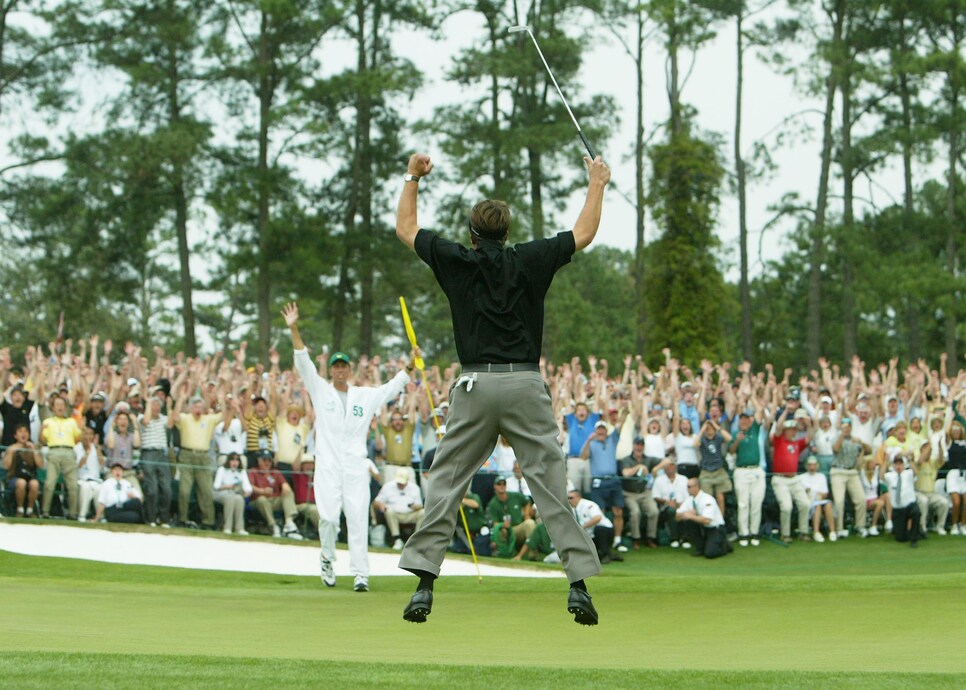 But with the draft and its never-ending stream of takes ending Saturday, that left all of Sunday to focus on golf (and celebrate the haul my New York Giants came away with). Here's what else has us talking.
Billy Horschel/Scott Piercy: Obviously, this tandem had to play well to win a team event, but to shoot bogey-free in foursomes (alternate shot) under final-round pressure is pretty special. Look at how in-sync they were: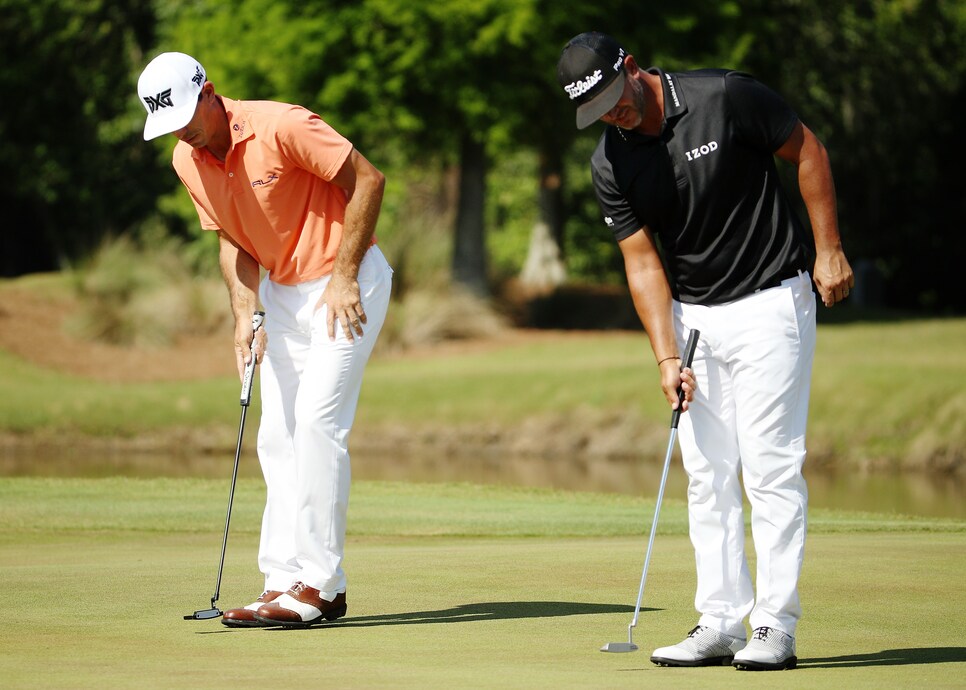 Competing in that format puts a strain on a duo right down to the last shot as evidenced by that shaky par putt Piercy rolled in. Well done, boys. There might be a few squads copying your "Young Forever" walk-up music next year.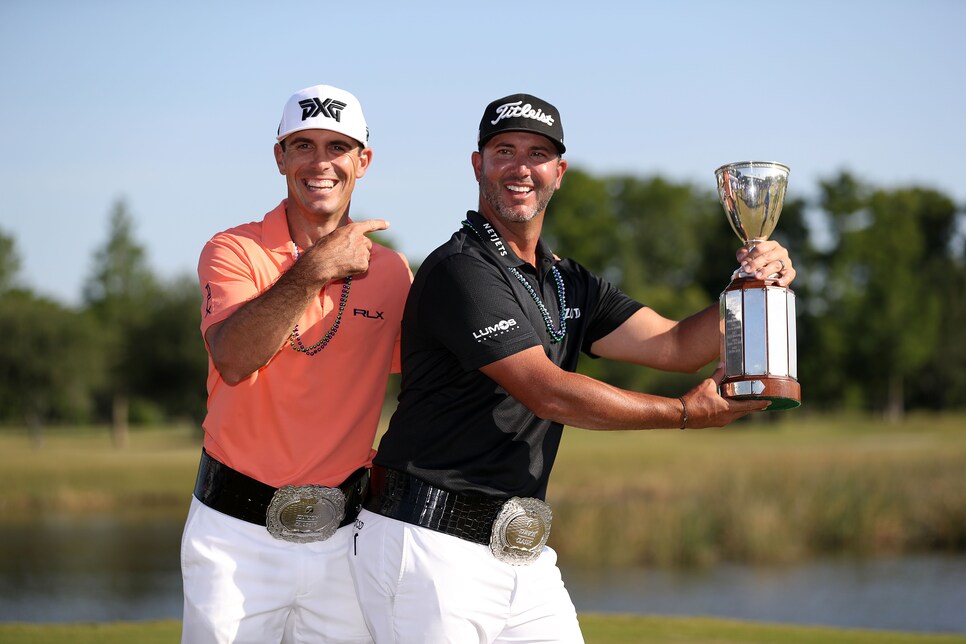 Jose de Jesus Rodriguez: What a tremendous story involving someone who by all accounts is the sweetest man you'll meet. Just look at the way he talks to his golf ball!
Now a 37-year-old rookie on the Web.com Tour after leading the PGA Tour Latinoamerica money list last season, Rodriguez picked up his first win on U.S. soil—beating ballyhooed Maverick McNealy head-to-head on Sunday—at the United Leasing & Finance Championship, which all but guarantees The Shrimp will play on the big tour next season. Not surprisingly, he got a touch emotional after, especially when referencing his "dad in the sky":
Did it just get a little dusty in here?
Lydia Ko: Can you be "BACK!" and have "vintage" moments when you're still years away from being legally allowed to rent a car in this country? Ko had golf fans posing such questions after breaking a 21-month drought during the week she turned 21 (how's that for symmetry?). And she did so with the new leader in the shot-of-the-year category, a playoff 3-wood that nearly went in for an albatross and set up a tap-in eagle to win the LPGA MEDIHEAL (brilliant marketing with the all-caps tournament name). Let's see this beauty again:
Yep, Lydia Ko is BACK alright, and the rest of the LPGA could be in trouble. Provided she actually sticks with a coach/caddie combo this time.
Lydia Ko's 21st birthday celebration: It didn't all go according to plan last week for Ko, who went out to party on her big day and … forgot her ID. "They couldn't serve me," Ko told Golf Channel. "Maybe I'll have a shot after this Sunday." Pro tip, Lydia: Get a wallet that has a place for your ID. Preferably one that isn't velcro, either. You can afford it.
Walk-up music: In theory, it was a good idea. In fact, I thought it was a great idea, a harmless gimmick that got people talking and added a little fun to a tour event. But boy, did the PGA Tour butcher this. First of all, it's WALK-UP music, meaning you should hear it as players WALK UP to the first tee, not once they're already standing there. That made things incredibly awkward, unless guys had something rehearsed like Ben Crane and Alex Cejka. Kudos to them for going all out:
And why was it only on the weekend? I know they went off split tees on Thursday and Friday, but they couldn't figure something out? With Harold Varner and Robert Garrigus missing the cut, we were deprived of seeing them get introduced to "Ebony and Ivory"!
Jason Dufner's NFL Draft take: Also one to make quick, strong NFL Draft takes (Dufner thought Johnny Manziel was a lock to be a superstar … whoops), the runner-up at the Zurich wasn't thrilled with his Browns' selection of Baker Mayfield with the first pick:
C'mon, Duf, I know you're upset the Giants got Saquon Barkley and that Baker is no Kyle Lauletta (who is?), but the reigning Heisman winner is a total stud. And no QB in the draft can touch his accuracy!
The PGA Tour heads to Charlotte for the Wells Fargo Championship, AKA that tournament at Quail Hollow, which hosted last year's PGA Championship and ends with THE GREEN MILE. It's a cool name and all, but I actually did the math on holes 16-18 and 1,223 yards is actually more like three quarters of a mile. Just saying.
Random tournament fact: This is the 10-year anniversary of Anthony Kim (Remember him? Of course you do!) winning his first PGA Tour event here, when he blew away the field in 2008. Later that year, Kim's legend grew exponentially as he led Team USA in a dominant Ryder Cup victory. With all due respect to Patrick Reed, there might be a different Captain America in golf right now if this guy was still playing: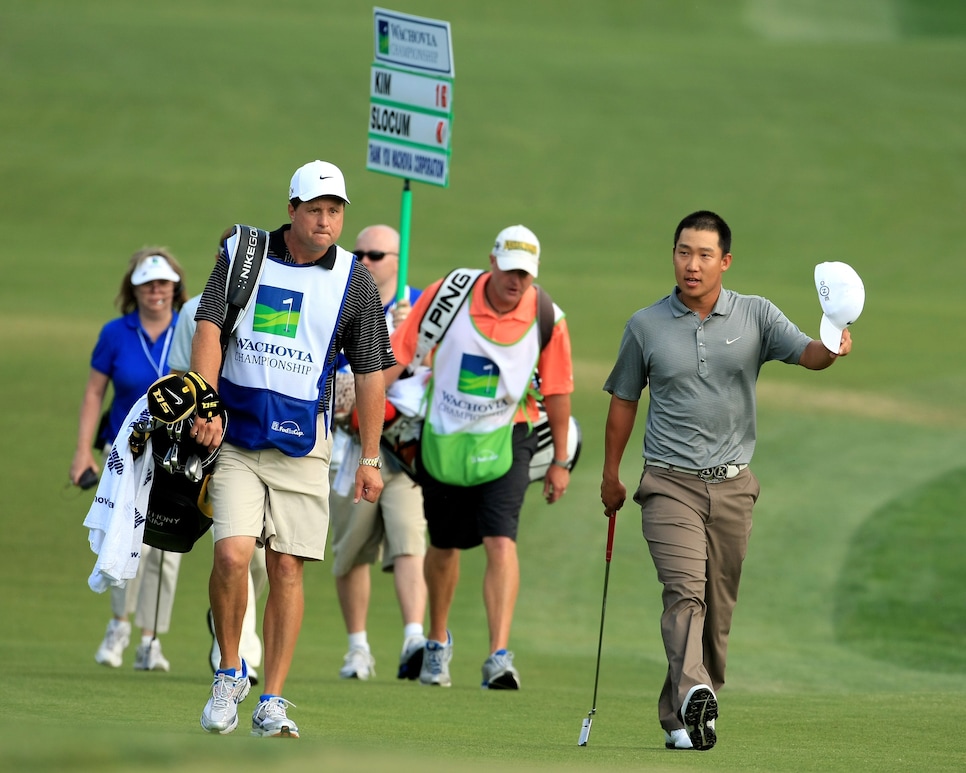 Miss you, AK. Miss you every day.
RANDOM PROP BETS OF THE WEEK
— Anthony Kim will win another PGA Tour event: 1 MILLION-to-1 odds
— Anthony Kim will wind up as a head pro somewhere: 10-to-1 odds
— Anthony Kim and Tiger Woods teaming up at next year's Zurich Classic would break the Internet: LOCK
That's amazing. Also, I wish Ron tweeted more.
ARCHIVE PHOTO(S) OF THE WEEK
Bless you, Luke Donald, for sharing these gems:
I especially love Lee Westwood and Ian Poulter going with the mobster look. And Westy really took that whole UPS sponsorship seriously, huh?
VIRAL VIDEO OF THE WEEK (ON-COURSE DIVISION)
Bubba Watson and Matt Kuchar gave us the oddest celebration we've ever seen by slapping each other in the face after making birdies. Seriously.
Isn't this backward? Shouldn't the person who made the birdie get to do the slapping? Anyway, they get an 'A' for creativity. That's one way to avoid getting made fun of for another failed golfer high-five.
VIRAL VIDEO OF THE WEEK (OFF-COURSE DIVISION)
Remember that funny letter Thomas Bjorn shared last week from a weekend hacker who withdrew his name from consideration for a Ryder Cup captain's pick? Well, Bjorn went to visit the guy at his house—and he brought the Ryder Cup. Pretty cool.
I'm drafting a similar letter to Tiger Woods regarding the 2019 Presidents Cup as we speak …
VIRAL VIDEO OF THE WEEK (TRICK-SHOT DIVISION)
Speaking of getting creative, this guy went viral with a new way of grilling:
What a great video, and what a great relief that grilling season has finally arrived here in the Northeast.
THIS WEEK IN PGA TOUR WAGS PUBLIC DISPLAYS OF AFFECTION
While Brooks Koepka returned to work on the PGA Tour, his girlfriend continued to model:
And another week, another tropical trip for Paulina Gretzky and Dustin Johnson:
Trust us, DJ was there, too.
"I figured this was a good opportunity to slap Bubba in the face. Everybody wants to do that." —Matt Kuchar is a savage.
THIS WEEK IN TOUR PROS ARE JUST LIKE US!
Apparently, Greg Norman cleans his own kitchen counters:
Of course, Greg's kitchen is probably bigger than 99 percent of the houses in this country, but we appreciate the effort.
Brandel Chamblee announced he'll tee it up at a Senior British Open qualifier this summer and explore playing on the senior tour. Good luck, Brandel. Golf Twitter will be waiting. … Tony Romo missed advancing in a local U.S. Open qualifier by six shots for the second season in a row. On the bright side, Team NFL could still use the retired QB in the new Ryder Cup-style event vs. the NBA this summer. … And finally, Matt Wallace couldn't convert a 54-hole lead at the European Tour's Volvo China Open. But can you blame him after having to see this scary sight on his way to the first tee?!
That's like a black cat crossing your path times 100.
RANDOM QUESTIONS TO PONDER
Which PGA Tour stars do the most household chores?
Why didn't any teams at the Zurich wear matching outfits?
Why do I always have to run to make my train in the morning?