The Loop
Let's all laugh at these brutally bad NFL Draft Day takes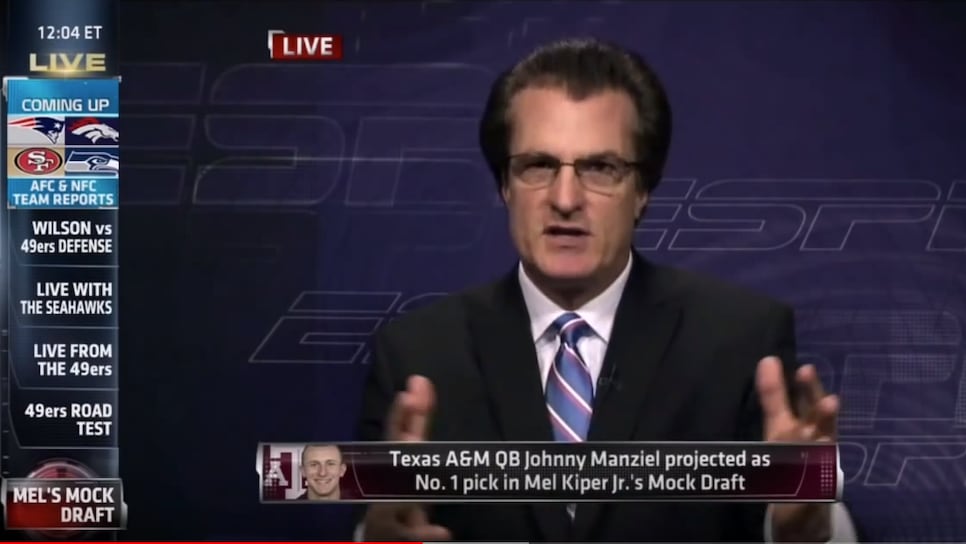 The NFL Draft always produces its share of busts, but the fallout for those affected isn't distributed evenly. Coaches lose jobs, owners are stuck paying off awful contracts, and fans are left devastated (Thanks a lot, Ron Dayne). Meanwhile, the so-called "experts" who were on board with these botched selections simply move on to next year's draft class, largely get a free pass for their failures. But. . . not today! With the 2018 NFL Draft just hours away from starting, let's look back -- and laugh -- at some brutally bad draft takes through the years.
We'll start with ESPN's Merril Hoge and Todd McShay both thinking Brian Brohm was the better QB prospect than Aaron Rodgers. Brian Brohm!
But they weren't alone. A local Wisconsin TV reporter also said the Packers would be "foolish" to take a quarterback that year.
Here's Sports Illustrated's Paul Zimmerman, AKA Dr. Z, roasting the Miami Dolphins for selecting Dan Marino in the 1983 NFL draft:
Of course, fans don't know any better. This video of disgruntled Texans supporters after the team picked J.J. Watt is gold:
But back to the prognosticating pros. No one is more synonymous with the NFL Draft than Mel Kiper Jr., who has provided us with some memorable misses through the years. Here are a couple real doozies. First, Mel predicting JaMarcus Russell would become an "elite" quarterback and comparing him to John Elway (LOL):
And projecting Johnny Manziel to be the first pick of the 2014 NFL Draft:
Russell played as many full seasons as Elway won Super Bowls, and Manziel fell to No. 22 and was out of the league two years later. Woof.
We recognize it's a tough gig, but if you're going to be paid the big bucks, you've got to take the criticism for bad takes. And there have been a lot, in particular for Kiper. Like when he said Andre Wadsworth was the next Bruce Smith and that he was a better pro prospect than Peyton Manning and Charles Woodson (Unfortunately, there's no video). Or the time he promised to retire in eight years if Jimmy Clausen wasn't "a successful NFL quarterback." Well, guess what, Mel? Time's up.