News
Luke List, Jamie Lovemark tied for the lead at the Honda Classic, Tiger Woods four back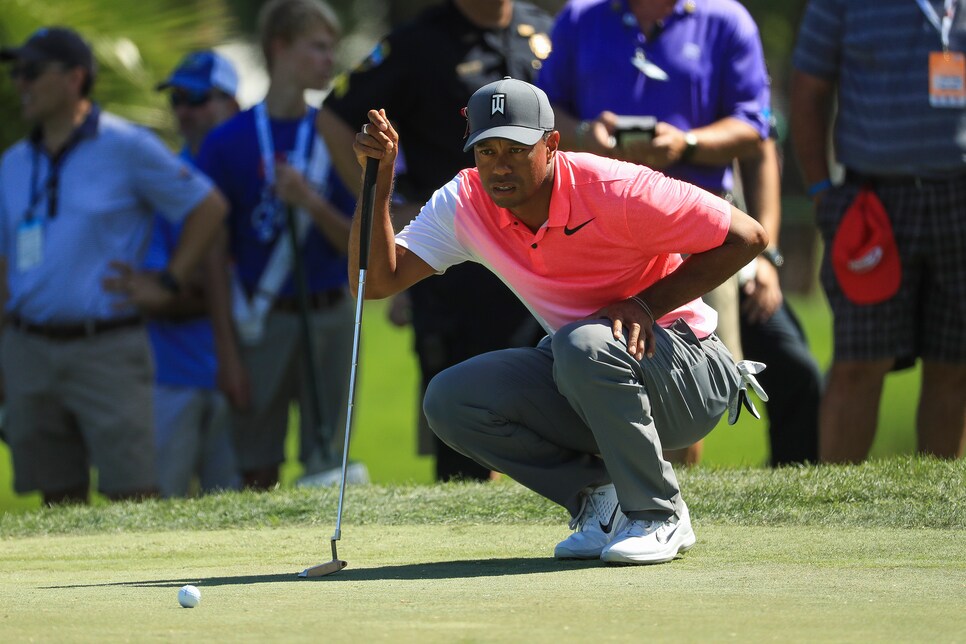 Sitting at one under for the tournament through 14 holes of his second round, the Tiger Woods bandwagon reached full capacity, with the 14-time major champion just two shots off the lead at the Honda Classic. Then, PGA National's famed "Bear Trap" happened, as Woods dunked one in the water at the par-3 15th and made double bogey, effectively emptying that bandwagon in one swing. A three-putt bogey at the par-4 16th made matters much worse.
But Woods picked up some late-round momentum in an unlikely spot at the par-3 17th, knocking a 5-iron to 12 feet and burying just the eighth birdie the hole yielded on Friday, producing a huge roar from the crowd. A par at the 18th gave him a one-over 71, putting him within striking distance heading into the weekend at one-over 141, four back of Luke List and Jamie Lovemark.
"Overall it was a good grind out there, it was tough, tough to make putts out there, but the key is to keep hitting the ball on the green and keep getting G-I-R-s and keep giving myself looks at it and I did that for most of the day," Woods said.
For the first 14 holes he did all of those things well, hitting eight greens in regulation and picking up two birdies along the way. When he did make a mistake, he was able to recover, most impressively at the par-4 11th, where he saved par by getting up and down from 95 yards. Woods, who has still yet to break 70 since his return, has some work to do on the weekend to catch Lovemark and List, who share the lead at three-under 137. List's four-under 66, which he posted early this morning, ended up being the low-round of the field on a day that was highlighted by difficult conditions, including high winds and firm greens.
"If you hit fairways and greens, I know it's the old boring adage, but if you can do that, you can score out here" said List, whose back-nine 32 was five strokes better than the field average of 37.4, per Golf Channel's Justin Ray.
"I was able to hit more fairways today than yesterday which helped and I was able to control my irons coming into greens. You just have to pick your spots. It's really challenging. You know you're going to make some mistakes and you have to be okay with that."
Lovemark followed his opening round 68 with a one-under 69 that featured four birdies and three bogeys. Any other week that likely places him in the middle of the pack through 36 holes, but this week is has him on top of the leader board, something he didn't even expect.
"It's crazy. I would probably take anything under 71 most days. It's really hard with the wind. I thought starting the week it might be 7-under might win but it might be less than that," he said.
"Won't take many more under to win this tournament. I would definitely sign up for a 6-under right now and take my chances. It's just a tough course. It's a stacked leader board. One swing out here can cost you three shots."
Among a group just one back are Webb Simpson (72) and Tommy Fleetwood (68), who went in opposite directions on Friday but find themselves tied at two-under 138. Thomas Pieters, Louis Oosthuizen, Daniel Berger and Justin Thomas are at one-under 139.