Aberg's ascent
Ludvig Aberg was on Luke Donald's radar early, then the young Swede delivered late to secure a Ryder Cup spot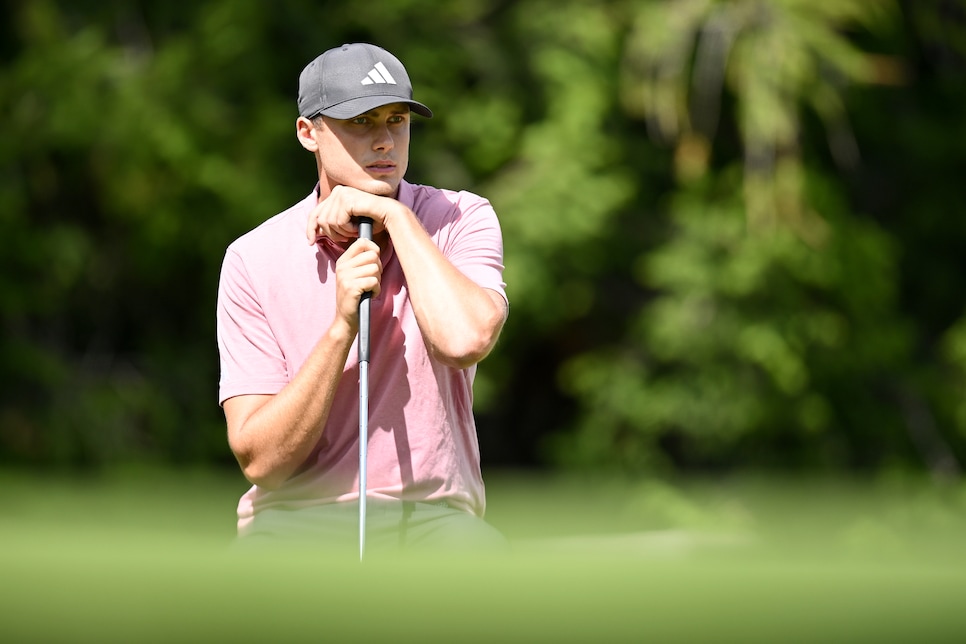 Europe's newest Ryder Cup player, Ludvig Aberg, turned professional just three months ago. But the former Texas Tech business marketing graduate has been acting and playing like a pro for a lot longer. Eight months ago, as a reward for topping the PGA Tour Univeristy Velocity Global ranking in the fall, the 23-year-old Swede teed it up in the DP World Tour's Dubai Desert Classic—accompanied by his swing coach and his manager.
An opening 65 at the Emirates Golf Club promised much, but it proved a false dawn. By Sunday, having failed to break par in any of his next three rounds, the world's No. 1-ranked amateur had subsided to a T-70 finish, 16 shots behind eventual champion Rory McIlroy.
Still, Aberg's presence and the obvious strength of his game did not go unnoticed.
"I first heard of Ludvig when he played in Dubai," says European Ryder Cup captain Luke Donald. "He was drawn alongside [vice captain] Edoardo Molinari that week, and he let me know how impressed he was with this young guy from Sweden. Edoardo immediately saw how good he was. And it was my job as captain to keep my options open for anyone to make the team."
That Aberg should immediately attract attention at the highest level wasn't exactly a shock, of course. Even during COVID, "marooned" in his hometown of Eslov, he stood out from a shivering crowd. During the pandemic, Aberg won twice on Sweden's Nordic League, beating a host of DP World and Challenge Tour players.
"COVID wasn't too bad in Sweden, at least in terms of how much golf we could play," Aberg said. "I came home in March 2020 and played almost every day. By the time the Nordic League got going, I was ready to go. It was probably the first time I realized I was good enough to win events with pretty good players in the field. That's important knowledge. You never really know for sure until you've done it. So for me to win was pretty cool. It was certainly a big boost to my confidence."
With that confidence has come maturity. While most observers are quick to state their admiration for the distance Aberg can launch drives, it is the calmness with which he goes about his business that is perhaps the most vivid lasting impression. Certainly, right from the opening tee shot Donald was impressed when they were paired together for the first time in the PGA Tour's Rocket Mortgage Classic in June. Indeed, it was there that the prospect of making the Ryder Cup first crossed Aberg's mind.
"The first time it really hit me was when I played with Luke in Detroit," Aberg said. "I ended up playing pretty well those two days. But, to be honest, I feel like I've done a pretty good job of not thinking about the Ryder Cup too much. It's always been there and it's always been a motivation for me. Growing up in Sweden, you want to be part of these teams at some point during your career. But I didn't realize this was going to be this quickly. I've enjoyed the challenge. I've enjoyed the kind of journey to get to the team."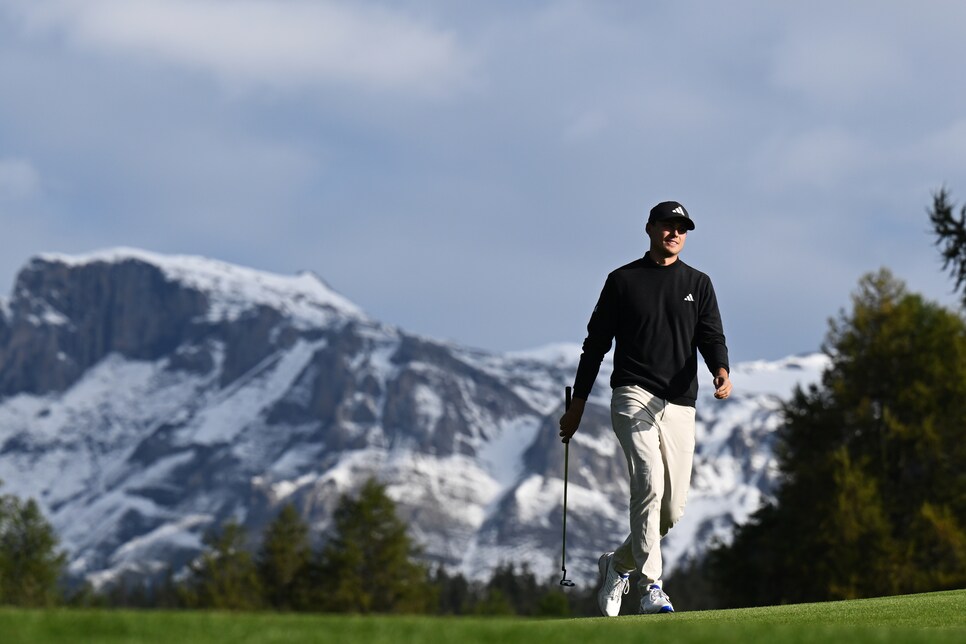 "When I played with him in Detroit he was a cool nine under through 16 holes like it was nothing," recalls Donald. "He just went about his business. He made everything look very simple. He plays with good speed and doesn't overcomplicate anything. He and his caddie seem to have a good thing going. And he hits a lot of quality shots. I could see right away that a lot of good things were going to happen for this kid.
"The first drive there was on a tricky par 4 that doglegs left. Ludvig hit it absolutely on a string on the correct line. It wasn't easy for him. I've played with a lot of contenders this year and some have not played that well with me looking at them. But he didn't have any problem."
Still, although he was doing nothing but impressing those that matter most in a Ryder Cup context, it is the last two weeks that clinched Aberg's spot in the 12-man squad that Europe hopes will regain the trophy from the Americans at the end of this month. After a T-5 finish in the Czech Masters, he won the European Masters "up the mountain' at Crans-sur-Sierre in Switzerland. As Donald tells it, that maiden DP World Tour victory was what clinched Aberg's seat on the plane to Rome.
"In Detroit I didn't see any real weaknesses in Ludvig's game," says the captain and former World No. 1. "He's had good results and rounds where I would have expected him to do better. But he has also been amazing in certain tournaments. He knew he had to perform at a very high level over the last two weeks and he did that. I made it evident that I was thinking about him. But I certainly didn't give him any assurances. He knew what was at stake and he was the one who performed. He warranted a pick."
And yes, Aberg was only too well aware of what was at stake, quite apart from winning for the first time as a professional.
"As a competitor you're always trying to go into tournaments trying to win," he says. "But yes, I felt like I had that bit of a carrot motivating me in terms of a Ryder Cup spot. I felt like it would justify me getting a pick for the team if I won, which would be really cool. I was behind pretty much the whole day. I don't think I had a lead until I got to the 18th tee. It was more of a chasing mode for me, all about trying to make birdies. I was nervous, absolutely. But it's also something that I enjoy. It's a feeling, such a cool experience to be able to hit good shots, even though you are in that situation. That is something I'm going to bring into the Ryder Cup as well, to use that experience to my advantage."
So no, he is feeling no fear about playing in an event that, everyone says, brings a whole new level of pressure, even more than a major championship. Not that Aberg knows anything about those. He will the first Ryder Cup player in history to play in the biennial contest before teeing it up in any of golf's four biggest events.
"As a competitor, these are the events that you want to be a part of," he says. "You want to have the putt to get a point or to win a match. I've been fortunate to be a part of team events as an amateur, which, I understand, is on a completely different level. But I'm super excited to get to Rome. It will be cool to be part of this team and get to know the guys a lot better. Absolutely I'm up for the challenge."
So no, he doesn't sound worried. Why would he be? Ludvig Aberg has always been a winner.