Captain's picks
Luke Donald rounds out European Ryder Cup team with notable veterans and some (very) new blood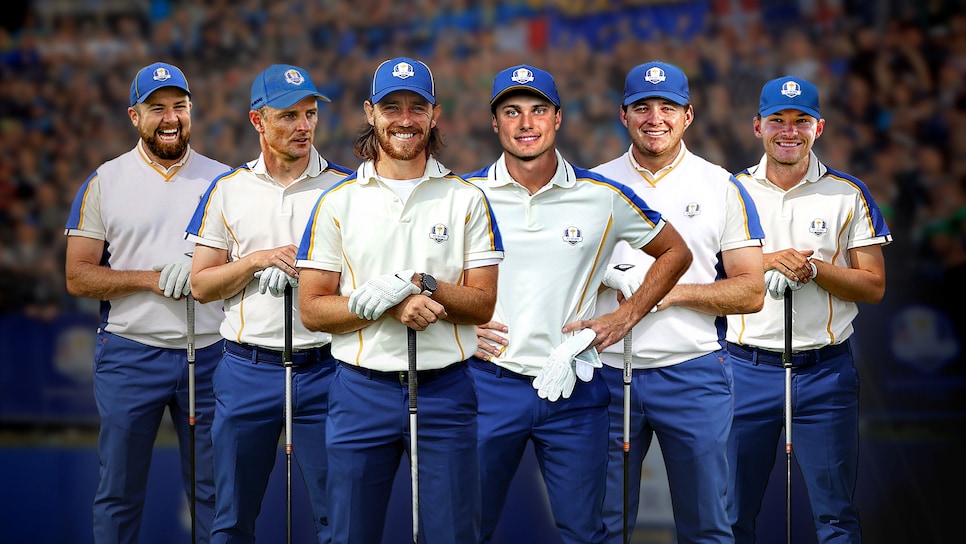 Shane Lowry, Justin Rose, Tommy Fleetwood, Ludvig Aberg, Sepp Strala and Nicolai Hojgaard were European Ryder Cup captain Luke Donald's picks to round out his team.
Already armed with automatic qualifiers Rory McIlroy, Jon Rahm, Viktor Hovland, Tyrrell Hatton, Robert Macintyre and Matt Fitzpatrick, European Ryder Cup captain Luke Donald has added his six more to the side he hopes will regain the trophy Oct. 1 at the Marco Simone Country Club outside Rome. In no particular order, the Englishman selected Tommy Fleetwood, Sepp Straka, Nicolai Hojgaard, Shane Lowry, Ludvig Aberg and Justin Rose.
"I wanted a balance of youth and experience with my picks," said Donald at Monday's "team completion" announcement in London. "I'm very excited about the next few weeks. We'll have a plan of action for success. We have some great talents and some experience in the 12. It's a great make-up. I couldn't be more happy."
Still, while clearly comfortable making his own cases for all six, Donald has surely bequeathed himself some controversy, specifically his selection of former Open champion, Shane Lowry, over Australian Open and Irish Open and Italian Open champion, Adrian Meronk, who currently sits third on the DP World Tour's Race to Dubai standings.
On multiple occasions during his captaincy, Donald insisted he would be looking to select "in-form" players. "You really want players who are in form in the two months leading into the Ryder Cup," Donald told Sky Sports only recently. "That's the ultimate goal."
In the end, however, the former World No. 1 hasn't stuck to that entirely. Not in Lowry's case anyway. Which is perhaps why, in a zoom call today with journalists, Donald was noticeably reluctant to address directly the question of Meronk's exclusion.
"I made a lot of calls yesterday," Donald said. "About 25 in total. Six were to the captain's picks and two to the new automatic qualifiers, Bob [MacIntyre] and Fitz [Matt Fitzpatrick]. I considered a lot of people throughout the year. By the time Sunday came around that was narrowed to a few. Adrian was one of those for sure. he did a lot of great stuff throughout the year and was very much on my mind. But there were a lot of other players too. In the end, I'm happy with all my six picks."
A member of the losing 2021 side at Whistling Straits, the Irishman has struggled to repeat anything like the performance level that saw him lift the claret jug at Royal Portrush back in 2019. In nine counting starts on the DP World and PGA Tours this year, Lowry has one top-10, a T-5 at the Honda Classic back in February. Otherwise, his best finishes are a brace of T-12s, at the PGA Championship and the Genesis Scottish Open.
In his most recent appearance following his failure to make the FedEx Cup playoffs, Lowry missed the cut in the Czech Masters, repeating the mediocre play that saw him take the weekend off at the Open Championship. As a result of that and more of the same over the last few months, the 36-year-old has dropped 17 places in the World Ranking since Jan. 1. As early as the Hero Cup matches between Great Britain & Ireland and the Continent of Europe in Abu Dhabi, from which he emerged pointless, that was clear. Sadly, for one so obviously gifted, he is anything but "in-form."
"I don't have any worries about Shane," said Donald, in defense of his selection of Lowry. "He's a big-time player who steps up in the moments. We saw that two years ago at Whistling Straits. He has great passion for the Ryder Cup. It was great to see his commitment when he felt to Prague a couple of weeks ago, although he didn't play his best there. He struggled on the greens. The next two weeks are important for him. He'll feel comfortable in Ireland and at Wentworth. It wouldn't surprise me if he didn't do well in those events."
"Shane is a big-time player," said Donald in defense of his selection of Lowry. "He turns up in those moments. And we saw his passion at Whistling Straits two years ago. Shane is great in the team room."
In contrast to Lowry's recent struggles, and apart from his three victories in national Opens over the last year or so, Meronk owns an aggressive style of play that would surely come in more than handy, at least in Ryder Cup four-balls. He is a prolific maker of birdies. Last week at the European Masters he made 20, plus an eagle, en route to a solid T-13 finish. Plus, his overall form has been excellent over the past few months. This year he has five top-10s on the DP World Tour, including a win in the Italian Open at the Marco Simone course that will host the Ryder Cup. Three more top-20 finishes dot his 2023 record.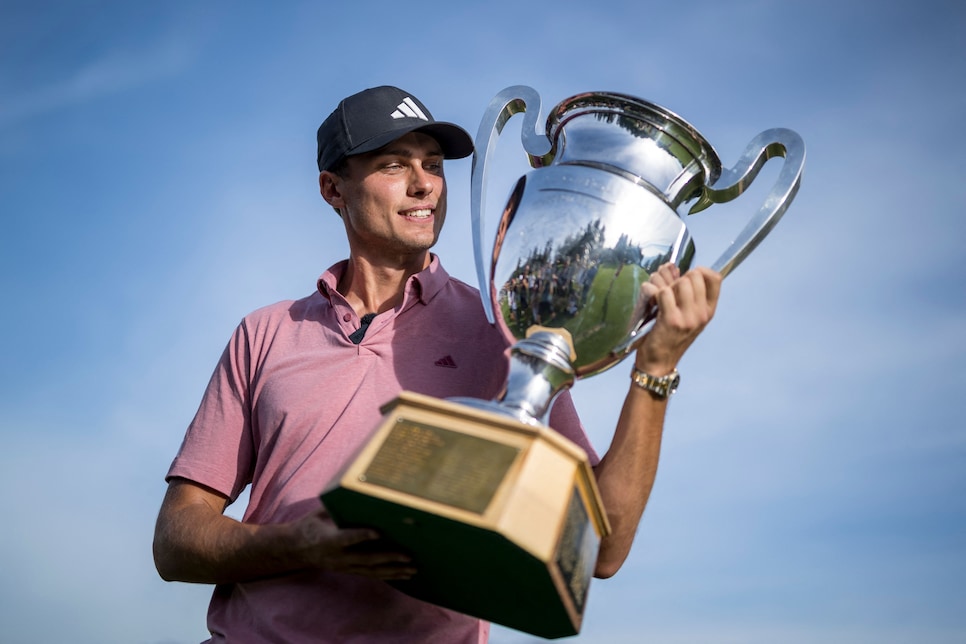 Only a pro since June, Ludvig Aberg forced Luke Donald's hand for a captain's pick with his win on Sunday at the DP World Tour's European Masters.
FABRICE COFFRINI
On the face of all available evidence then, Lowry's inclusion and Meronk's omission together represent a tough-to-figure "U-turn" for the European skipper.
Elsewhere, however, Donald's other five picks follow his "in-form" mantra. All have played with notable distinction recently, in particular Aberg. A professional only since June, the 22-year-old Swede has made a startling start to his career in the paid ranks, culminating in victory at the European Masters in Switzerland over the weekend.
Like Meronk, Hojgaard has an Italian Open victory at Marco Simone on his résumé, as well as a follow-up T-5 on the same course earlier this year, one of his seven top-10s on the DP World Tour in 2023. At the aforementioned Hero Cup the young Dane was statistically the best player on either team.
Rose won the AT&T Pebble Beach Pro-Am on the PGA Tour this year, finished in the top-six at the Players and has a top-10 in a major championship. Plus, the former U.S. Open champion brings much needed Ryder Cup experience—this will be his sixth appearance—to a team that will contain four rookies.
Likewise, Straka claimed the John Deere Classic on the PGA Tour and was second behind Brian Harman at the Open Championship. The Austrian's selection surely came under the heading of "no-brainer."
And Fleetwood, who, lest we forget, went 4-1-0 in his Ryder Cup debut back in 2018? Well, although the hirsute Englishman does not have a victory this calendar year, he has camped out in the top-10 regularly since Jan. 1. Eight times on the DP World and PGA Tours, to be exact.