RSM Classic
The start of something great: Ludvig Aberg claims first PGA Tour win in record fashion at the RSM Classic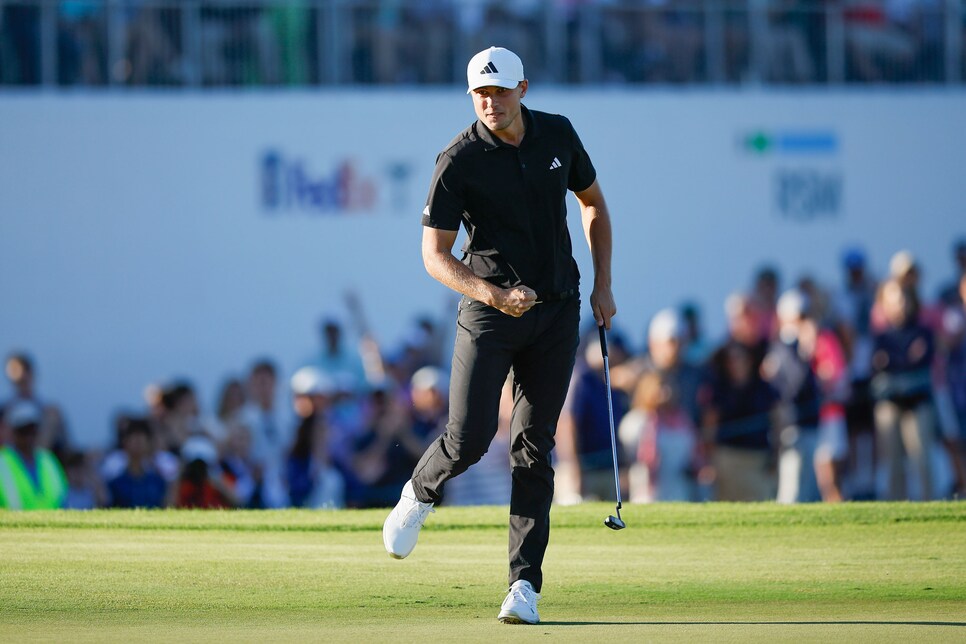 A month before this year's Ryder Cup, the name "Ludvig Aberg" was like the faint howl of a distant wind in the golf world—if you noticed it at all, you barely paid attention, and there were only a few people warning us that the whisper might turn into a roar … and much sooner than anyone thought. The Swede, winner of the Ben Hogan Award at Texas Tech, had turned down a massive LIV deal last year, turned pro this summer, earned a PGA Tour card based on his impressive college performance, finished top five at the John Deere and strung together a few solid results in Europe. Then, a day before Luke Donald had to make some tough choices for his captain's picks, Aberg won his first professional event at the Omega European Masters. Donald's decision became a lot easier, Aberg made the team, and posted a 2-2 record as Europe roughed up the Americans in Rome. He was no longer anonymous, and his career as he turned 24 on Halloween began to resemble a person bounding up a set of stairs with startling speed.
Sunday, at the RSM Classic, Aberg climbed to the next step: He is now a PGA Tour winner. With a final-round 61 on the Seaside Course at Sea Island Golf Club to match the same score on Saturday, Aberg finished at 28 under, three clear of Mackenzie Hughes, who kept it interesting with a 63 of his own. The most notable vanquished foe, however, wasn't Hughes, but Eric Cole—the 35-year-old who came into the week as the apparent frontrunner in the tour's Rookie of the Year race. With a deeper résumé than Aberg's, nothing but a win from the Swedish phenom could have changed the outcome, but win is exactly what he did, and it now appears overwhelmingly likely that Aberg—the only rookie to score a W this PGA Tour season, not counting opposite-field events—will take home the Arnold Palmer Award.
"If you told me this a couple months ago, I would not have believed you," he said moments after his victory. "To be in this position, I need to pinch myself in the arm … this is beyond my dreams … it's been six months that I'll never forget. It's just what you dream of as a kid, this sport that I love and this sport that I'm going to love for a very long time."
Aberg held the lead on Friday night and again Saturday night, and if there was ever a sense that he might play cautiously with a lead, he dispelled that instantly on Sunday, holing an 11-foot birdie putt. He followed that with three consecutive birdies on 4, 5, and 6, burying a 32-foot on five after driving the green with a 335-yard smash:
The putter stayed hot at the turn, with three more birdies from 9 through 11, and his only hiccup came with a bogey at 12—his only bogey for the entire week. Two straight pars gave Hughes a bit of hope, but Aberg wasn't done scoring. A simple up-and-down birdie on the par-5 15th gave him a two-shot cushion, and two more bombs on 17 and 18—25 feet and 20 feet—capped off a stunning day on the greens. When the final putt dropped, he lifted a leg and punched the air, electrifying the sleepy Barrier Islands crowd at the finish with a PGA Tour tying 253 total.
"To be honest, I feel like I've been striking the ball quite well over the last couple of months," Aberg said afterward. "It's just one of those weeks where everything kind of comes together. I made a few putts here and there that are very important … obviously today Mackenzie and I played some really good golf. He really pushed me and I think I pushed him as well."
He also explained his aggressive attitude, which did not come without its share of nerves.
"There's a lot of these scenarios running through your head, am I going to win it, am I not going to win," he said. "I've had a lot of experience over the last few months to kind of prepare me for those moments. I try not to get ahead of myself. Even though you're playing with the lead on a golf course like this, you still need to make birdies, you still need to chase. Obviously Mackenzie did that as well."
With the chase mentality, Aberg never relented, and his win in Georgia moves him into 53rd in the FedEx Cup standings, jumping more than 40 spots. That's significant—it means he gains entry into the first two signature events of next season, the AT&T Pebble Beach Pro-Am and the Genesis Invitational. Needless to say, he also gains entry into the Masters, which will be his first major championship—perhaps the next step on his ascent.
If majors are the next big target, Aberg's fans will be pleased at the mature perspective that belies his 24 years.
"Sometimes, my tendency is to get more stuck in the past more so than the future," he said. "I tend to get more disappointed and frustrated with myself more so than getting angry. I never get angry, but I do get disappointed and that kind of lingers. So I think this week I did a really good job of letting that go. Even though coming down the last couple holes, obviously all these scenarios are running through my head of what's it going to look like on 18, what's Mackenzie going to do, is he going to charge me...breathing really helps to kind of calm you down."
Aberg went on to thank his college coach, his Swedish mentor Peter Hanson and others who helped him on the rise that came with shocking speed—he's shot 65 or better 12 times on the PGA Tour since turning pro, with the next best player in that time (Eric Cole) doing it nine times. This feels like the very start of a special career, and for those in America who are just getting to know him, he also displayed a subtle sense of humor; when a writer commented that he was "a long way from Lubbock" in his career, Aberg shot back, "everything is a long way from Lubbock."
He can laugh, he can smile, and he can enjoy this win. Aberg has the entire golf world at his fingertips, and like the blue sky in an endless Swedish summer, his ceiling seems limitless.