Payday at Sea Island
Here's the prize money payout for each golfer at the 2023 RSM Classic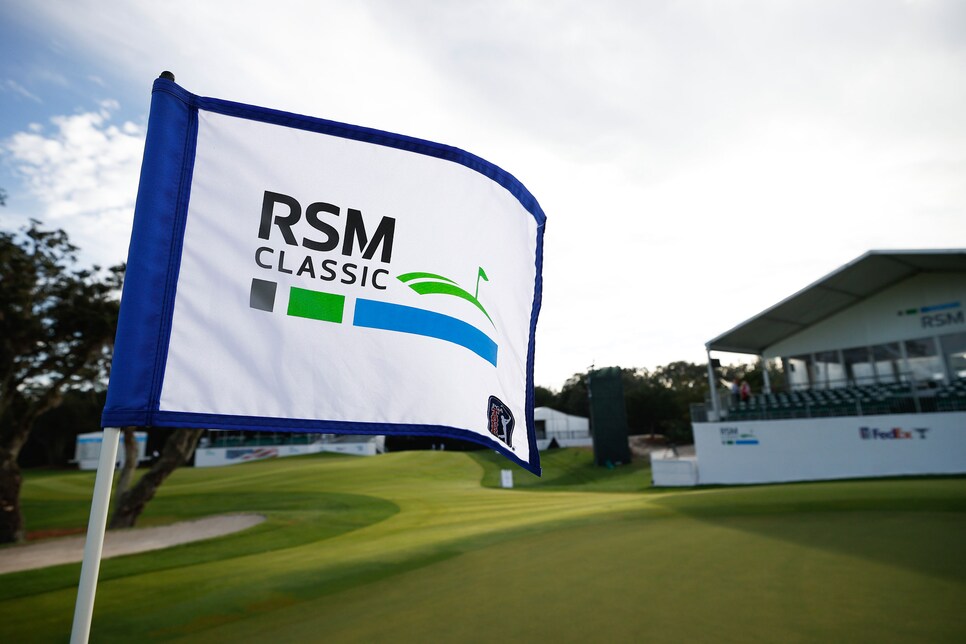 The RSM Classic was just Ludvig Aberg's 11th start on the PGA Tour since turning pro in June. The fact, then, that there was a "finally" feel surrounding his four-shot victory Sunday at Sea Island Golf Club speaks to just how highly people think of the 24-year-old Swede's game.
With a second-straight 61 on the Seaside Course giving him a 29-under 253 total to top 2017 winner Mackenzie Hughes, Aberg claimed his first PGA Tour title in the final official PGA Tour event of 2023. It comes 11 weeks after he earned his first DP World Tour victory (Omega European Masters) and seven weeks after becoming the first golfer to ever compete in the Ryder Cup without previously having played in a major championship (the win locks up spots in the 2024 Masters and PGA Championship).
Since finishing up his college career at Texas Tech as the No. 1 player in the PGA Tour University ranking, earning him a PGA Tour card through 2024, Aberg has been hanging out on leaderboards on both sides of the Atlantic. His finish in Georgia was his third top-10 of the year.
The victory propelled Aberg from 96th on the FedEx Cup points list to 53rd, getting him not only into the Sentry Tournament of Champions, but the next two signature events on the PGA Tour in 2024, the AT&T Pebble Beach Pro-Am and the Genesis Invitational.
Oh, and then there's the first-place prize money payout. Aberg grabbed $1.512 million for the win from an overall purse of $8.4 million, which more than doubled his PGA Tour earnings to date ($1,632,994). Here's the prize money payout for each golfer who made the cut in Georgia. Come back shortly after the end of the tournament and we'll update the list with individual names and specific payouts.
Win: Ludvig Åberg, 253/-29, $1,512,000
2: Mackenzie Hughes, 257/-25, $915,600
T-3: Eric Cole, 260/-22, $495,600
T-3: Tyler Duncan, 260/-22, $495,600
T-5: Ben Kohles, 263/-19, $310,800
T-5: Denny McCarthy, 263/-19, $310,800
T-5: Adam Svensson, 263/-19, $310,800
T-8: Austin Eckroat, 264/-18, $228,900
T-8: Ben Griffin, 264/-18, $228,900
T-8: Taylor Montgomery, 264/-18, $228,900
T-8: Ryan Moore, 264/-18, $228,900
T-8: Greyson Sigg, 264/-18, $228,900
T-13: Russell Henley, 265/-17, $150,500
T-13: Charley Hoffman, 265/-17, $150,500
T-13: Peter Kuest, 265/-17, $150,500
T-13: Sam Ryder, 265/-17, $150,500
T-13: J.J. Spaun, 265/-17, $150,500
T-13: Vince Whaley, 265/-17, $150,500
T-19: Tano Goya, 266/-16, $107,100
T-19: Kelly Kraft, 266/-16, $107,100
T-19: Luke List, 266/-16, $107,100
T-19: Adam Schenk, 266/-16, $107,100
Public
Saint Simons Island, GA
The Sea Island resort continues to credit famed British golf architect H.S. Colt for its Seaside design, but in truth it was never purely Colt's design. It was the work of Colt's partner, Charles Alison, who traveled to the U.S. and beyond in the 1920s and 30s while Colt remainied in England. But the Seaside Course isn't even Alison's anymore--it is purely Tom Fazio, who incorporated Alison's original Seaside nine (today's 10-18) along with a nine (the Marshland Nine) designed in 1974 by Joe Lee, to create a totally new 18- hole course. But in keeping with the resort's heritage, Fazio styled his new course in the design fashion of Alison, with big clamshell bunkers, smallish putting surfaces and exposed sand dunes off most of the windswept fairways. The Seaside Course has hosted numerous USGA championships and has been a mainstay of the PGA Tour's early season roster for many years.
View Course
T-23: Fred Biondi, 267/-15, $75,180
T-23: Nick Hardy, 267/-15, $75,180
T-23: Alex Noren, 267/-15, $75,180
T-23: Jacob Solomon, 267/-15, $75,180
T-23: Kevin Tway, 267/-15, $75,180
T-28: Thomas Detry, 268/-14, $53,917.50
T-28: Harris English, 268/-14, $53,917.50
T-28: Stephan Jaeger, 268/-14, $53,917.50
T-28: Chris Kirk, 268/-14, $53,917.50
T-28: Nicholas Lindheim, 268/-14, $53,917.50
T-28: William McGirt, 268/-14, $53,917.50
T-28: Matt NeSmith, 268/-14, $53,917.50
T-28: Brendon Todd, 268/-14, $53,917.50
T-36: Ricky Barnes, 269/-13, $42,630
T-36: Will Gordon, 269/-13, $42,630
T-38: Matt Atkins, 270/-12, $35,700
T-38: Akshay Bhatia, 270/-12, $35,700
T-38: Brian Gay, 270/-12, $35,700
T-38: Chesson Hadley, 270/-12, $35,700
T-38: Scott Piercy, 270/-12, $35,700
T-38: Cameron Young, 270/-12, $35,700
T-44: Wesley Bryan, 271/-11, $24,238.67
T-44: Corey Conners, 271/-11, $24,238.67
T-44: Nico Echavarria, 271/-11, $24,238.67
T-44: Patton Kizzire, 271/-11, $24,238.67
T-44: Russell Knox, 271/-11, $24,238.67
T-44: Alex Smalley, 271/-11, $24,238.67
T-44: Stewart Cink, 271/-11, $24,238.66
T-44: Brian Harman, 271/-11, $24,238.66
T-44: J.T. Poston, 271/-11, $24,238.66
T-53: Tommy Gainey, 272/-10, $19,773.60
T-53: Cody Gribble, 272/-10, $19,773.60
T-53: Matt Kuchar, 272/-10, $19,773.60
T-53: Austin Smotherman, 272/-10, $19,773.60
T-53: Davis Thompson, 272/-10, $19,773.60
T-58: Cameron Champ, 273/-9, $18,816
T-58: Ben Crane, 273/-9, $18,816
T-58: K.H. Lee, 273/-9, $18,816
T-58: Maverick McNealy, 273/-9, $18,816
T-58: Camilo Villegas, 273/-9, $18,816
T-58: Brandon Wu, 273/-9, $18,816
T-64: Aaron Baddeley, 274/-8, $17,976
T-64: Brent Grant, 274/-8, $17,976
T-64: Robert Streb, 274/-8, $17,976
T-64: Justin Suh, 274/-8, $17,976
T-68: Ben Carr, 275/-7, $17,388
T-68: Harry Higgs, 275/-7, $17,388
T-68: Carl Yuan, 275/-7, $17,388
T-71: Si Woo Kim, 276/-6, $16,968
T-71: Carson Young, 276/-6, $16,968
T-73: Kramer Hickok, 277/-5, $16,632
T-73: Andrew Novak, 277/-5, $16,632
T-75: Satoshi Kodaira, 278/-4, $16,296
T-75: Curtis Thompson, 278/-4, $16,296
77: Cameron Percy, 279/-3, $16,044
78: Kevin Kisner, 281/-1, $15,876