A decade can seem like an eternity in sports, a 10-year window in which careers often begin and end and the headliners rotate in and out, here today, gone tomorrow. Lucas Glover was yesterday's news a long time ago.
Glover won the U.S. Open in 2009 and the Wells Fargo Championship in May 2011 and then … nothing. He did not disappear, but neither was he a fixture late on Sunday afternoons. Until this Sunday afternoon.
Ten years, two months and three days after his last PGA Tour victory, Glover went out on a wet afternoon at TPC Deere Run in Silvis, Ill., and became relevant again, winning the John Deere Classic by two shots.
"It's been a long 10 years," Glover said. "There's been some struggles. I've had a couple good years, but nothing like this, where I had a real chance to win."
He did so with a flourish, a final-round seven-under-par 64, the low round of the day, that included his playing the final seven holes in five under for a 19-under-par 265 total. As if 10 years was not long enough to wait, he then had to wait another 30 minutes or so to see whether anyone might catch him. No one did, Ryan Moore and Kevin Na coming closest and tying for second.
When an athlete is lost in his sport's wilderness for years on end, the obvious question is whether surrendering to frustration was a consideration, allowing the game to win. No doubt Glover was frustrated, but a U.S. Open victory on a résumé likely is a strong inducement to keep searching, and he was adamant that his self-belief never wavered, even at 41 and long removed from hoisting a trophy.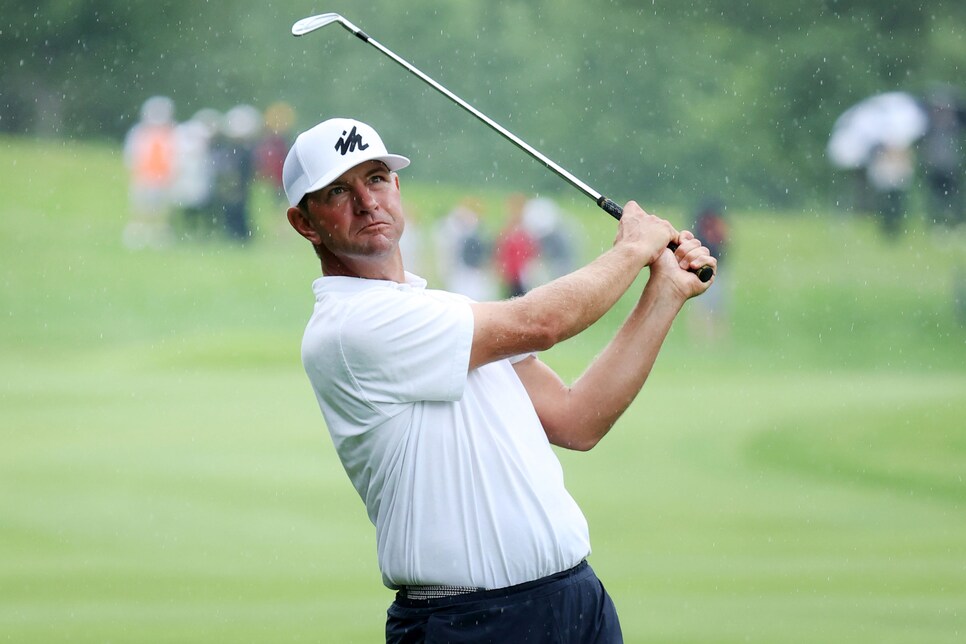 Lucas Glover plays his approach shot on the 18th hole during the final round of the John Deere Classic.
Andy Lyons
"One-hundred percent," he said. "I still thought I was good enough. I'm working harder now and more efficiently than I did in my 20s. I still can honestly say I can do it, and I never doubted that. It's been a difficult 10 years, but I never lost my faith. I felt some good golf coming. I didn't know how good. I think a lot of times it comes out of nowhere. I've been playing well and having some good rounds. A 63 [in the second round at the John Deere] and 64 proved myself right on that.
"I knew it was in there. I had to clean up my brain a little bit, I think. Just hit some shots and just play golf. I've been pretty good for a while. I never lost sight of believing I could do this and win again. Probably the most gratifying thing is that I proved myself right and actually proved a lot of other people wrong, which feels good, too. But it always nice to prove yourself right if you truly believe in something."
There were low points in his journey, two in particular. "I went to the Korn Ferry [Tour] finals twice, one after injury and one after I played so bad. I was able to get my card back both times. It was bad as far as being on tour, but in the grand scheme of things I was still a pro golfer."
And a good enough one to buck golf's youth movement and join the ranks of those 40 and older to have won in the last year, including Phil Mickelson, Stewart Cink, Brian Gay and Matt Jones.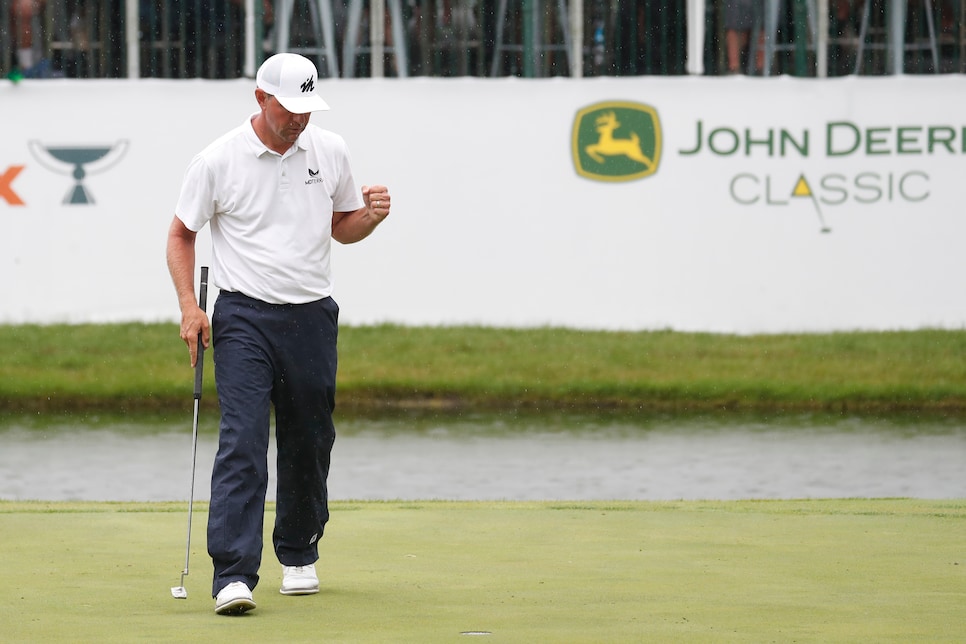 Lucas Glover reacts after holing a par putt that would seal his victory.
Icon Sportswire
Glover's five back-nine birdies on Sunday allowed him to separate himself from an exceedingly crowded pack that at one time had eight players tied for the lead. He was aiming for a 20-under score, came up one short, but it was sufficient.
"Putts started going in," he said. "I ironed it pretty good the last few days and obviously made some Friday and shooting what I shot yesterday. They just went in and I kept the pedal down. I was under the impression 20 was a good number for me. Wanted to get that just as a personal goal. I wanted to keep pushing. There were too many birdies and too many great players behind me. Wanted to continue to push, push, push."
The victory, the fourth of his PGA Tour career, comes with the usual perks—a seven-figure payday and a two-year tour exemption—but for Glover, it came with a bonus. It was the first time his kids, Lucille, 8, and Lucas Jr., 5, saw him win, via television. "My wife, Krista, too, the first time the three of them saw me win a golf tournament as a family," he said.
And that's a memory that will last not just a decade, but forever.