News
Lucas Glover shoots 67 in first round since wife's arrest at the Players Championship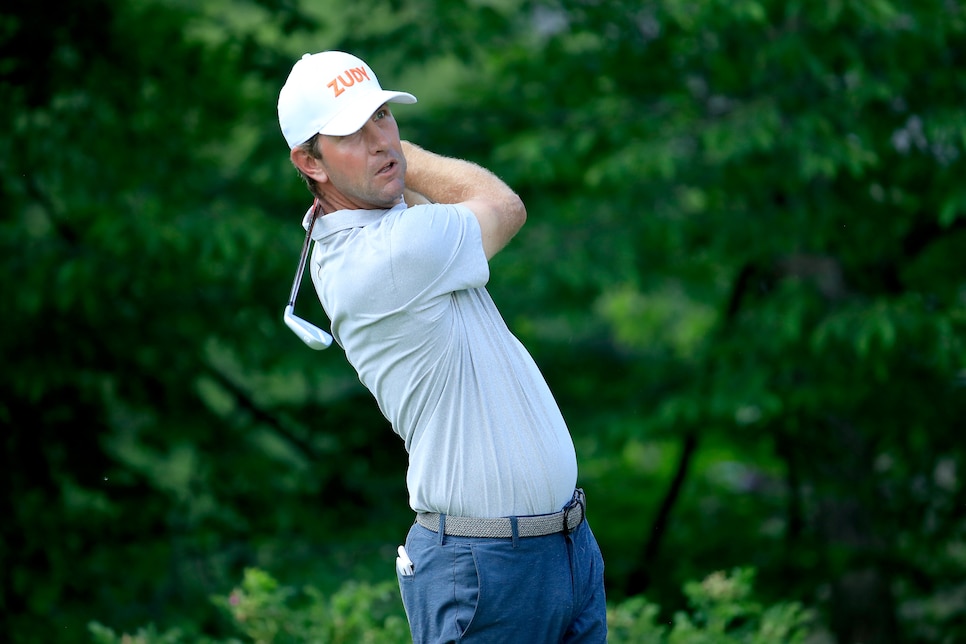 DUBLIN, Ohio — Lucas Glover had to know Thursday that no matter his score in the opening round of the Memorial Tournament, he was going to walk off Muirfield Village Golf Club and be greeted by a curious media contingent.
So why not shoot a five-under 67 and put the focus on his golf game?
That's precisely what unfolded after Glover, despite a bogey on his final hole, posted 67 here for the second year in a row, tying his career low at Muirfield Village and rising within two strokes of the leaders.
Glover's effort came in his first start since his wife Krista was arrested on May 13 in Ponte Vedra Beach, Fla., and charged with domestic battery and resisting arrest without violence. St. John's County Sheriff's Deputies responded to 911 calls that Saturday after Krista verbally berated Glover and became physically abusive to him and his mother, Hershey Hendley, according to a St. Johns County Sheriff's Office report.
In the report, Lucas Glover told deputies the altercation stemmed from Krista becoming harshly critical of his poor play in the third round of the Players, where he missed the secondary cut after shooting a 78.
A pre-trial hearing for Krista is June 22. She has pleaded not guilty to both charges. In the meantime, a court order has been issued by the county, stating that she is to have no contact with Hershey Hendley.
The soft-spoken Glover, 38, issued a statement Monday, trying to get ahead of anticipated media inquiries. It read:
"After a few weeks away, I am looking forward to playing in the Memorial. My family and I are very appreciative of the support that we've received. We again ask for the continued respect for our privacy as we work through this process."
With rain at his home in South Florida 13 of the last 14 days, Glover hasn't been able to practice much since the Players, except for some work in the indoor hitting bays at Jack Nicklaus' private club in Jupiter, Fla., The Bear's Club.
"I got done what I could, and I got here with a good mindset and a good swing thought and carried it into the day well," said Glover, who has just one top-10 finish at the Memorial, a T-8 in his debut in 2005 (when he also opened with 67).
He dismissed the day as "just another round, really."
"It's nothing different," he added. "I've played here a bunch. I've played a lot of golf and just wanted to play well and have a good attitude. That was my mindset today."
As far as addressing how difficult the past few weeks have been for him and his family, he replied: "I'm going to stay away from that stuff. I made some statements the last couple weeks, [and] I'm just going to have to refer to that stuff, and I would prefer to talk about today, if that's OK."
There was a lot to talk about. If the discussion was golf.
Winner of the 2009 U.S. Open, Glover hit 12 fairways, 13 greens and needed 27 putts in touring a Muirfield Village layout that firmed up as the day wore on. He carded six birdies, including four in a five-hole stretch on the back nine to reach 6 under par. The closing bogey was his only blemish after overshooting the green long and missing a 7-footer after a deft chip down the hill.
"It's one of those things, we say it doesn't matter anymore than the first one, but it sure feels like it when you go to sleep on it," he said. "But, yeah, bogey-free going into there. I wanted to make that one and just it always feels good to have a clean card, I guess you could call it. But, yeah, it was solid. I hit two nice shots into 18, a nice chip and a nice putt, tough hole, big deal. … I made a nice play after what I thought were two good shots and didn't get a nice result, so I'm OK with it."
Asked if it was tougher mentally to get prepared for the Memorial, Glover just shrugged.
"Nope, they're all hard."