Hooks to draws
How Lucas Glover found (and fixed) his golf swing's hook 'virus'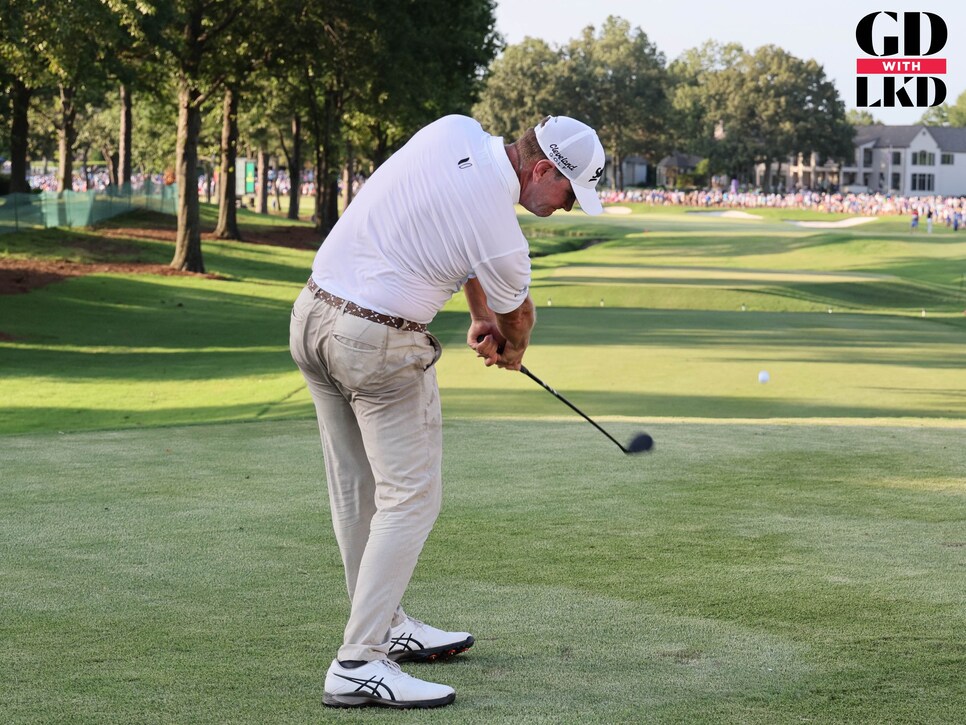 "I make my money with these."
A lot has been made of Lucas Glover's putting during his recent stretch of blazing hot form, and for good reason. His switch to a long putter has been a revelation, vanquishing his yips and heating up his performance on the greens.
Yet it wasn't a putter Glover was holding in his hands when he said those words to Jason Baile, the Director of Instruction at Jupiter Hills Club in Florida and Golf Digest Best in State Teacher. It was an iron.
When Baile asked Glover what part of his game he wanted to improve on, that was where Glover's mind went. Squeezing every last drop of juice from his ball striking. And it's why, while the putter has grabbed the headlines, Glover's ball striking has been the workhorse carrying the load.
During his last two victories, Glover has ranked 15th and 12th in SG: Putting, respectively. But he's ranked first in SG: Tee-to-Green each of those weeks. The magic of his new flatstick is that it's allowed him to take advantage of his long game, which at 43 years-old
The draw 'virus'—and what we can learn from
Glover has always been a solid ball striker, but when he linked up with Baile a few years ago, he was encountering a problem.
Players who hit draws generally miss in two ways: They either hit pushes, which fly straight out to the right. Or they hit hooks, which dive over to the left. Somewhere in between is the sweet spot.
"Lucas hates missing it right," Baile says. "The ball kind of floats up into the air...he hates that shot. He'd rather see the ball overhook than see that straight push."
The problem was that Glover had been missing to the right increasingly often, so like the rest of us, he started making subconscious adjustments to prevent that miss. He strengthened his grip to stop the right miss, but that created a new problem. Anytime he swung too hard, it'd send the ball hooking left.
"He'd said, 'I want to thump it again. I'm not thumping it,'" Baile explains. "Anytime he'd try, he'd start hooking it."
When they looked under the hood of Glover's golf swing, they found the root cause: Glover would stay too much on his trail foot, for too long. His right foot would stay planted to the ground, and when that happened, he wouldn't transfer his weight over to his front foot. It caused Glover to swing too far from in-to-out.
"His right foot was glued down," Baile said. "When he'd miss it, he'd hit this [in-to-out] fat, hook shot. That was the virus that was kind of downloaded into his swing."
It still pops up occasionally (like on the 71st hole last week).
To fix it, Glover and Baile often practice hitting iron shots placing a water bottle inside his trail foot. His goal is to try and knock the water bottle over with his leg as he swings through. That gets his weight more forward, and prevents the club from moving too severely in-to-out. That drill, in addition to some hard work done with the rest of the Jupiter Hills Club coaching team, quickly turned those hooks quickly turn to draws.
It's something the rest of us can learn from.
"Most drawers learn or are told to swing the club as much as they can from in-to-out," he says. "That's what can lead to those shallow, fat hooks. That's the virus that can get downloaded into every draw golf swing if you're not careful."